If you assess Bradley Beal strictly by his on-the-court numbers, you'll see immediately that he's one of the most talented players in today's NBA. Look a little deeper into who he is—how he treats his teammates and the people closest to him—and you'll discover that Brad is one of the brightest, highest-character players in the league.
Few professional athletes can carry the title of role model, but on and off the court, No. 3 of the Phoenix Suns strives to be one.
FAMILY
As the rapper Nelly, a childhood friend, explained to SLAM Magazine, Brad's future could have gone in any number of directions without having such a strong family foundation to draw from.
"He's a testament to good upbringing, strong parents, determination and work," Nelly said. Nothing was given…To see where he is now, is something that you dream about for people that you care about."
Born on June 28, 1993, and raised in St. Louis, Missouri, by Bobby and Besta Beal, there was little doubt that Brad would eventually be an athlete. Both parents played sports for Kentucky State—Bobby was a football player, Besta a basketball player.
No. 3 told the Washington Post that while Bobby taught him how to keep an even demeanor, it was Besta who taught him how to shoot.
He's a testament to good upbringing, strong parents, determination and work. Nothing was given. To see where he is now is something that you dream about for people that you care about.
— Nelly
"She probably watches film more than I do and she's up countless hours watching and critiquing my shot," he said. "She's been helping me out a lot. Both my parents, my whole family, they're always behind me 100 percent. My mom, she's probably my biggest critic by far. That's what made me into the player I am today, just her pushing me and making me want to do better."
When he was younger, Brad played basketball and football, excelling at the latter. By his sophomore year in high school, however, Brad decided to focus on hoops.
BUILT ON BROTHERHOOD
There were four other people in Brad's family who were instrumental in his development as an athlete, and ultimately, as a young man. His two older brothers, Bruce and Brandon, and his younger brothers, the twins Byron and Bryon.
Brad idolized his two older brothers.
"They push me to where I am today, and I always give them credit because they never let me get complacent with anything, and I respect that," No. 3 told the St. Louis Post-Dispatch. "Brandon was my favorite basketball player, and Bruce pushed me in the gym for countless hours. It's great to have two role models who you look up to, and at the same time, they're your brothers and family. That really hits home."
According to the Washington Post, Bruce and Brandon spent much of Brad's youth transforming him into a warrior, while Byron and Bryon were set against him as training partners.
"Brandon, a former tight end and shooting guard at Northern Illinois, and Bruce, a former offensive lineman at Alabama State, roughed him up at the neighborhood YMCA basketball court with hard fouls to make him physically and mentally tougher. And twins, Byron and Bryon — both nimble, 300-pound-plus offensive linemen at Bradley's former high school, Chaminade Prep — forced him to become more crafty during some competitive two-on-one basketball games."
An incredible work ethic was a hallmark of the Beal family, and Brad truly began to show his when he gravitated toward basketball. His mother and father made sure to keep him focused, but when they needed help, Brad's brothers did not hesitate to intervene.
"They explained about balancing schoolwork with playing a sport," Brad told ESPN. "And they also explained to me that once you get to college, you have to listen to your coach. You have to do what he says. In high school you can sort of listen when you want to. That doesn't work in college."
At Chaminade High School, Brad emerged on the national scene, capping off his senior season with a jaw-dropping 32.5 points, 5.7 rebounds and 2.8 assists per game.
FLORIDA
By the time Brad reached his final year of high school, he was one of the most highly recruited seniors in the nation. He had already tallied an impressive number of achievements, winning the 2010 FIBA U-17 World Championship with the U.S., and the 2011 Gatorade Player of the Year Award.
He decided on the University of Florida, where he was set to play for Billy Donovan, following in the footsteps of another Chaminade High School graduate and eventual NBA All-Star, David Lee.
The year started out with some difficulty for Brad, who struggled in the early months of the season. But by February and March, he had found his rhythm, and played a key role in returning the Gators to the NCAA Tournament for the first since 2007. Led in large part by Brad's scoring, Florida reached the Elite Eight, falling to Louisville.
In the end, Brad's freshman year was an unqualified success. He was one of two players to play every game, averaged 14.8 points and 6.7 rebounds, and was the first Gator to make the SEC All-SEC and All-Freshman team in the same season.
Many pundits, including ESPN's Stephen A. Smith, felt that Brad was ready to make the jump to the next level.
Coach Donovan agreed. As he told the Tampa Bay Times:
"Selfishly I'm going to miss not having a chance to coach him….No question based on the information I was able to gather, no question he's going to be in the Top 10 in the lottery. And no question he's going to have a chance to move up. A lot of people are not privy to the information I am. There is a definite possibility he will be a Top 5 pick."
For Brad, it was a bittersweet ending to his college career.
"Coach just told me, whatever I decide, whenever I decide, just make sure you're at peace with it….When it came down to it, I just wanted to make sure I was comfortable telling coach and comfortable with my decision. And I wanted to make sure I was 100 percent. There's no looking back now."
TO BE A WIZARD
Coach Donovan turned out to be something of a prophet. On his 19th birthday, Brad was selected with the third overall pick of the 2012 NBA Draft by the Washington Wizards.
His impact was immediate. At the NBA Summer League in Las Vegas—where as Emeka Okafor said, Brad was basically "a college sophomore"—the Wizards' newest player was one of the clear standouts.
With the NBA season finally approaching, Brad was excited to finally realize his childhood dream.
Washington fans had good reason to be excited, too. Two years earlier, the Wizards had drafted point guard sensation John Wall. Now, they had a dynamic shooter to pair in the backcourt with Wall.
MAKING A MARK
To a large degree, No. 3's rookie season showed the type of promise he and Washington had hoped for, but it didn't begin that way. Wall was out with an injury for the first few months of the year, and during that time, Brad struggled.
But as the blog Wizard of Awes detailed, Brad found his shooting touch as the year progressed.
"Fortunately, as time went on and John Wall returned to the Wizards lineup, Bradley Beal started to gain momentum and play like we all envisioned he would out of Florida. He started to shoot the ball with confidence, and in return, was named NBA Eastern Conference Rookie of the Month for January and December. His progression and development throughout the season was honestly a treat to watch."
He's playing the best basketball of his career. He's more aggressive than he's ever been, and smarter, too.
— Sports Illustrated
No. 3 suffered a right-leg injury in April, effectively ending his season early. Still, the 56 games he played (13.9 ppg, 3.8 rpg, 2.4 apg) were enough to earn Brad third place in Rookie of the Year voting, and a spot on the NBA All-Rookie First Team.
SOMETHING LEFT TO PROVE
In subsequent seasons, Brad has grown tremendously both on and off the floor, learning to deal with adversity while continuing to improve his game.
Those improvements earned Brad a max contract extension in the summer of 2016, which promised to keep him in the D.C. Family through the 2020-21 season.
According to BB, signing that extension left him with a responsibility to the franchise that wouldn't allow him to rest on his laurels.
"I know that I'm only 23 years old, and there's a lot of kids out there who would die to be in the situation I'm in, so this moment for sure is special to me," Brad said. "They made a huge commitment to me in making me a max player and believing that I can live up to the potential, and I know that it's upon me to take the responsibility."
The 2016-17 season held immense promise for the Wiz, as Brad's new deal led Washington into a new era of sorts, coinciding with the arrival of former Oklahoma City head coach Scott Brooks. The new coach had an incredibly positive impact for the team, leading them to 49 wins, the franchise's highest total in nearly 40 years, and back to the postseason, where they toppled the Atlanta Hawks in the first round before succumbing to the Boston Celtics in a tremendous seven-game second-round series.
No. 3 was also a critical part of Washington's resurgence. He played in a career-high 77 games in the regular season and also averaged career-highs in assists per game (3.5) and points per game (23.1). All the while, he showed that the best may be yet to come, as written in Sports Illustrated:
"Beal came back, and he's playing the best basketball of his career. He's more aggressive than he's ever been, and smarter, too. Long, midrange twos have turned into threes, and he's getting to the line five times a game."
His play and desire to keep getting better after signing his extension harkened back to an insight he had after his rookie year about the best players in the NBA.
"I want to try to be better than them," he told the Washington Post. "I'm like, 'Okay, I watched them.' Now I'm at the same level they are at, playing in the same league, and I have to beat them and my team has to beat theirs. That's how I think."
ALL-STAR
Brad's persistence and focus on continuing to improve his game finally paid off in 2018 when he was selected as one of the NBA's best players and named to his first All-Star Game.
It was a career highlight for Bradley, one he won't soon forget.
"It was fun to get out there and get some run with some of the best players to ever touch a basketball. To be a part of that group was an honor in itself and I enjoyed it."
Bradley went on to average 22.6 points per game, just a tick below his career-best, while establishing new career-high averages in rebounds (4.4) and assists (4.5) per game.
His best performance of the season came in early December against the Portland Trail Blazers. Beal caught fire against the Western Conference's eventual three seed and racked up a career-best 51 points in the 14-point victory. As the season progressed, No. 3 assumed more ball-handling and playmaking responsibilities with John Wall sidelined for a large portion of the season, and he was able to keep the Wizards in playoff position while Wall recovered. They eventually earned the No. 8 seed and took the top-seeded Toronto Raptors to six games but ultimately came up short of their season goals.
However, Brad noted after the season that there was a lot to be learned from the adversity faced during D.C's 2017-18 campaign and that while it may not have yielded the result they wanted or expected, it does give them the opportunity to grow. The season also gave No. 3 a lot to be proud of and even more, to motivate him, to continue improving to reach the peak of his abilities. He certainly hopes to be named an All-Star in the many seasons to come, and he will continue to work towards that goal each and every year.
"It was a down year but there were a lot of good things, a lot of lessons we learned, a lot of positives we can take out of it as well, and we just got to get better in the summer," Beal said. "It motivates me to get better and continue to be part of this every single year for the rest of my career."
A BEACON FOR D.C.
The 2018-19 season brought with it more adversity for Bradley and his teammates.
Washington got off to a rough start to the season and before they could dig themselves out of the early hole, fellow All-Star John Wall went down with an Achilles injury in December that would cost him the rest of the 18-19 season and compromise his availability for the 2019-20 season as well. With Wall sidelined, Brad took on an even bigger responsibility as leader of a very young Wizards team.
No. 3 rose to the occasion, once again posting career-highs across the board. He played in all 82 games for a second consecutive season, a point of pride for the seventh year guard, while also leading the league in minutes per game at 36.9. BB also ranked 10th in the league in scoring average at 25.6 points per game. His efforts led to his second consecutive All-Star nod and he was named the NBA's Player of the Week twice over the course of the season. Unfortunately, the Wizards never got on track as a team and finished with their worst record since Brad's rookie season. It was another learning experience for Beal, in a lifetime of them, and he took it in stride, though far from satisfied.
"This year I feel like I've matured more. I was able to learn more. I was in a different spot than I was in my rookie year and previous years. I didn't necessarily put a lot of pressure on myself," he said. "I think a put a lot more pressure on myself as a young pup than I do now."
The highlight of 2019 for Brad came after the season when he was honored by the NBA with the league's Community Assist Award for his work off the court making an impact on the lives of others. A huge part of that impact was Brad's work with the young men at Ron Brown Preparatory High School and Brad brought two of those young men, Taj Davis and Makhi Alston Daye, along with him to the ceremony to help him accept the award.
"I try to explain to everybody that being around the school and being around the kids, that has a big impact on me, even more than me impacting them," Brad explained. "It changes my whole perspective on life, on how I treat people, how I interact. Now I have a son too, and they're my little brothers. I look at them and they're situations and how they live and the backgrounds that they come from are very similar to mine. I relate to them in a lot of ways, and I'm very appreciative of that."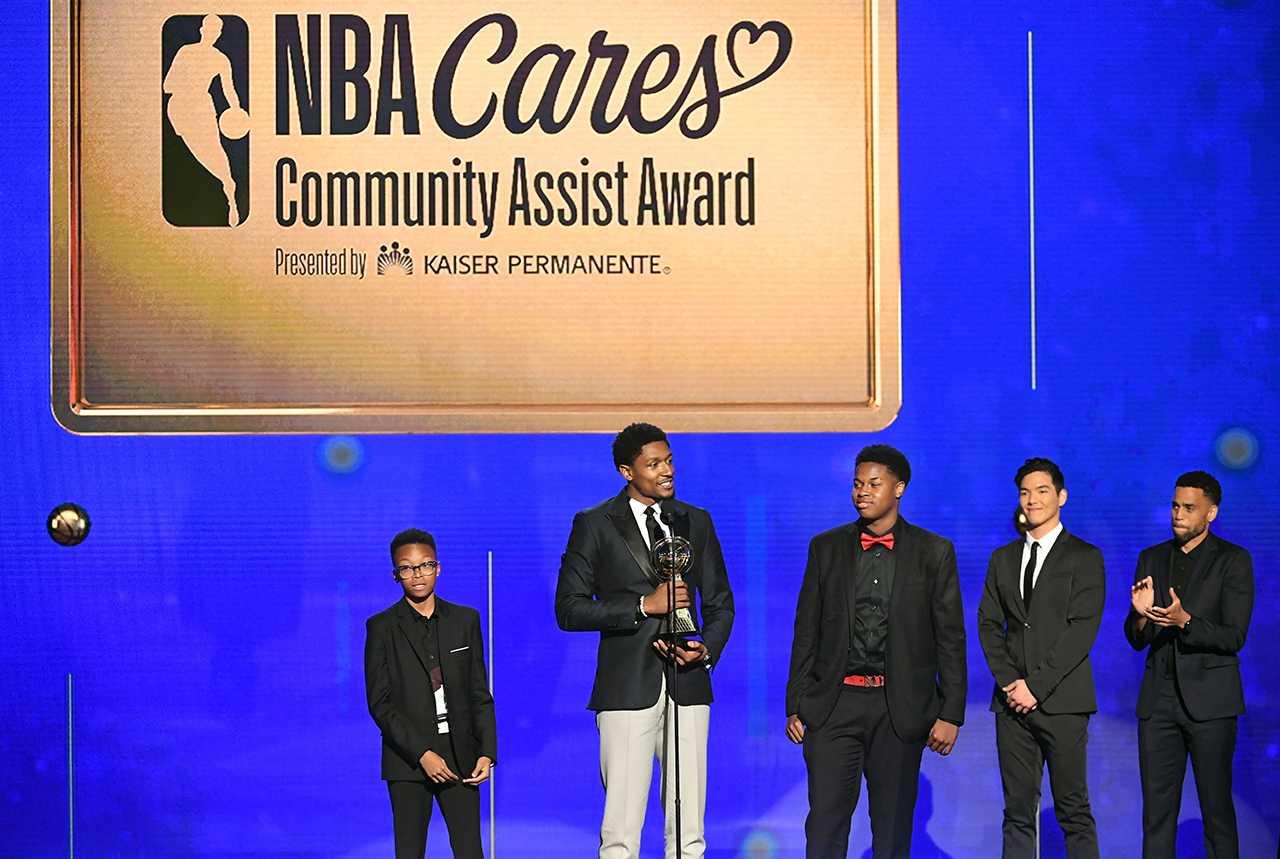 In addition to his work with RBHS, Brad has impacted young athletes with his Bradley Beal Elite AAU program based out of his hometown of St. Louis, Missouri. Now the father of two young boys with his fiancee Kamiah Adams, Brad has learned first-hand the value of using his platform for good.
"If there's one message, I can encourage everybody, man, please, please let's give back to the youth," he said after he accepted the NBA Community Assist Award.
Just days before the beginning of the 2019-20 NBA season, Brad signed another contract extension with the Wizards that keeps him in D.C. through the 2022-23 season. He's looking forward to helping a youthful Washington squad grow and back to their winning ways to rise back toward the top of the East.
"Both the Wizards organization and the city of Washington have been committed to supporting me and my family since the day I was drafted and I feel blessed to be able to show my commitment back to them," Beal said. "I'm proud to continue leading this team both on and off the court and look forward to being part of building something special."
LEADING THE CHARGE
The 2019-20 season proved to be a difficult one for the NBA, as the season came to a halt on March 12 due to the COVID-19 pandemic, pushing the final stretch of the campaign and the playoffs all the way to August in the NBA bubble at Disney's Wide World of Sports in Florida.
Before the regular season stopped in its tracks, Brad continued to shoulder the load as Washington's primary scorer and veteran leader. No. 3's ability as a scorer continued to flourish as he finished the season with a career-high 30.5 points per game while also reaching a career mark in assists with 6.1 per game.
BB's elite scoring during the season made him the second-highest scorer in the league behind James Harden, and he joined some notable company among superstars Stephen Curry, Dwyane Wade, LeBron James and Michael Jordan as the only players to post averages of at least 30.0 points, 6.0 rebounds and 4.0 assists per game on 45.0% or better shooting in a single season since 1975.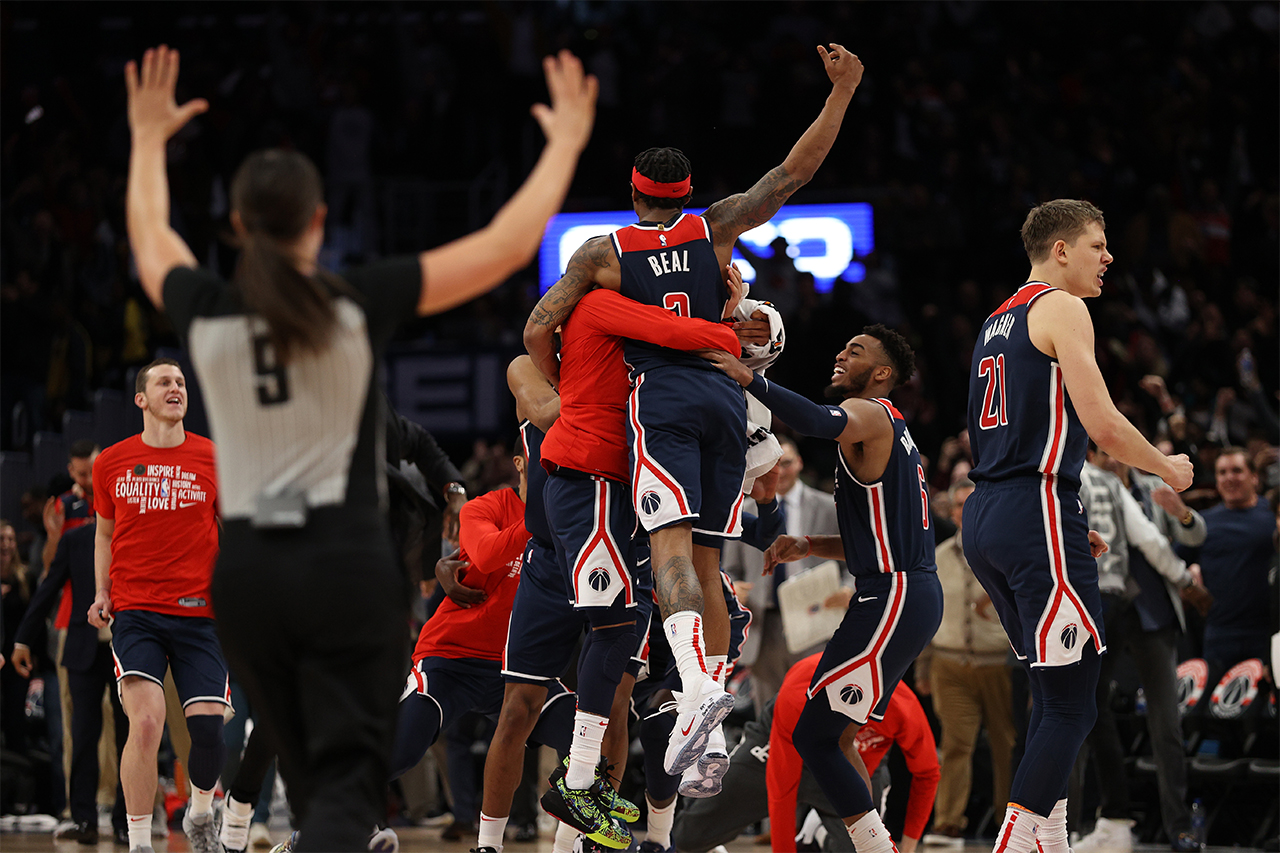 Brad also etched his name further into the record books, becoming just the sixth player in NBA history and the first since Kobe Bryant to record back-to-back 50-point games. The feat began on February 23 when he poured in 53 points against the Chicago Bulls. He followed that big night with another 55 points against the Milwaukee Bucks the very next day.
As fate would have it, Brad's second straight 50-point game came on the same day as Kobe's Memorial Service in Los Angeles.
"That's who Kobe was," Brad said. "That was his drive and that ceremony today just brought the feeling, the tears all back again."
With Brad leading the way, the Wizards finished the regular season with the seventh-best scoring attack in the league, but the team struggled on the defensive side of the floor and as a result, found themselves outside of the playoff picture as the season was suspended.
Though the Wizards were invited to compete in the NBA Bubble for a chance to sneak into the playoffs, they'd have to do it without Brad's leadership on the floor as an injury to his right rotator cuff kept him out for the remainder of the season.
"This was a difficult decision and one that I did not take lightly as the leader of this team," BB said. "I wanted to help my teammates compete for a playoff spot in Orlando, but also understand that this will be best for all of us in the long term."
The Wizards won just one of their eight games in the bubble without Brad and they missed out on the playoffs for the second straight season. Despite a difficult end to the season for the Wiz, they could take solace in the fact that, with Brad as their focal point, they were on the right track towards returning to the playoff form they had just a few seasons prior.
As No. 3 entered his ninth season in the league, the Wizards gave Brad a new co-star to play alongside in the backcourt when they acquired Russell Westbrook in a swap for John Wall between the Wizards and the Houston Rockets. Next to Westbrook, BB notched his third All-Star appearance, where he scored 26 points on 10-of-16 shooting for Team Durant.
Led by Brad and Russ, Washington found their playoff form very quickly, and the 2020-21 season proved to be a major step forward for the organization as well as for No. 3.
Fully healthy and determined to make an even bigger impact, Brad improved upon his incredible 2019-20 season with an even better one, setting a new career high in scoring, with 31.3 points per game while also setting new highs in his free throw and field goal percentage.
Brad's budding offense dazzled the fans that were slowly but steadily returning to Capital One Arena with his elite jumpshot and at-the-rim scoring ability.
No. 3 also continued to best his own personal records, recording his new career-high and first ever 60-point game when the Wizards went up against the 76ers on January 6. Brad also put together his third career 50-point game in an overtime win against the Pacers as well as six more games with at least 40 points.
Brad was named an All-Star for the third time, and for the first time ever was selected as an All-NBA player.
"Obviously, I've had a good year. Made All-Star, hopefully make All-NBA; whatever the case may be. Eventually, I want to be an MVP-caliber player," No. 3 said. "So, maybe that's what's next. Just continue to push myself to be in better positions to succeed."
Personal excellence from Brad eventually led to team success for the Wizards as well. After starting the season as one of the worst teams in the league and sitting at 17-32 on April 5, the Wizards won 17 of their final 23 games to finish 34-38, good enough for a spot in the NBA's Play-In Tournament.
Washington lost the first game of the tournament, which would have locked them into the 7-seed in the playoffs, to the Boston Celtics. But they responded with a convincing 142-115 win over the Indiana Pacers to lock up the 8-seed, and their first playoff appearance since the 2017-18 season.
The Wizards went on to face the top-seeded Philadelphia 76ers, and though Philly won the series in five games, the Wizards were able to avoid a sweep and win Game 4 thanks to a 27-point outing from No. 3, who finished the series averaging 30 points and 6.2 rebounds.
In the two years that followed in D.C., the Wizards could not get over the hump and Brad dealt with injuries that limited his impact on the court. After 11 seasons in the league, all of them with the Washington Wizards, Brad and the only franchise he'd ever known came to a mutual decision to part ways and seek a fresh start via a trade.
A NEW SUN RISES
Any of the other NBA teams would've jumped at the chance to add Brad to the fold.
At just 30 years old, there's plenty of reason to believe that the best is yet to come for Bradley Beal.
Brad had his eyes focused on a particular destination, where we hoped to help turn the desert mirage of a Larry O'Brien trophy into reality.
On June 23, 2023, Bradley Beal was traded to the Phoenix Suns in a three-team, seven-player deal that also involved a litany of draft picks. He joins a Suns team that was just two wins away from a championship two years ago and was already home to superstars in Devin Booker, Kevin Durant and Deandre Ayton. They will form a quartet the likes of which is virtually unmatched in the current NBA landscape.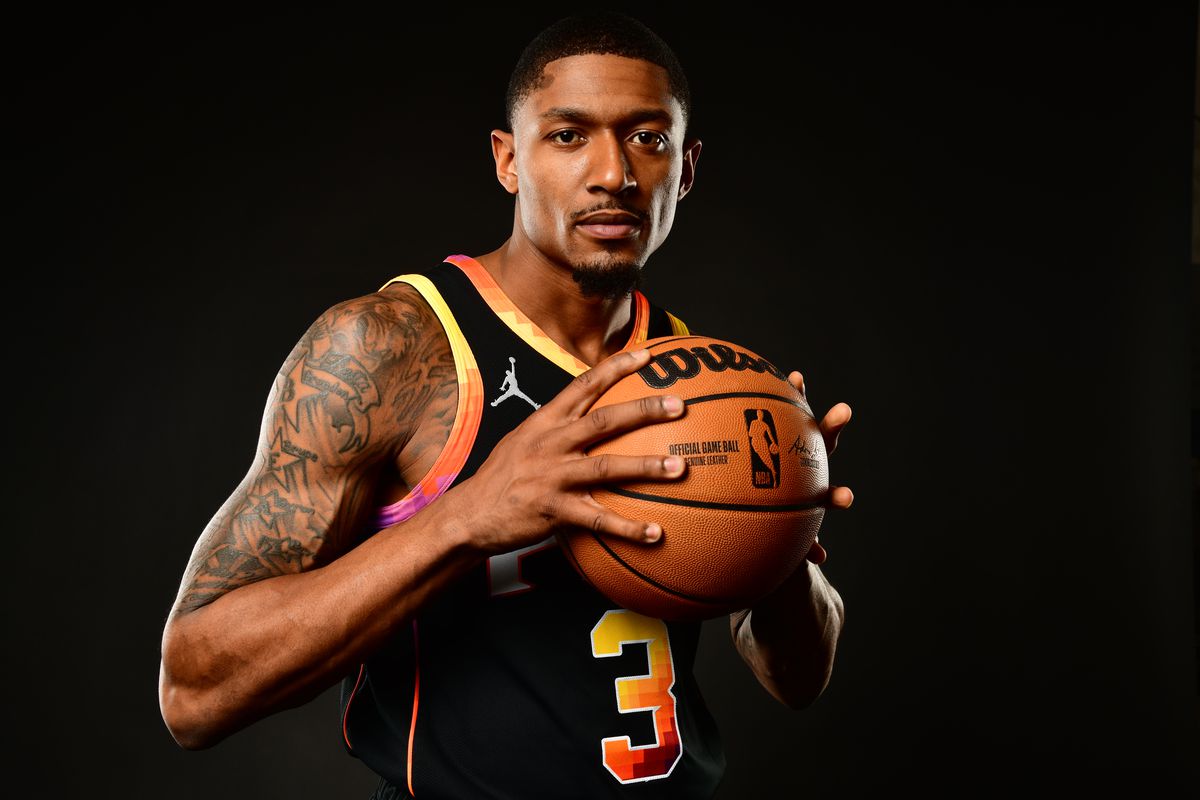 "I'm excited about it. You have a lot of dynamic scorers who, the biggest box that we all check is our unselfishness. All of us just want to compete, we want to play hard, and the biggest thing, we want to win," Brad said. "We're all focused on one goal and we're gonna do everything in our power to try to achieve that thing."
SOURCES