Bradley Beal only spent one season at the University of Florida, but there's no denying the impact he had on the Gators basketball program.
As a freshman, Brad came in with much acclaim and established himself as not only an instant starter, but a star contributor. He started all 37 games at shooting for the Gators during his lone season in Gainesville, averaging 14.8 points, 6.7 rebounds, 2.2 assists and 1.4 steals per game.
He led Florida to a second-place finish in the Southeastern Conference, and on to the NCAA Tournament, where he did his best work. In four tournament games in the West Regional, BB averaged 15.8 points, 8.3 rebounds, three assists and 1.5 steals per game, while shooting over 60 percent from the field. He pushed the Gators to the Elite Eight, where they lost a thriller to top-seed Louisville. He was named to the All-West Regional Team.
But beyond his on-court contributions, Brad made an impact on the University of Florida basketball team with a selfless, team-first mentality that permeated the program and carries on in Gainesville.
COMMITTING TO THE CHOMP
Bradley Beal's commitment to the University of Florida came early. A Class of 2011 prospect, he announced his decision in November 2009, in the midst of just his sophomore high school season.
Highly coveted out of Chaminade Prep in Missouri, with a background leading AAU and USA Basketball junior teams to great success, Brad had his pick of the best basketball schools in the country. Duke, Kansas and Kentucky all came calling, as did his native Missouri and nearby Illinois. But BB was set on the University of Florida, noting when he gave his verbal commitment that the University's staff set them apart from the crowd.
"Really, it's the whole coaching staff from Coach [Billy] Donovan to Coach [Rob] Lanier to Coach [Richard] Pitino and Coach [Larry] Shyatt that makes Florida so attractive," he said. "They have a real passion for winning and I like the way they work hard together."
"They really wanted me and want me to be a key factor to the team in the future."
—Brad on Committing to Florida
In particular, Bradley forged a quick bond with Donovan, who he could tell from early meetings was actually invested in him as a player and a person.
"I really like the way Coach Donovan brings out the best in you," BB said. "I think he really wants you to succeed and I think he really cares about his players."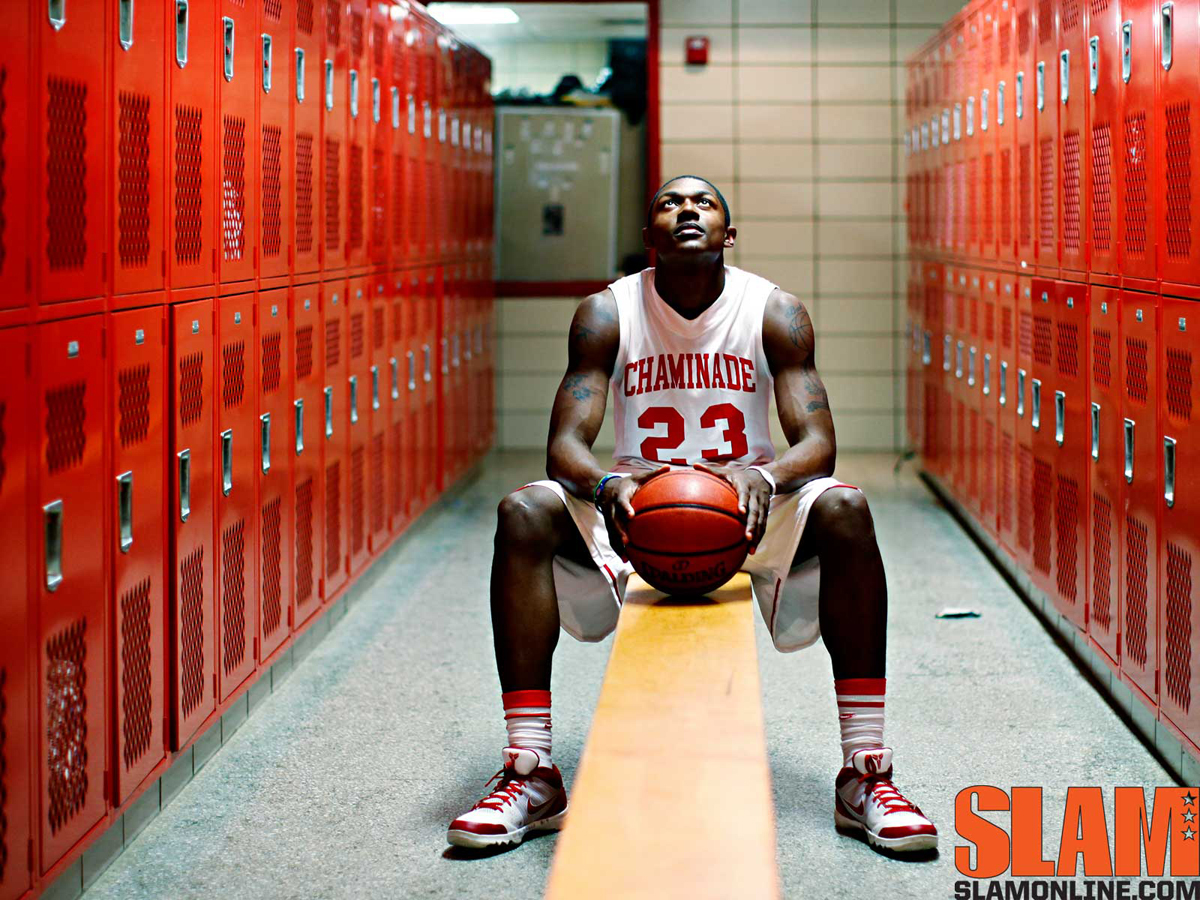 In large part due to that bond, in an era where verbal commitments are fleeting, Brad stayed loyal to the blue and orange, even as his prospect status surged. During his high school senior season, he averaged 32.5 points, 5.7 rebounds, 2.8 assists and 2.7 steals per game—earning his second straight Gatorade Missouri Player of the Year honor, along with McDonald's and Jordan Brand All-American acclaim.
When he officially arrived at Florida, Bradley became the first player out of Chaminade to suit up for the Gators on the hardwood since NBA All-Star David Lee.
EARLY ADVERSITY
He was a starter at guard from the jump, but things weren't always easy for BB at the collegiate level.
The Gators lost just his second game, a hard fought 81-74 battle with No. 3 Ohio State, despite a team-high 17 points from No. 23. He followed that up with two 22-point games in double-digit Gators wins over Wright State and Stetson. With that, Brad completed his first month in the NCAA averaging 17 points per game.
Adversity struck at the outset of December. A trip to Syracuse saw Bradley limited to seven points in a grueling 72-68 loss by to the No. 4 Orangemen. But Brad didn't give up trying to find ways to help his team, shown by his 10 rebounds in that defeat.
"He's always been a guy that relied on his offense," Donovan said. "He's starting to see that there's so much more to his game, with the way he rebounds, the way he passes and the way he attacks."
The Gators reeled off five straight wins after that loss at Syracuse, with Brad averaging 15.4 points and 5.2 rebounds per contest in that span.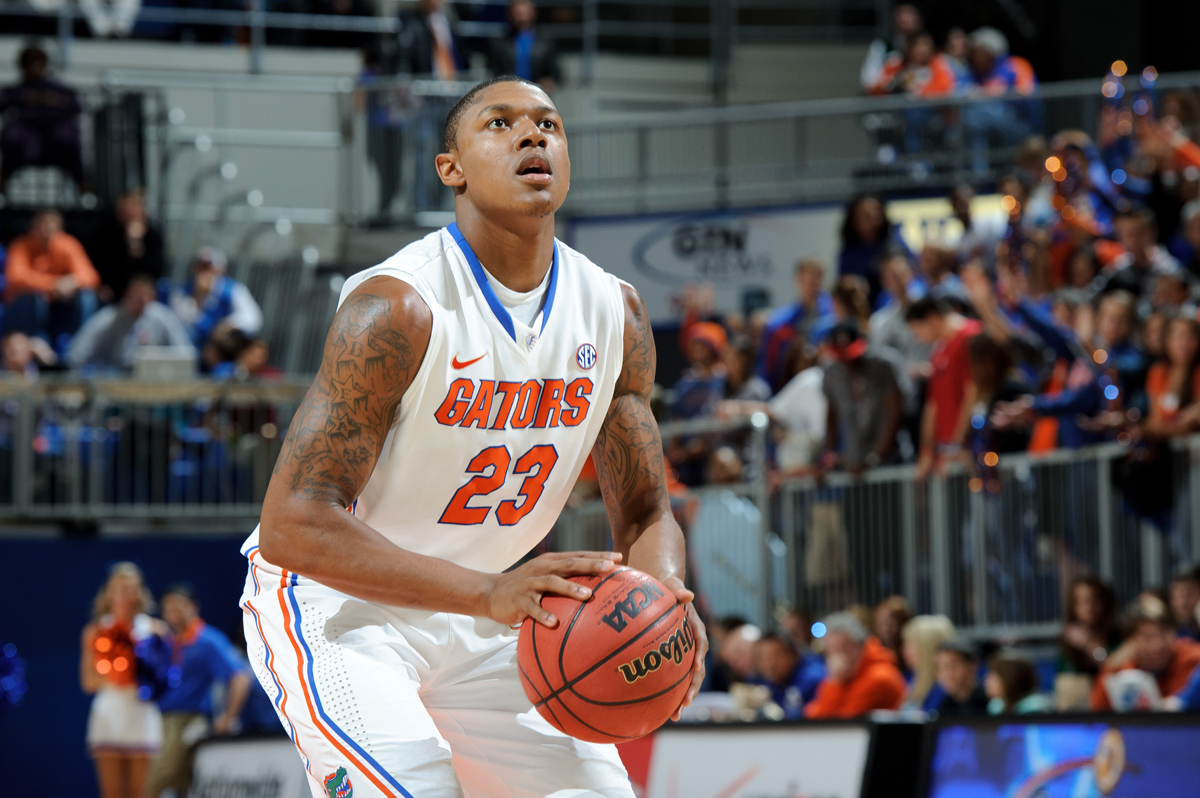 Another valley came for BB and the blue and orange around the dawn of the new year. First was a tough-to-swallow 85-83 double overtime loss to unranked Rutgers. Brad had 15 points, seven rebounds, two blocks and a steal in the loss, but keyed in on the 33 percent shooting and seven turnovers. Days later, he scored a season-low five points in a win over UAB on 2-of-15 from the field. Then came Bradley's forgettable SEC debut, a 67-56 loss at Tennessee that saw him score just nine points, again shooting 33 percent from the field with five turnovers.
"It was a pretty frustrating time," Brad recalls. "It's not like I'd been through phases like that before."
Brad's mother and biggest fan Besta was in attendance that night in Knoxville, and after the game, she gave her son a bit of a pep talk. She told him that he didn't need to change his game to keep up with the pace of play at the college level. He simply needed to get back to being himself.
"His shot was off," she said. "I threatened him, told him I was coming to Florida and we were going to get some shots up, so I made it my business to get to Tennessee. I think he was rushing it, almost throwing it. I told him just because the game is faster, that doesn't mean your shot needs to be faster."
Sensing that his star's confidence was beginning to waver, Donovan also pulled him aside one day during that stretch and had a heart-to-heart with Brad about his talent, and role on the team.
"The thing I tried to get through to him [was] stop worrying about your shot. Freshmen are going to have peaks and valleys shooting the basketball," Donovan said of the sit-down between the two. "I told him, 'You do too many other things as a player that impact our team,' and to start stepping up and trying to be more aggressive."
SUCCESS IN THE SEC
Bradley responded to the encouragement from his coach in a big way. In the very next game, he grabbed 10 rebounds to go with 17 points, his third double-double of the season, guiding the Gators to a win over Georgia. Then, exactly a week after the loss at Tennessee, he helped lead the then No. 19 Gators—who had been 0-4 on the road while playing flawlessly at home and at neutral sites—to their first road win of the season, a 79-65 victory at South Carolina.
It was the second in a string of seven straight wins for Florida, all over Southeastern Conference opponents, as they rose from the fringe of the Top 20 back into the Top 10 teams in the nation. During that stretch, Brad averaged 14.7 points, 6.6 rebounds, 1 steal and just 1.3 turnovers per game, all while shooting 51.6 percent from the field.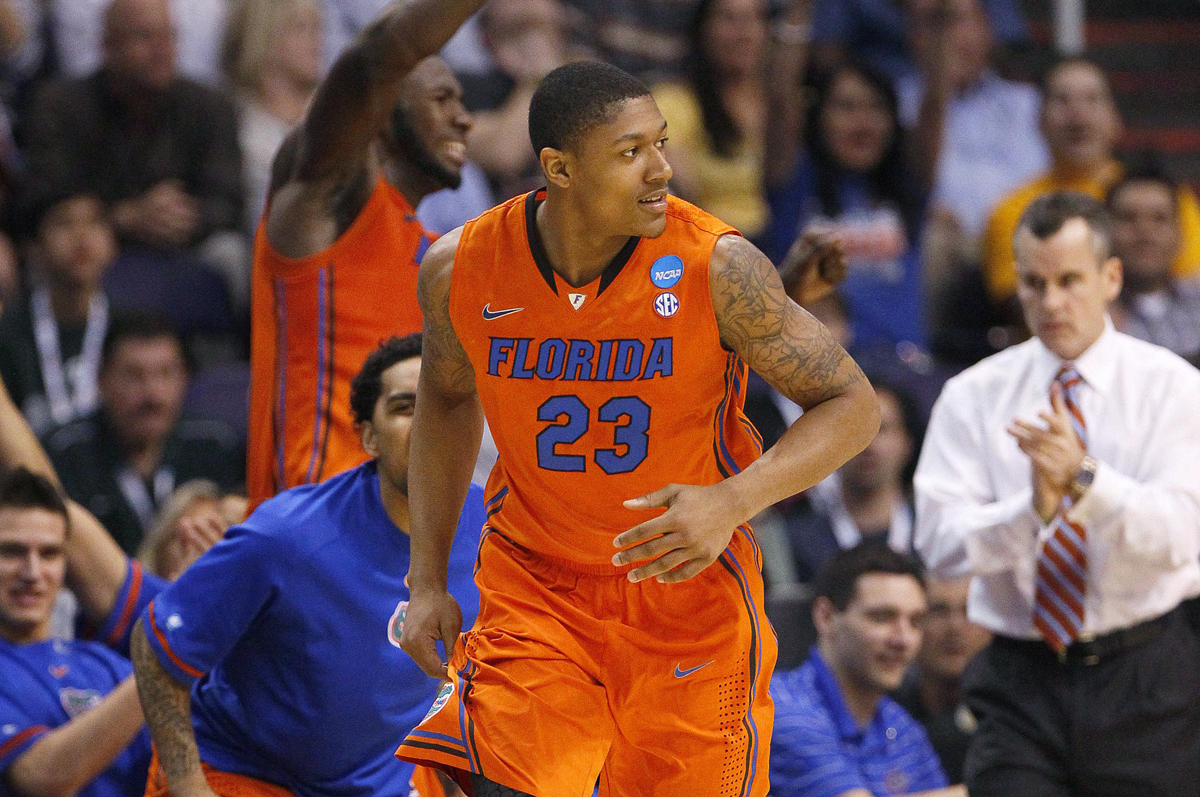 "I really took it upon myself to bear down and start guarding guys and crashing the boards," BB said. "My shot just ended up coming out of nowhere, really. Coach told me it was just a matter of me playing and getting my rhythm. Sure enough, it came."
"Brad's just really turned into the complete package."
– Gator guard Kenny Boynton
The Gators hit several more bumps in the road down the stretch of their grueling SEC schedule, but Bradley kept a mostly steady hand. After back-to-back losses, including their first at home to Tennessee, he guided them to consecutive road wins at Alabama and Arkansas.
"As a freshman, he doesn't want to be out of bounds or put our team or our chemistry in jeopardy," Donovan said. "But sometimes, he needs that push to let him know it's OK."
The Arkansas game, in particular, was among Brad's best at UF. He tallied 21 points on 6-of-8 from the field, grabbed nine rebounds, dished out three assists, and added two steals and two blocks as the Gators cruised to a 30-point road victory. One week later, he posted a 19-point, 12-rebound double-double on the road at Georgia, but the Gators struggled as a unit in a 76-62 loss. It was the first of three straight losses by Florida to end the regular season.
Still, the Gators finished 10-6 in conference play, second only to Kentucky, who rolled through the SEC unbeaten. Brad averaged 14.4 points, seven rebounds, 1.9 assists, 1.4 steals and 1.9 turnovers per game over the course of the team's 16 regular season conference games.
TOURNAMENT TIME
The Gators entered the SEC Tournament in the midst of a season-ending slide, ranked No. 22 in the nation.
They survived their first test, a 66-63 thriller with Alabama that saw BB tally a team-high 16 points, seven rebounds and five assists. But in the next round, Florida ran into the Kentucky buzzsaw. The upset-minded Gators held a four-point lead with under 10 minutes to go but couldn't hold off the Wildcats in the epic showdown, falling 74-71 despite another stellar performance by Bradley. He scored 20 points on 8-of-15 from the field and added eight rebounds, five assists, a steal and a block in the tremendous effort.
"For a freshman, even one as talented as he is, it's just so unique for a guy to have the great feel for the game Brad has," Florida assistant coach Matt McCall said. "He needed some time for that feel to really manifest itself."
It continued to do that in the NCAA Tournament. After struggling to the finish line of the season, Florida drew a No. 7 seed in the tournament, but they didn't look the part in the early stages of the West Regional. They began the tourney with a dominant 71-45 win over the eighth-seeded University of Virginia, behind 14 points and 11 rebounds from Brad.
Two days later, the Gators ended the Cinderella story of 15th-seeded Norfolk State with another overwhelming win, 84-50 that sent the Gators to the Sweet 16 for the eighth time in school history. Brad had 14 points, nine rebounds, three assists and two steals in that game, causing Boynton, who led the Gators in scoring for the game, to compliment his backcourt-mate afterward.
"I really can't remember the last time he had a bad game," he said. "He's doing all the things in the game that matter."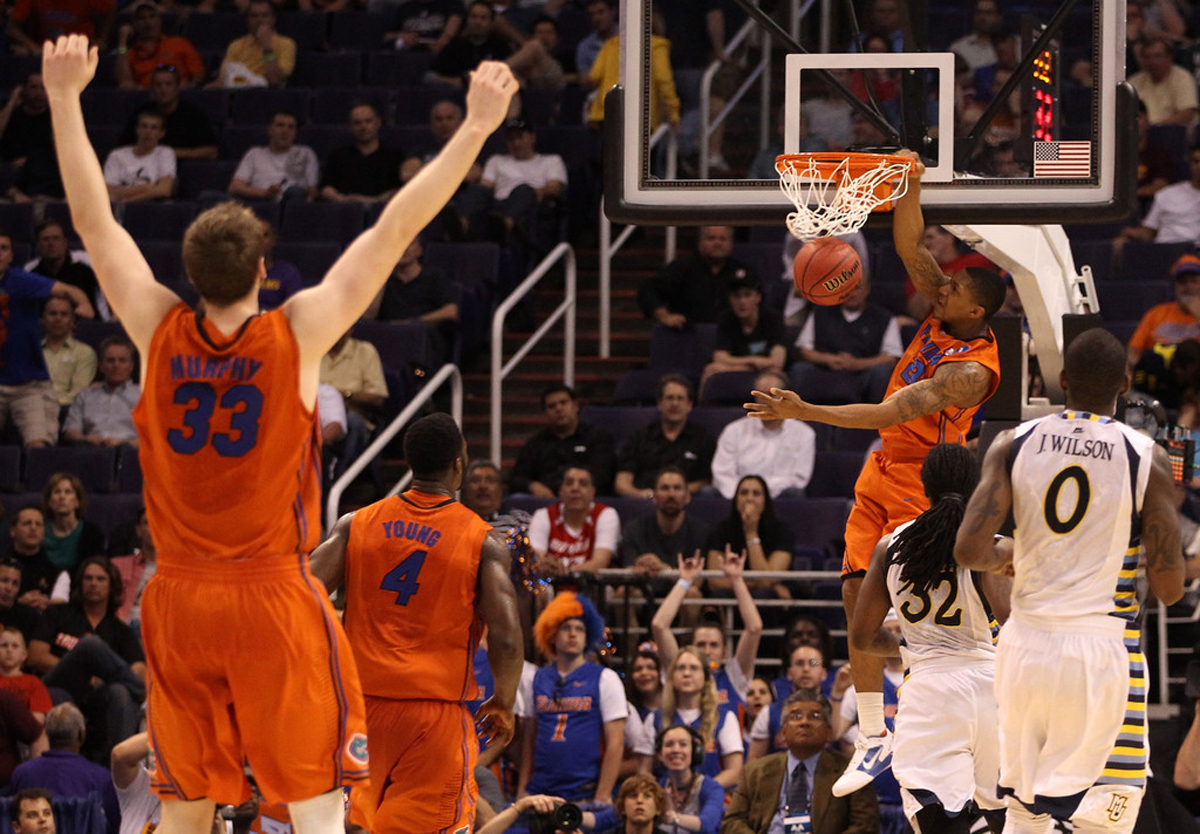 Florida's first big test of the tournament came in the Sweet 16 against third-seeded Marquette, and Brad and company rose to the challenge. BB was lights out from the field, connecting on 8-of-10 for 21 points. He tacked on six rebounds, four assists, two steals and two blocks for good measure in the 68-58 win for the Gators, and afterward was lauded by his coach for his steady acceptance of the lead role that UF needed him to embrace to succeed.
"He doesn't want to step on toes; he's very aware of his place on the team," Donovan said.
You can't do anything but love him because of the way he handles himself."
– Billy Donovan
But the Gators dream championship run ended just two days later, in stunning fashion, to No. 1 seeded Louisville. Riding a wave of momentum, the Gators bounded out to an eight-point halftime lead, and when Brad buried a jumper just nine seconds into the second half, they were up by double digits. They led by 11 with just over eight minutes to go after BB found big man Patric Young, who finished with a flush. But the Florida went cold from there, making just one field goal the rest of the way. Louisville finished the game on a 23-8 run. Brad had a chance to tie the score with a three in the final seconds—and then gave Florida a second chance after snatching the rebound and dishing to Boyton—but it was not to be.
Afterward, Brad spoke with pride about the season. He lauded the effort of his team in the game, the season and tournament, speaking to the leadership qualities Donovan had seen in him all along.
"It was a tough journey for us. I think we stuck with it and we played together as a team," BB said. "We got this far. I'm real proud of our guys. It's just unfortunate we ended up losing today."
BOUND FOR THE NBA
It ended up being the last game Bradley would play for the Gators. After taking some time to think after the season, meeting repeatedly with Coach Billy Donovan and going through an assessment of his draft prospects Brad announced in Mid-April that he would be entering the NBA after just one year in college.
"Making this decision was probably one of the hardest things I've ever had to do in my life," he said. "It was hard to just tell coach to his face that I was going to enter the draft. Just the feeling, like the emotion that I had, it was worse than losing to Louisville."
But ultimately, it was a choice that Brad needed to make. His draft assessment had him pegged as a top tier talent, and he was ready to pursue his NBA dream.
"It was the right time for me. Coach told me whatever you decide, when you decide make sure you're at peace with it," Brad said. "This place is great, I love my teammates, I love this school. Everything about this place is beautiful.
He has gone on to accomplish those things and then some.
Brad rose up draft boards in the months following his decision, and on draft night, the Washington Wizards made him the second highest pick ever from Florida, selecting him third overall. He's gone on to establish himself as one of the league's premier players.
But the legacy he left behind at Florida in his short time there is one that lasts.
"Selfishly, I'm going to miss having a chance to coach him," Donovan said. "Besides his basketball ability, the one thing I admire about him more than anything else is from the time he stepped foot on this campus, he has been a great teammate. He has been really unselfish. He has worked incredibly hard. Winning is very important to him. Chemistry on the team is very important to him. The way he handled himself the entire year was really remarkable…He has all the intangibles to be a great, great pro and play for a long time."
SOURCES