The 2017-18 season was a banner one for Washington Wizards guard Bradley Beal, headlined by his first All-Star appearance. Over the course of what was a breakout season for Brad were a slew of highlight performances. Before BB and his Wizards brethren get set to embark on a new season in D.C., we're looking back on his top performances of his All-Star season.
Coming in at No. 5 is an outstanding performance on a grand stage, as BB put on a second half show in the city that never sleeps, to close out the first half of the season with a Wizards comeback win on Valentine's Day at Madison Square Garden.
BB LEADS WIZARDS' SECOND HALF SURGE TO SPELL VALENTINE'S DAY HEARTBREAK FOR KNICKS
The plan for the Washington Wizards to go into the All-Star break on a high-note seemed set to come off the rails early. That is, until Bradley Beal came along and proved exactly why he earned his first All-Star nod, leading the Wizards to a come from behind win at Madison Square Garden.
Brad racked up 36 points on an extremely efficient 14-22 shooting (63.6 percent) which included four triples. Additionally, with John Wall out of the lineup —for the ninth game, in what would be a 27-game absence— the Panda contributed in a variety of ways for his team. He dished out seven assists, grabbed five boards, and on the defensive end, recorded a pair of blocks and three steals.
And to post those numbers—with the team's back against the wall—at one of the NBA's most iconic venues made for a truly special night for No. 3.
"I didn't want to lose before the break," Beal said. "We did a good job of coming around. Coach gave us a good pep talk at halftime. It lit a fire."
The Wizards needed every bit of that fire, even though they probably shouldn't have.
A visit to New York, to take on a reeling Knicks team that had lost seven straight to fall to a season-low 12 games under .500, was supposed to be the Valentine's Day gift that Washington deserved at the end a heart-wrenching first half of the season.
But the game was like a box of chocolates in all the wrong ways.
At the outset, it appeared to be New York's own rendition of the St. Valentine's Day massacre. Washington struggled defensively against the youthful Knickerbockers and the Knicks raced out to an early 39-26 lead after one quarter.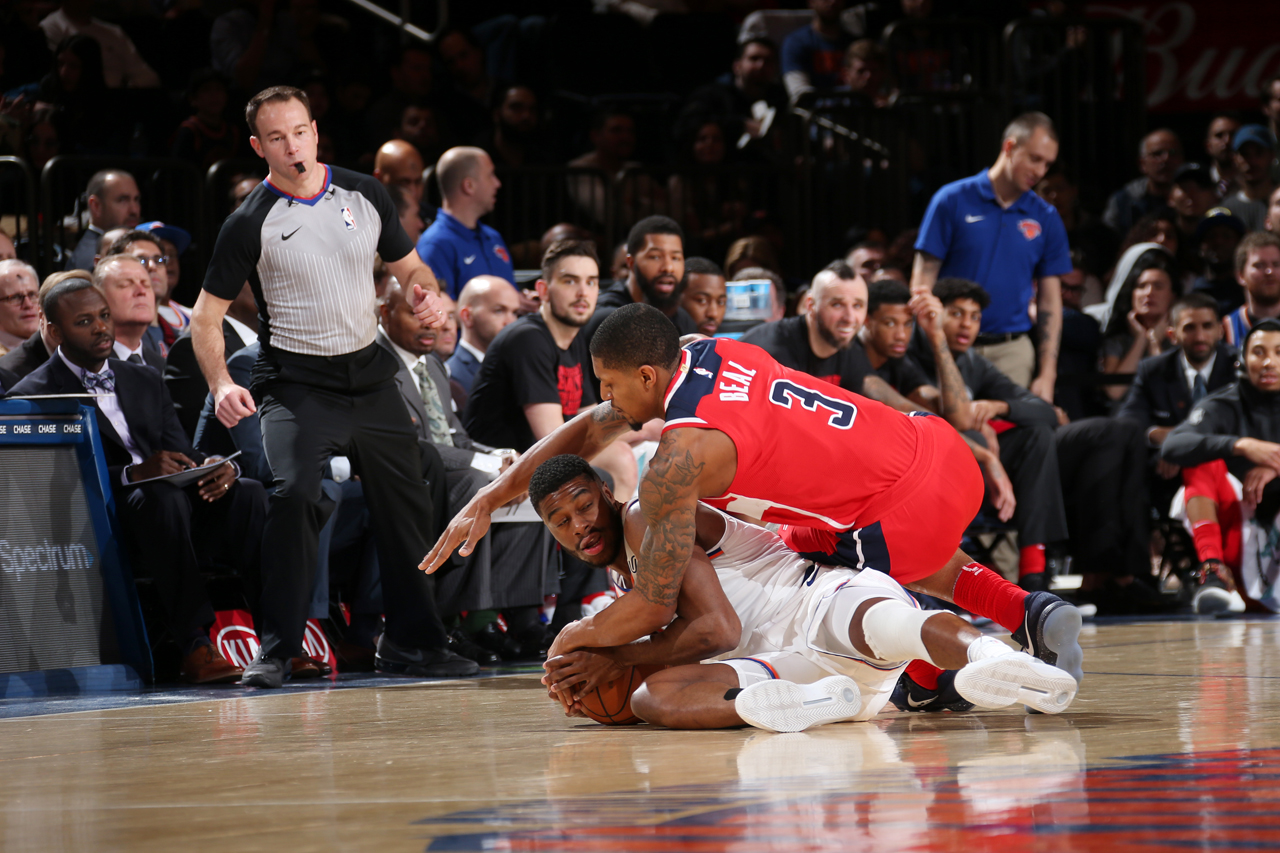 The beatdown only continued in the second quarter as New York's hot shooting saw them expand their lead to a whopping 27 points and take a 21-point lead into the locker room at break. That surge was led by Tim Hardaway Jr., who poured in 32 first half points. For his part, Brad finished the half with a team-high 13 points, including eight points in the final 2:03 as Washington began the comeback from that 27-point deficit.
Then, after Coach Scott Brooks lit that fire, BB and the Wizards refused to roll over in the second half. Instead they came out with some hot shooting of their own in the third quarter. Brad's 12 third-quarter points helped spark a 39-point period that—along with stifling defense that limited New York to just 15 points—helped the Wizards gain the lead entering the final frame.
No. 3 added 11 more points in the final frame, and although the Knicks hung around for the duration of the fourth quarter, the Panda's clutch finishes and free throws iced the game.
His second-half performance secured a 118-113 regular season victory, completing the largest comeback of the NBA season to date, although BB wasn't ready to brag about that feat.
"You never want to be down in a game, but it's great that we won. I guess it is something we can be proud of," he said. "We won the game, but we still can't come out with that type of focus and energy we had because it could have gotten ugly. We could have been down 30 or 40 if we didn't turn it on."
But they did turn it on, and as a result, went into the All-Star break with a 33-24 record. For Brad, it was the 11th of his 15 30-plus point games in the 2017-18 season and one of a whopping 10 times over the course of the season that he shot better than 60 percent from the field, a true All-Star performance that sent him off to the midseason league showcase on a high note.