After taking some time to find his rhythm, Bradley Beal left his mark on the 68th NBA All-Star Game.
No. 3 poured in 11 points, all of them coming in the second half, as he helped Team LeBron overcome a deficit of as much as 20 to defeat Team Giannis 178-164 on Sunday in Charlotte.
It was Brad's second career All-Star appearance, both coming in the last two years as a member of Team LeBron, and both have resulted in victories. Brad was the lone representative of the Washington Wizards this year, after going along with teammate John Wall last year, and according to BB, his second run at playing among the league's elite felt different from the first.
"I was more comfortable, I wasn't as nervous. I checked into the game, even the intros, everything felt like I belonged, and I was used to being here," Beal said. "It was a great feeling. It's good to be able to get out there, I haven't touched the ball in a few days, but it felt good to be able to get in rhythm and get some shots up."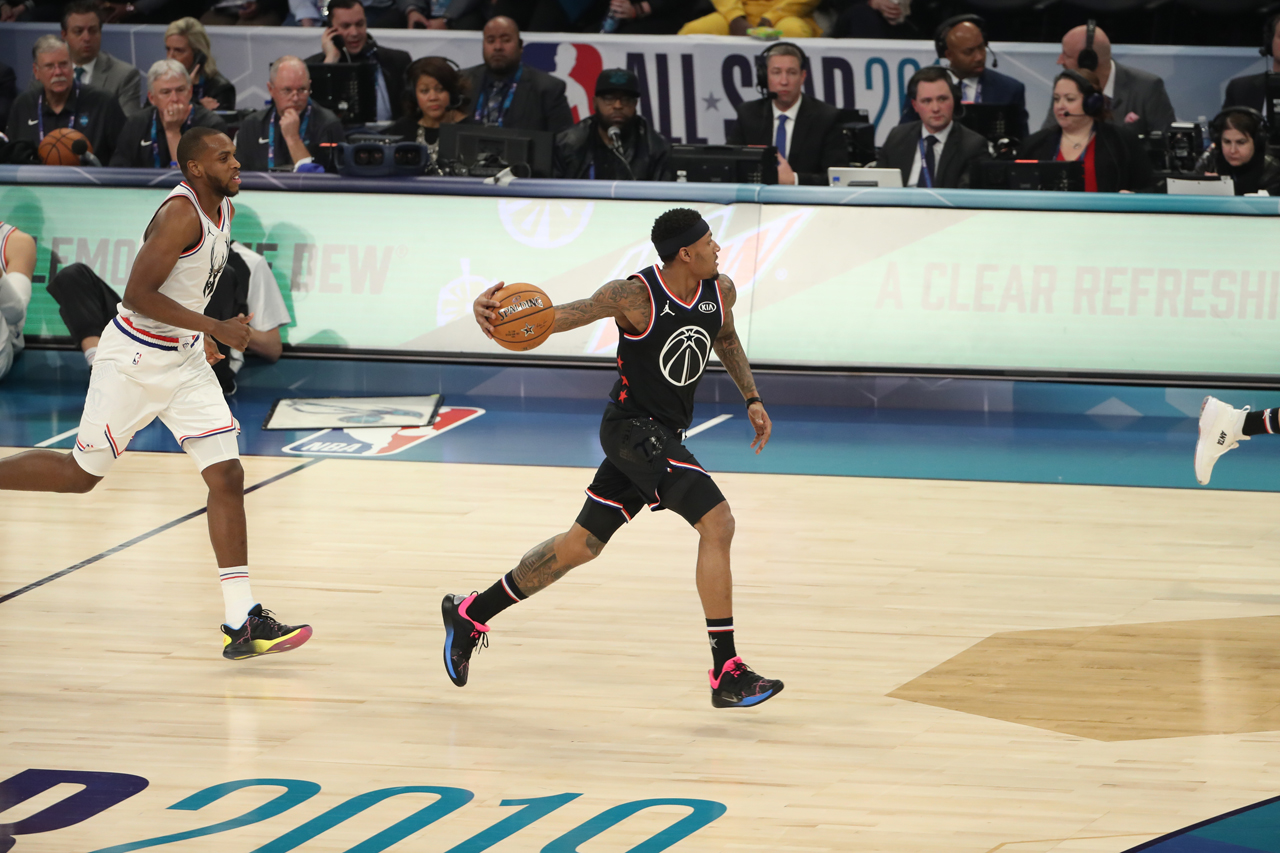 Though nerves didn't play a factor for The Panda this year, finding the right pacing early was a bit of a struggle, as it was for all of Team LeBron. After a trey by Kawhi Leonard staked them to a 17-14 lead, Team LeBron went cold. Of the next 38 points scored in the game, 29 were scored by Team Giannis, as they built a 17-point edge late in the first frame. Brad checked in for the first time during that run, but he too started cold, and went scoreless on five first-half field goal attempts.
Led by a ferocious start from team captain, Giannis Antetokounmpo, Team Giannis led by 16 after one, and held a double-digit advantage for the entire second quarter before settling in with a 95-82 halftime lead. Early in the third, Team Giannis even pushed their lead to 20, setting out to dominate Team LeBron.
But in a game as high scoring as the All-Star Game, there was still plenty of time to make a run in the second half. And they did just that, with the shot-making of The Panda as a catalyst.
Brad found his rhythm shooting 3-for-5 from long range as Team LeBron chipped away at the lead. After checking in for James Harden with five-and-a-half minutes to go in the third, No. 3 went to work from deep. His first three, seconds later, reduced a 14-point deficit to 11. It also kicked off a huge run by Team LeBron. Next came back-to-back treys by Damian Lillard and Klay Thompson.
When Brad knocked down his second trey, with four minutes left in the frame, it was suddenly a one-possession game, 120-118.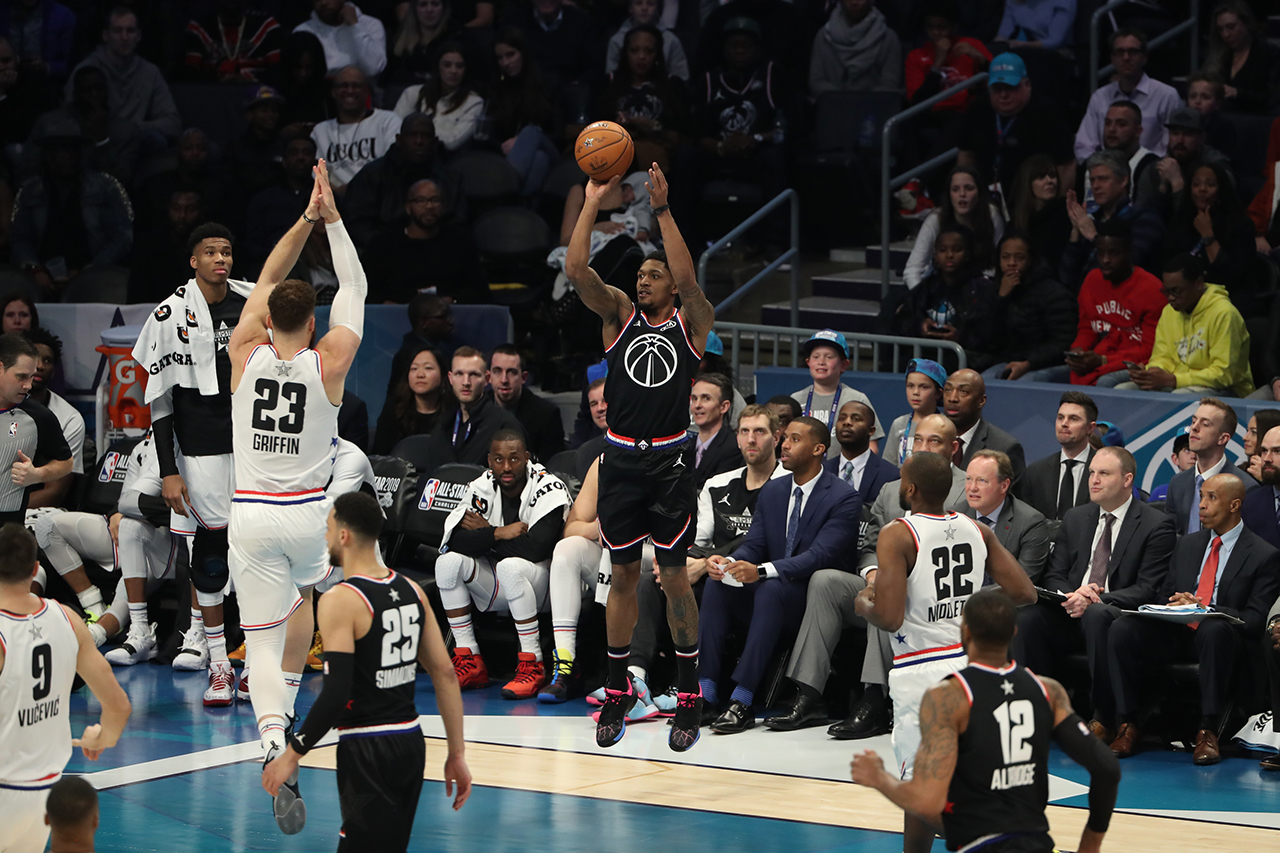 "We just started making shots," said All-Star Game MVP Kevin Durant. "Bradley Beal, Klay Thompson and that second group got us going, and we took over from there."
Durant's former teammate Russell Westbrook broke the 12-0 run by Team LeBron with a pair of layups, but Thompson answered with a trey to cut it back to a three-point game. From there, Lillard twice tied the score with threes, and though the Team Giannis again fought back, Brad's third three of the quarter, with less than a minute left in the third, made it a one-point game. It was followed on the next possession by a bucket from Ben Simmons, which gave Team LeBron their first lead since the early stages of the game. Team LeBron piled up 50 points in the third quarter and entered the final frame with that one-point advantage.
Early in the fourth, The Panda tried his hand as a facilitator, dishing out buckets to Thompson and Karl-Anthony Towns. When Brad got loose a few minutes later on a fastbreak off a Steph Curry turnover, his two-hand slam with 6:46 remaining gave Team LeBron a 155-153 lead.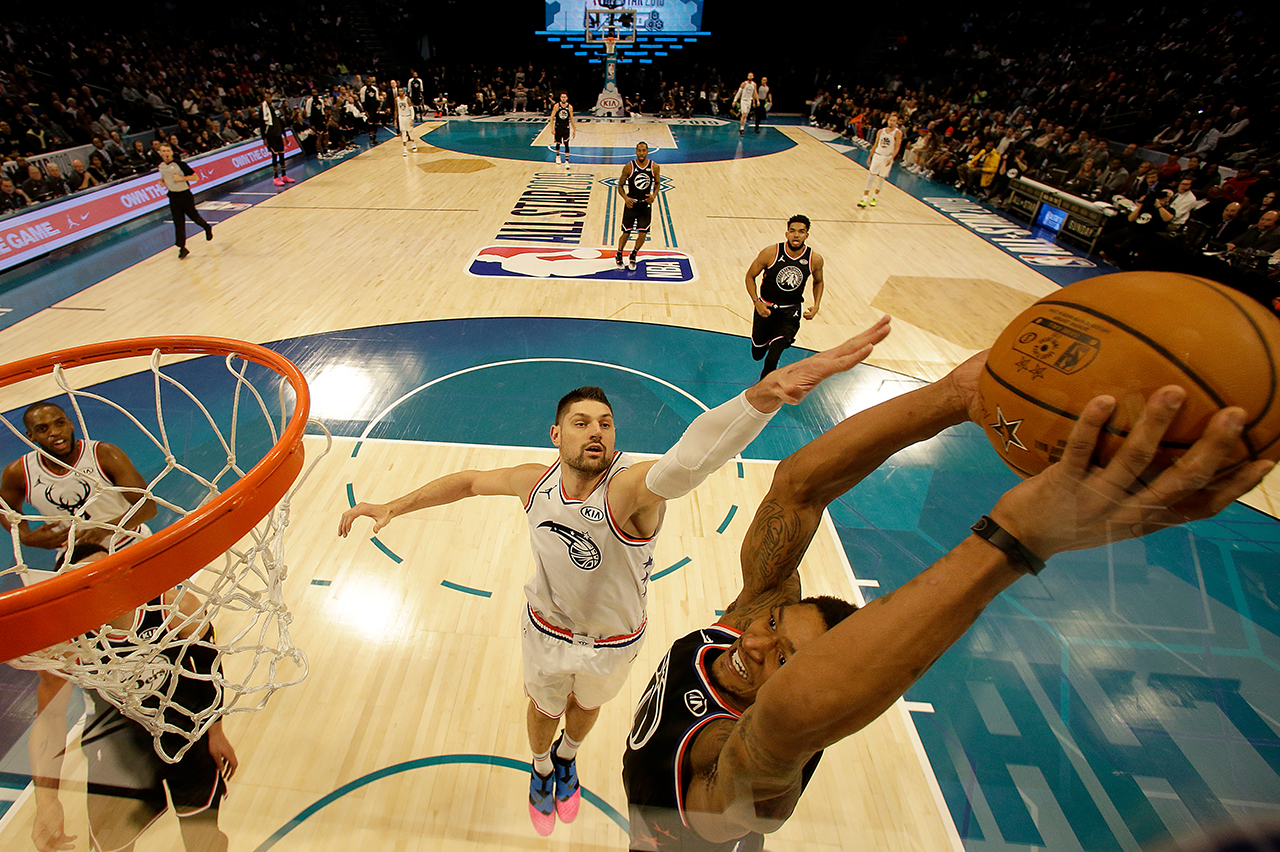 Beal and company wouldn't look back from there as Team LeBron secured a double-digit win. All told, BB played 18 minutes off the bench, scoring his 11 points on 4-11 shooting and adding three assists. The Panda's net rating of +18 was third best among all players in the All-Star Game, and his shot-making in the third quarter played a pivotal role in getting Team LeBron back into a position to win.
Although winning is a nice bonus, Brad relished the opportunity to share the court with some of the best basketball players in the world.
"Realizing how many other great players you're on the floor with, that's what it's about for me. Obviously, you want to play well, you want to win, we've got $100,000 on the line, so we definitely were trying to win, but at the end of the day, it's just all about coming out here, being with the other guys," Beal said. "Guys you'll never get to share the floor with in your career, guys you'll always play against. Coming together for a common good, and at the end of the day, play to have fun and enjoy each other's company."
The 2019 NBA All-Star game attracted various celebrities, musicians and pro athletes including rapper Meek Mill, NFL wide receiver Antonio Brown, Patriots owner Robert Kraft and many more. The halftime performer was local legend J Cole who grew up in nearby Fayetteville, North Carolina. Beal and his teammates were able to enjoy J Cole's performance thanks to head coach Michael Malone.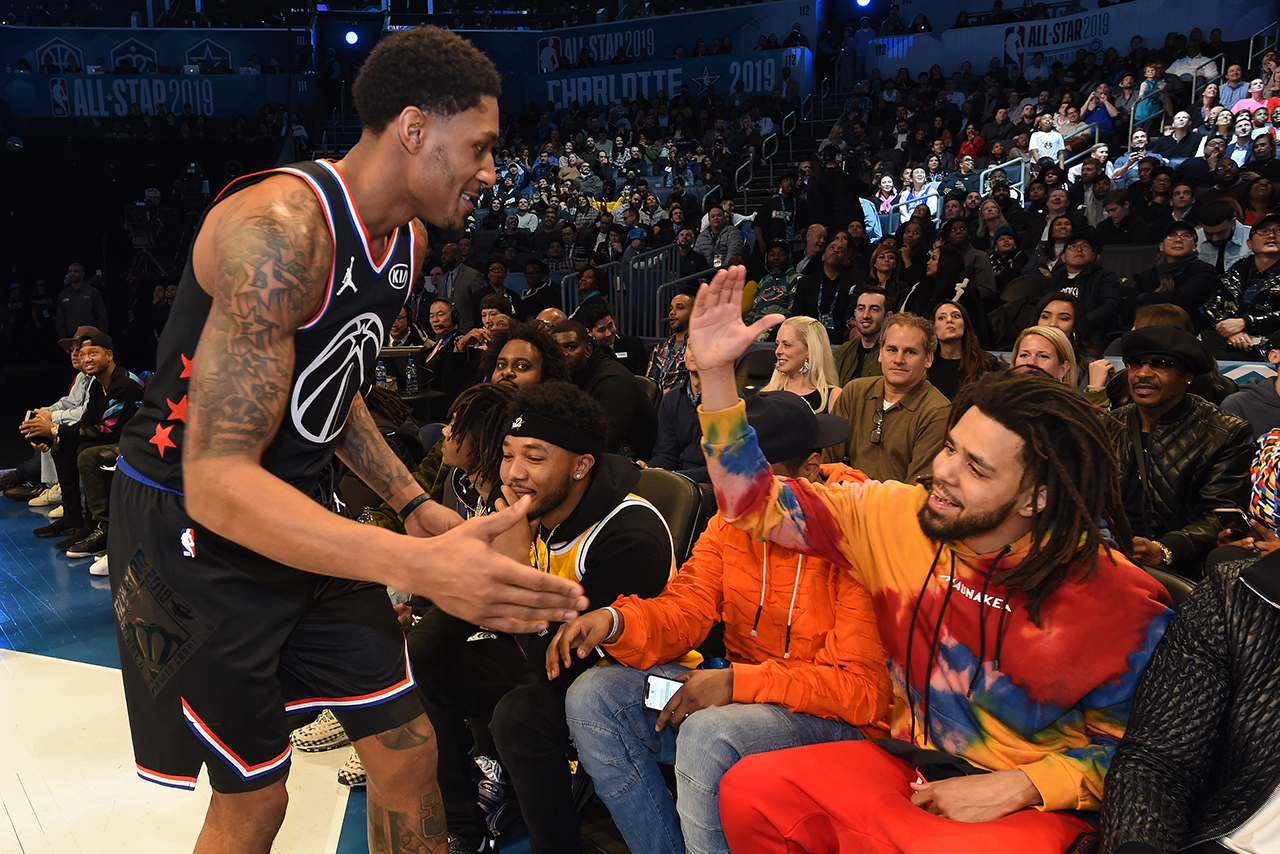 "It was great. I met (J Cole) before. The first time I met him, I don't even know if he remembers this, but I watched him at the Jordan Brand Classic when I was in high school in 2011," Beal said. "That was the first time he produced Friday Night Lights and ever since then he's taken off from there, so I got the feel for his early success, (which) was amazing to see at that point and see where he is today."
With the All-Star festivities now over, Brad is looking forward to returning to DC refreshed and ready to make a second-half run at the playoffs. The Wizards currently sit 11th in the Eastern Conference standings, three games from the final playoff spot with 24 games remaining in the season.
"I'm locked in, I'm beyond locked in. Hopefully my teammates will be the same way because there's a lot of games that we need," Beal said. "These games are imperative and important, and I'm going to make sure everyone is locked in. I feel good, my body feels good so we're going to hit the ground running."
Washington returns to action Friday when they visit the All-Star hosts, the Charlotte Hornets, a team currently seventh in the Eastern Conference. Tip-off is scheduled for 7 p.m. ET and the game can be seen on NBC Sports Washington.