For his work in the community throughout the 2018-19 NBA season, Bradley Beal was selected as the recipient of the NBA's Cares Community Assist Award Monday night at the NBA Awards in Santa Monica, California.
Throughout the season, 10 NBA players were acknowledged for their work within their community. Those 10 finalists were then voted on by fans and an NBA executive panel. They chose Brad, and he will receive $25,000 to donate to the charity of his choice.
He accepted the award alongside Taj Davis and Makhi Alston Daye, students at Ron Brown Preparatory High School (RBHS).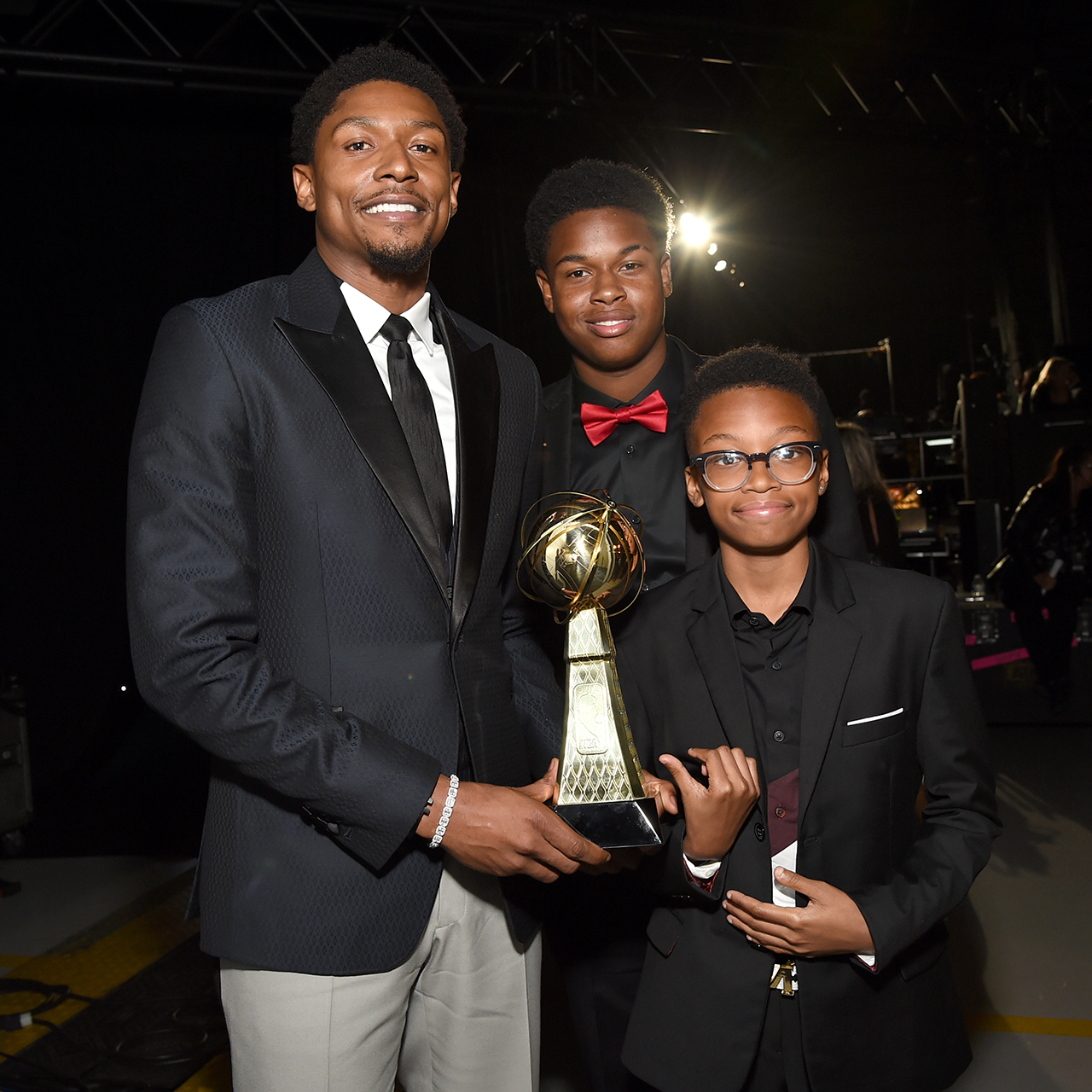 Beal won the award in large part because of his involvement at RBHS.
"We're all basketball players and you know we all have a platform and if there's one message I can encourage everybody man, please, please lets give back to the youth," he said after he accepted the honor.
The local Washington D.C high school drew interest from BB because he can relate to the students that go there. The all-boys public school is similar to Chaminade College Preparatory School in St. Louis, the all-male school Brad attended for his middle school and high school years. For Beal, who just became a father last summer with a second child on the way, the interaction with the RBHS students has been extremely meaningful.
"I try to explain to everybody that being around the school and being around the kids, that has a big impact on me, even more than me impacting them," Beal explained. "It changes my whole perspective on life, on how I treat people, how I interact. Now I have a son too, and they're my little brothers. I look at them and they're situations and how they live and the backgrounds that they come from are very similar to mine. I relate to them in a lot of ways, and I'm very appreciative of that."
The two-time all star's involvement with RBHS was highlighted by a private screening of Creed II for students at RBHS and local community groups, Beal awarded the RBHS basketball players and coaches two pairs of new shoes each for the holiday season in December.
In February, Brad took 10 students to the National African-American History and Culture Museum. It was then that his connection to the students really showed, according to RBHS principal Benjamin Williams.
"I've seen his generosity before, I've seen him interact with the students before," Principal Williams explained. "But when he brought us out to [the museum], his level of affect and connection with that whole process, he was able to sit with them and process what they were experiencing."
Brad later returned to the school for a mentoring discussion in May and a bowling party at the end of the school year. On top of his efforts at RBHS, Beal's community outreach this season included providing toys to the Salvation Army and donating game tickets to local community groups.
Beal was presented with the award by teammate John Wall, who won the award for the 2015-16 season. The Wizards are the first team with two season-long NBA Community Assist Award winners since the honor was established in 2014-15. Wall noted how Beal's commitment to the youth in their city had already has a positive impact on the future of those students.
"Brad's one of the guys who is under the radar, but he is a star player in this league and everybody knows that. I'm so happy for all the recognition he's starting to get," Wall told reporters on the red carpet before the event. "It's not about what type of basketball player you are, it's about what type of people we are outside of that, and I think the way our parents raised us to be, we truly believe in that and stand on that and that's a great thing. To be able to pass the torch to him is exciting for me."
During the ceremony, a video played which showed first hand how Beal affected the school and its students. During the video Davis, one of the students that stood beside Beal as he accepted the award, said Beal is like an older brother to the students at RBHS.
Outside of Davis and Daye, Principal Williams and RBHS assistant basketball coach Gary Payne joined Beal in Los Angeles for the awards. Throughout their time in LA, Beal ensured they were treated as royalty. Courtesy of Beal, the group stayed at the Ritz Carlton, sat field level at the Los Angeles Dodgers game Sunday night, and the students had the opportunity to walk the red carpet with Beal.
"That man's here because he wants to be here, he built a relationship because he wanted to," Payne said. "It's amazing to see; I thought it would be impossible for them to not be star struck, it's been amazing, man. I tell people all the time, it's been amazing. The whole relationship built and the whole journey, it's been dope."
That's what it's been all about for Brad since the beginning of his partnership with RBHS. It was not about getting an award or even being recognized by his peers for what he's done. It was about building a relationship and having a positive impact on the next generation.
"Kids look up to us as role models whether we like it or not," Beal said, then concluding his speech with a message. "Your words, your love, your touch, those things go a greater distance than everything, it's way bigger than basketball man."