Led by a breakout performance by Bradley Beal, the Washington Wizards put their recent struggles behind them to end their west coast road trip with a victory.
Brad contributed in all phases and finished the night with 37 points, five rebounds and seven assists, out dueling Utah's Donovan Mitchell, who ended the night with 32 points, three rebounds and five assists, to push the Wizards (16-5) to a 109-103 victory over the Jazz (20-9) on Saturday night.
Saturday night's matchup featured two teams going in opposite directions in their last 10 games, with the Jazz winners of 8-of-10 and the Wiz having lost 8-of-10. However, Washington's victory over one of the top teams in the Western Conference could prove to be a turning point for the team. In his postgame interview, Brad noted how there was a new vibe among his teammates during warmups.
"I noticed at shoot around we had a weird vibe. I didn't know whether it was good or bad, but like we were very silent and it was like you kind of get nervous you're like, 'oh are we distancing or is it like everybody locked in type of feel you know' and it's really tough to gauge you know but when we came out tonight everybody was locked in."
The new mindset for Washington did not kick in right away, Utah showed early why they are one of the top three-point shooting teams in the league. Mitchell hit two early threes and Joe Ingles got into the action, hitting a three of his own as the Jazz took a quick 9-0 lead over the Wizards.
Washington kept battling throughout the first quarter and a Kyle Kuzma three cut the Jazz lead to three, 28-25 nearing the one-minute mark. However the combination of Mitchell and Bojan Bogdanović had 23 of 33 points for the Jazz and Utah held a 33-27 lead after one.
The second frame began with Brad on the bench, but when he checked in at the 7:42 mark he took his game to another level and kept chopping away at Utah's lead. No. 3 had a quick five points after hitting his free throws and making a contested lay up, giving Utah only a four point lead, 43-39.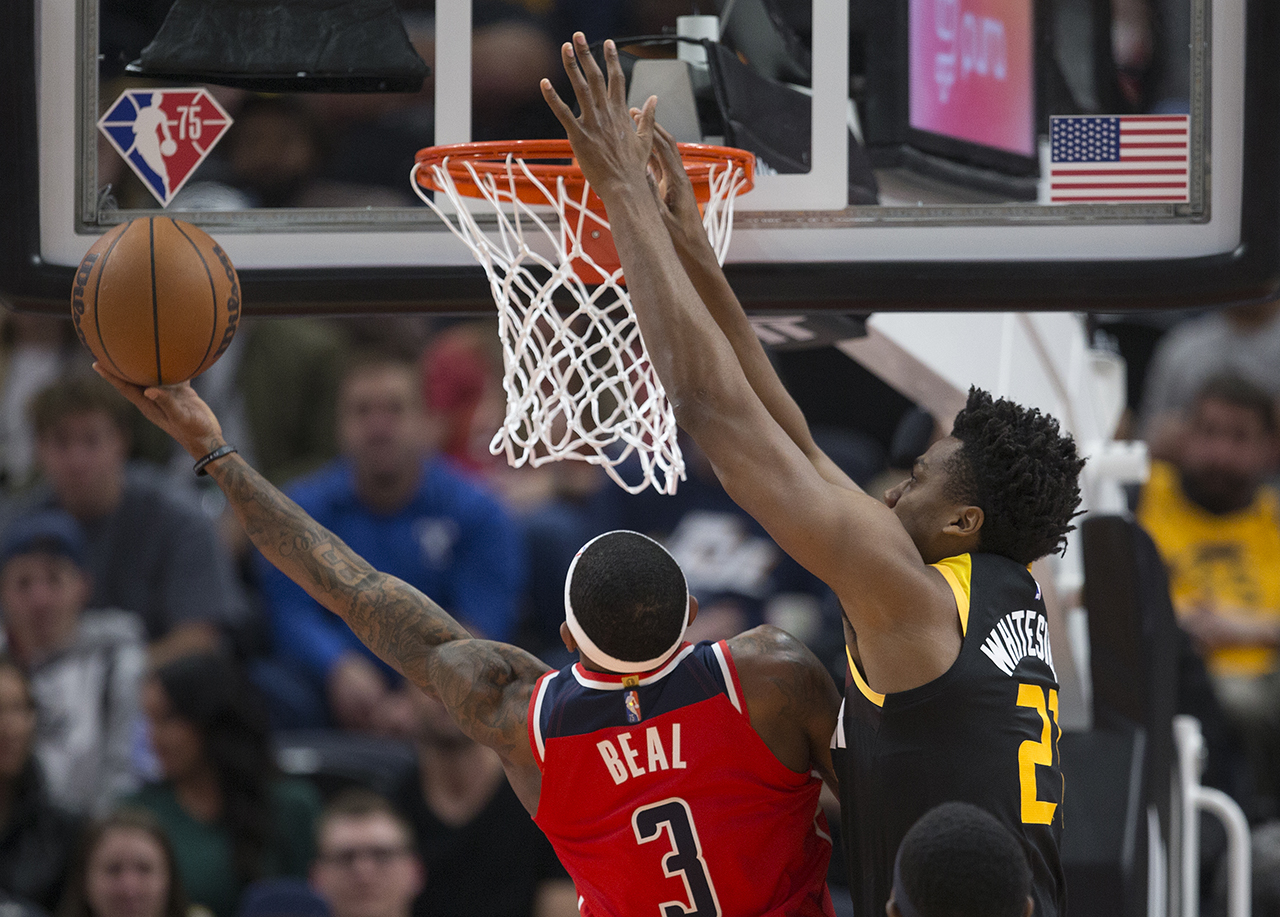 After a Jordan Clarkson three pointer pushed Utah's lead to seven, the Wizards knew it was time to make a run and close the first half on a positive note. Washington started hitting their three-point shots and making precise passes to allow their teammates to finish at the basket.
Washington hit five threes in the second quarter and Brad finished the first half with 20 points, including 13 in the second frame.
This allowed the Wizards to take a three-point lead at halftime, 56-53.
https://twitter.com/WashWizards/status/1472401772199092224?s=20
Washington's three- point shooting cooled down during the third quarter, but as a team they were still efficient as they hit half of their field goals, going 12-24. Utah was unfazed and continued to hit timely threes including a Royce O'Neale three-pointer at the eight minute mark, which tied up the game, 60-60.
The remaining minutes of the third frame the teams kept exchanging shots and no team could grow their lead past four. The energy shifted in favor of Washington after Beal posterized three-time defensive player of the year Rudy Gobert.
https://twitter.com/WashWizards/status/1472412937243422721?s=20
https://twitter.com/WashWizards/status/1472413268736049154?s=20
Montrezl Harrell hit a step back shot to close out the third frame and gave Washington a 84-80 lead. Beal added another eight points in the third to put his total to 28 points heading into the fourth.
After multiple free throw attempts and a Joe Ingles three-pointer Utah took the lead early in the fourth, 85-84.
But the fourth quarter was dominated by a shot-for-shot battle between the stars of the two teams, Beal and Mitchell exchanging shots over the final 10 minutes. Mitchell kept creating separation to hit his mid range shots and Gobert finished his contested layups as the game was tied at 95 with four minutes to go.
Brad answered quickly with two jump shots of his own and gave Washington a four point lead. The two teams exchanged free throws and after a Gobert dunk the Wizards only had a two point lead, 105-103.
With 15 seconds remaining and just four on the shot clock for D.C., a held ball led to a jump between Mitchell and Washington's Raul Neto. Mitchell tipped it first, but it landed in the hands of Kentavious Caldwell-Pope, and with little time to work with, KCP hit a turnaround three-point fade away as the shot clock hit zero, extending Washington's lead to five, 108-103.
https://twitter.com/WashWizards/status/1472424835020062723?s=20
A free throw from Brad in the final seconds which sealed the 109-103 victory.
Hoping to use their win against one of the top teams in the association as a building block, the Wizards will have to wait to try to create a win streak as their next game against the Brooklyn Nets has been postponed due to COVID-19.
Washington will take the time to rest up before their next game, Thursday night against the New York Knicks at Madison Square Garden. Tip-off is scheduled for 7:30 p.m. ET and the game can be seen on NBC Sports Washington.