Over the course of a recent four-game win streak, the Washington Wizards became known for their stingy defense, which rose into the Top 10 in the league for fewest points allowed per game. So when the Wizards allowed 38 points in the second quarter on Friday to fall behind by double digits at halftime to a Miami Heat team without three of its best players, Coach Wes Unseld Jr. let his players have it in the locker room.
The results were undeniable. Washington allowed fewer points in the final 29 minutes (37) than they had in those 12 minutes of the second quarter. That allowed the Wizards (9-7) to climb back in the game, force overtime, and outlast the Heat (7-9) for a 107-106 victory. Brad, who finished with a game-high 27 points, his fifth straight 20+ point game, gave Unseld credit after the game for snapping Washington out of it with his halftime comments.
"Coach lit a fire up under us at halftime. He kind of got into our grill a little bit. And we knew we had to be better. We weren't defending at all, the way we know we're capable of," he said. "It just wasn't us. They were pushing, attacking, and it didn't matter who was on the floor for them…we came out on our heels. But Coach lit us up at half and we came out and responded."
In addition to his 27 points on 9-of-18 from the field and 5-of-9 from deep, Brad had a team-best eight assists —leaving him responsible for almost half (48) of Washington's points on the evening. Four of those eight dimes came in the first frame, where he also knocked down a pair of threes in what was a track meet opening quarter. The Wizards ended that quarter with a 33-31 lead.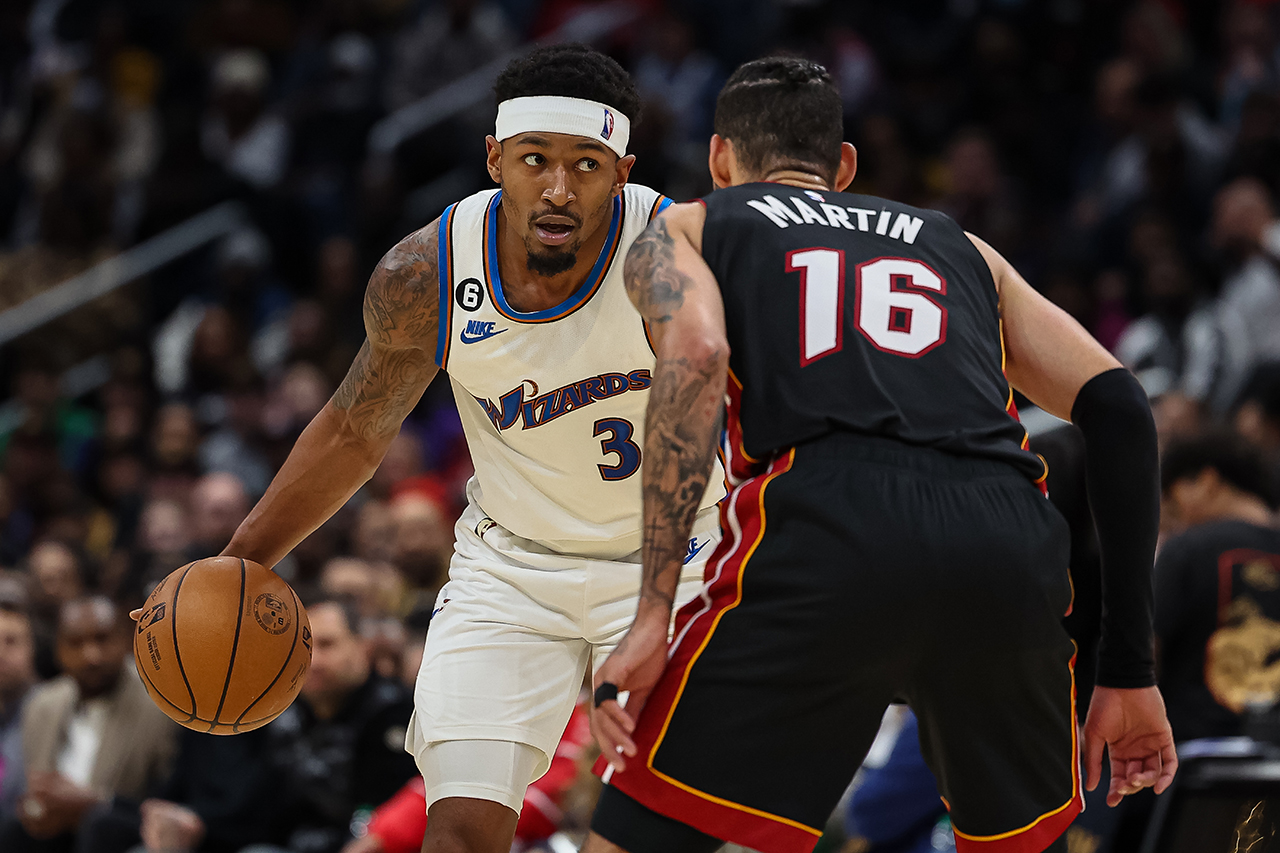 But the second quarter was all Miami. The Heat totaled 38 points despite making just 11-of-21 from the field because they got to the free throw line early and often and made 11-of-13 from the stripe. Meanwhile the Wizards made just 9-of-26 from the field, struggling with a Miami zone defense that Brad described as "janky," as the Heat built a double-digit lead.
After Unseld's halftime remarks, the Wizards came out with a concentrated effort to be better on defense while doing everything they could to make their offense come around. They limited Miami to 19 points in the third and on the offensive end, Brad picked his spots wisely. He knocked down his fourth three of the night just seconds into the third, and helped the Wizards end the quarter on a 9-3 run with an assist to Corey Kispert for a three and late in the frame by adding a pair of free throws. By the end of the third, Washington was back within seven.
"For us to stay engaged and just continue to fight it and continue to push push push, even though we were down 10 and it was looking ugly for a minute. We just stayed engaged and stayed locked in and fought through tough times, so mental toughness, in that aspect, was definitely great to see," Brad said.

The Wizards then began the fourth quarter on a 9-0 run thanks to three consecutive three-point plays: two treys from Kispert sandwiched around an and-one layup by No. 3. Brad also assisted on Kispert's second three, which briefly gave Washington a brief lead. Brad was red-hot in closing time, scoring 10 points in the fourth quarter while adding two assists and a steal. The Wizards also got huge contributions from veteran Taj Gibson, who came in cold midway through the third quarter and ended up playing 16 minutes, including all of overtime. He finished with eight rebounds, including six in the fourth quarter and after the game BB lauded the efforts of Washington's vet big man.
"Taj is our OG. He keeps everybody engaged, locked into the game, makes sure the guys on the bench are ready to go when they come in. It was a testament to what he preaches, him just being ready tonight. True vet. Great screener. He just played the game the right way. He was everywhere actively, defensively, on the boards, just making the right plays. It was good to be able to have him out there."
Despite the best efforts of Brad and Taj, Miami held a five-point lead with a minute to go. But a layup by No. 3 cut it to three and with 15 seconds left he found Kuzma for a trey to tie the game and ultimately send it to overtime. Points were at a premium in the extra session. Gibson found Kristaps Porzingis for a dunk in the opening minute to put Washington ahead, but Miami's Kyle Lowry got to the line shortly thereafter for two to tie the game. When Kuzma split a pair of free throws with 2:48 to go, it looked like it might cost the Wizards, but neither team scored the rest of the way, D.C. doing just enough on defense to walk away with a one-point win.
After the game, while happy with the win, Brad noted that the Wizards will need to pick up their effort with this the first of three meetings in four games against Miami. They'll play twice in Miami on Wednesday and Friday of next week and No. 3 knows it won't come easy on the road with Miami likely to be closer to full strength for those two matchups.
"We still have to be better," he said. "We can't do that against a team that doesn't have a majority of their guys out there."
Before jet-setting to Miami, the Wizards end a six-game homestead on Sunday when they host the Charlotte Hornets (4-13). Tip-off is slated for 6 p.m. ET and the game can be seen on NBC Sports Washington.