After missing most of the last nine games with a lingering hamstring injury, Bradley Beal was gnawing at the bit to get back in the lineup for a Washington that needed him, having lost five of their last six.
Fitting then that in his return to the lineup on Wednesday, Brad made his first shot to give the Wizards a lead they held for the duration on the way to a 116-105 victory over the New York Knicks at Madison Square Garden.
No. 3 played just under 30 minutes in his return, but he was efficient with his time and effort, sinking 7-of-11 shots for 18 points to go along with four rebounds, four assists and a block in the win. Kyle Kuzma led the way, flirting with a triple double on the way to 27 points, 13 rebounds and seven assists Kristaps Porzingis added 22 points and 11 rebounds and six of the 10 Wizards players who touched the floor scored in double figures, showing just what the team is capable of when everyone is involved.
"It's a good sign that those guys could put it all together," Coach Wes Unseld Jr. said. "It seems like the chemistry hasn't changed at all in Brad's absence. Overall, I thought it was great. The best part about it was our overall defense…I was proud of our guys for really anchoring ourselves in our defense and letting the offense come to us."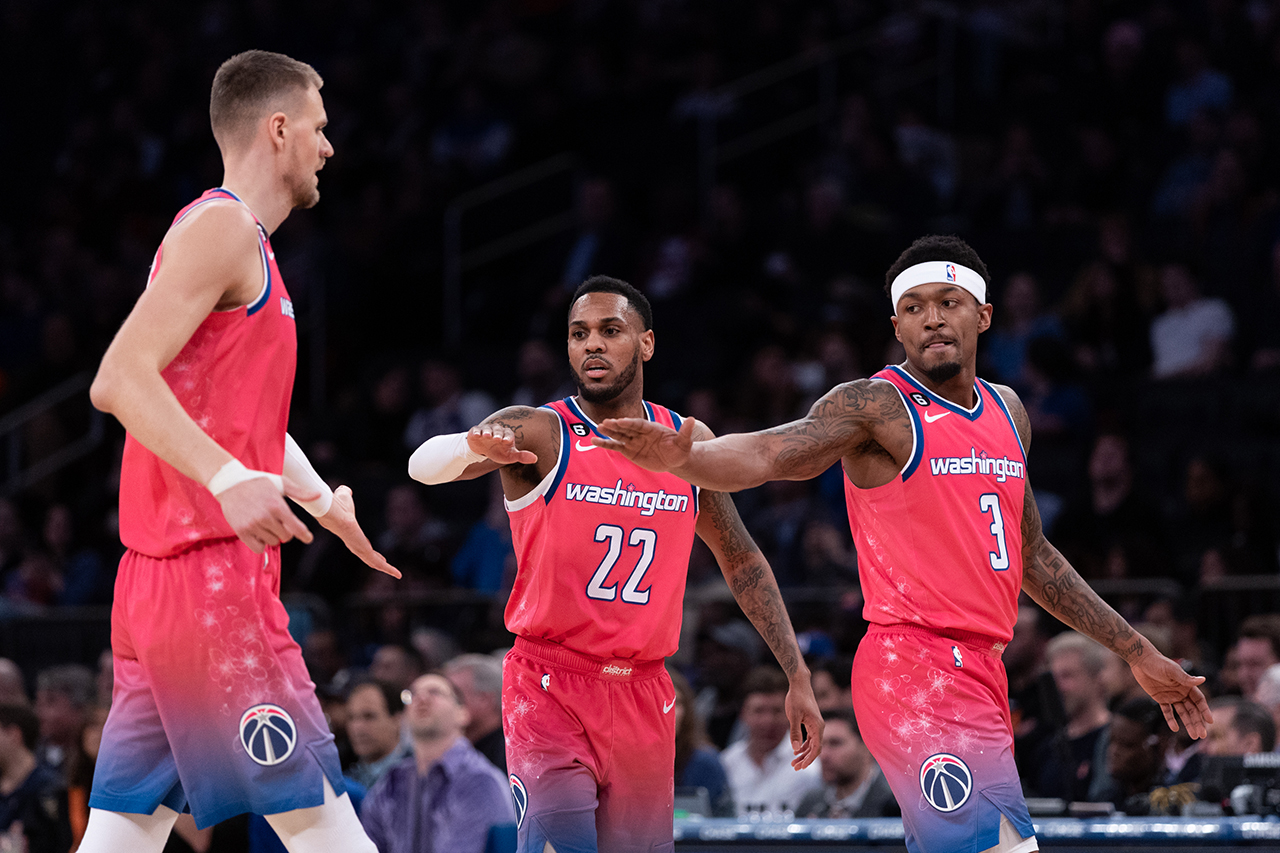 Defense was very much the calling card for D.C. as they limited the Knicks to just 22 points in the opening quarter on 22 shots, of which New York made just eight. In turn, the Wizards made 14-of-25, piling up 35 points, led by 10 from Kuzma. New York came back to slice into that edge early in the second, but Brad got hot at the end of the half and his two buckets plus an assist to Porzingis, which allowed Washington to carry an eight point lead in at the break.
Washington surged early in the third, getting the lead as high as 17 and although New York made a run to pull it back down to single digits in the fourth, they never got closer than seven points off the lead, and Washington closed strong for the 11-point win.
"This is a game of runs. We're going to make our run. They're pros too. They're going to go on their run and make some tough shots. It's up to us to continue to stick to our game plan and that's what we did tonight," Brad said. "We did a good job defending. Offensively, we know we're super talented. A lot of guys who can score, put the ball on the floor, shoot threes. We're very versatile on that end. Once the ball is moving and hooping, we know we're unstoppable on that end. But I think our attention to detail was good tonight. That's what won us the game."
That attention to detail and that offense both have the Wizards feeling good about where they stand through 45 games, just over halfway through the season. Though they sit at 19-26, they are just a game and a half out of the play-in tournament in the East and they're confident if they can get in, with the talent they can make some noise. It's simply a matter of staying healthy and playing better more consistently in the closing stretch of the season than they have to date.
"Being healthy is the biggest thing. My availability. Our availability. Making sure we stay healthy and we're available," Brad said. "Once we see what we're able to do and can contribute in games like this, anything can happen. The sky's the limit for us. We've got a lot of ground to make up, but this definitely helps in that regard, being able to have healthy bodies and our core guys to make this push."
Following some fits and starts in his recovery from hamstring injuries to both legs, which have plagued him since early December, the Wizards were extra cautious with Brad's return this time, putting in place a protocol to ramp him up to playing, and then limiting his minutes in his return so as not to put too much stress on his legs.
That Brad was able to have such an impact on Wednesday despite restrictions put in place by the training staff, speaks to his preparedness.
"For me, it was just making sure I felt good. The return to play protocol we went over the last few weeks prepared me for this moment. It was just good to be out there with the guys, play the minutes I was able to play and get something out of it, contribute to a win, that's what's most important."
It also helps that the Wizards have just one game in the next five days following Wednesday's win, giving Brad ample time to rest his legs between games. That game is Saturday in D.C. as the Wizards host the Orlando Magic. Tip-off is scheduled for 7 p.m. and the game can be seen on NBC Sports Washington.