At the tail end of a back-to-back to start a grueling eight-day, five-game road trip, the Washington Wizards found themselves down big at halftime last night in Houston.
But Bradley Beal and Co. dug deep to pull out the win and extend their winning streak to four games as they inch closer to a play-in spot in the East. Kyle Kuzma poured in 33 points and Brad complemented him with 17 points as Washington outscored the Rockets 65-45 in the second half en route to a 108-103 victory.
"We're not playing perfectly. We're probably not even playing as good as we'd like to," No. 3 said after Washington's fourth straight win. "But it's just us staying with it, understanding that the game is 48 minutes long. It's a long game. We're going to make runs. Teams are going to make runs. But bearing down in that fourth quarter, and being ready to go, and doing whatever it takes to win. We've been doing a really good job of being resilient, just staying within the game, and continuing to fight."
Kuzma and Beal were two of just four Wizards players to post double figures on a rare night scoring under 110 points for D.C. But one of the others was newcomer Kendrick Nunn, who came off the bench in his debut and chipped in 12 points in 22 minutes in the win.
"He's always been an exciting guard to be around and play against. Now to have him on our team is awesome. He's a spark for us. I honestly think he can be a three-level scorer. We obviously have to explore that a little bit more. But his aggressiveness, he just has a good feel for the game that you can't overlook. We're happy to have him."
Houston piled up 30 points in the first to take a five-point lead and then scored 28 more in the second quarter while limiting the Wizards to just 18. That gave the Rockets a 15-point halftime lead and Washington coach Wes Unseld Jr. plenty of material for halftime adjustments. But according to Brad, the most important thing Unseld did was encourage the Wizards to play their game in the second half.
"We knew we weren't playing the way we are capable of playing. Coach came and lit a fire up under us," Brad said. "We knew we weren't playing up to our standards. We came out sluggish. But we knew if we stayed in the game they'd let us crawl back in and we did that, just stuck to our guns."
That included Brad, who, after scoring nine points in the first half, missed all five of his attempts in the third quarter. But he kept shooting and made 3-of-4 attempts in the fourth.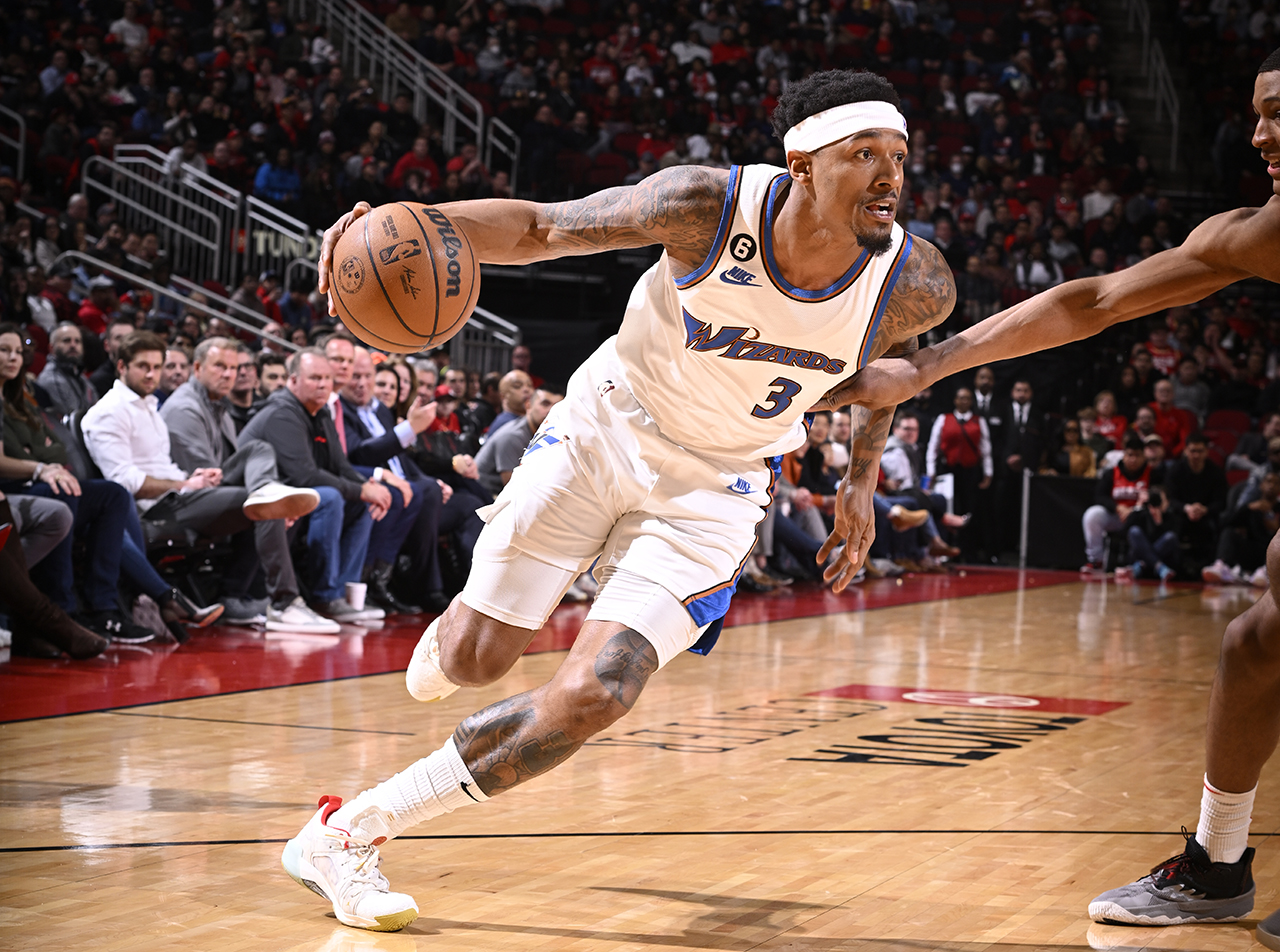 Washington was able to cut the deficit from 15 to 10 at the outset of the fourth, then opened that quarter on a 12-2 run to tie it. The run ended up being even larger, as the Wizards ultimately outscored the Rockets 23-4 in the first six minutes of the fourth quarter to take control of the game. Kuzma carried D.C. on that run, scoring 16 of the 23 points. He ended up with 20 in the fourth for his second consecutive 30+ point outing.
Brad then helped keep Houston at bay, with three buckets and a pair of free throws in the final five minutes to stabilize the lead and close out the win. After the game, No. 3 was asked if the ability to turn it on the way they did in the second half says something about what Washington is capable of, but he believes it says more about what they need to do better as they continue to attempt to climb out of the hole they dug themselves with some of their long losing streaks this season.
"We have to understand, nothing against Houston, but against a top playoff team, we probably wouldn't be in the game," he said. "We have to be more cognizant of that. That 20-point lead could've been 30, 40, 50 easily. We have to understand, we can't come in with a night off, no matter who we're playing, no matter who is playing for them, who is playing for us. We gotta go out and be ready to go."
The Wizards (22-26) will get a brief reprieve before continuing their road trip on Saturday in New Orleans against the Pelicans (26-23) who beat Washington by 20 points earlier this month in D.C. but have lost six in a row. Tip-off from the Big Easy is scheduled for 8 p.m. ET and the game can be seen on NBC Sports Washington.