Bradley Beal turned in his fourth straight 20-point game to help the Washington Wizards defeat the Toronto Raptors on Wednesday night.
Brad went 9-of-17 from the field and 4-of-4 from the 3-point line for 23 points while adding three assists and two steals across 32 minutes.
The Wizards used a big second quarter to jump out to a 16-point lead at halftime and were able to hang on at the end against a Raptors team that piled up 38 points in the fourth quarter. The 105-96 win puts D.C. in sole possession of the third seed in the Eastern Conference.
"I think that was probably the best we played and the best continuity and unison that we've had. It looked like we liked each other," BB said. "It was great, we were having fun, there was a lot of energy, the ball was moving around, defense was great they were getting a lot of stops and that's what we've been working on."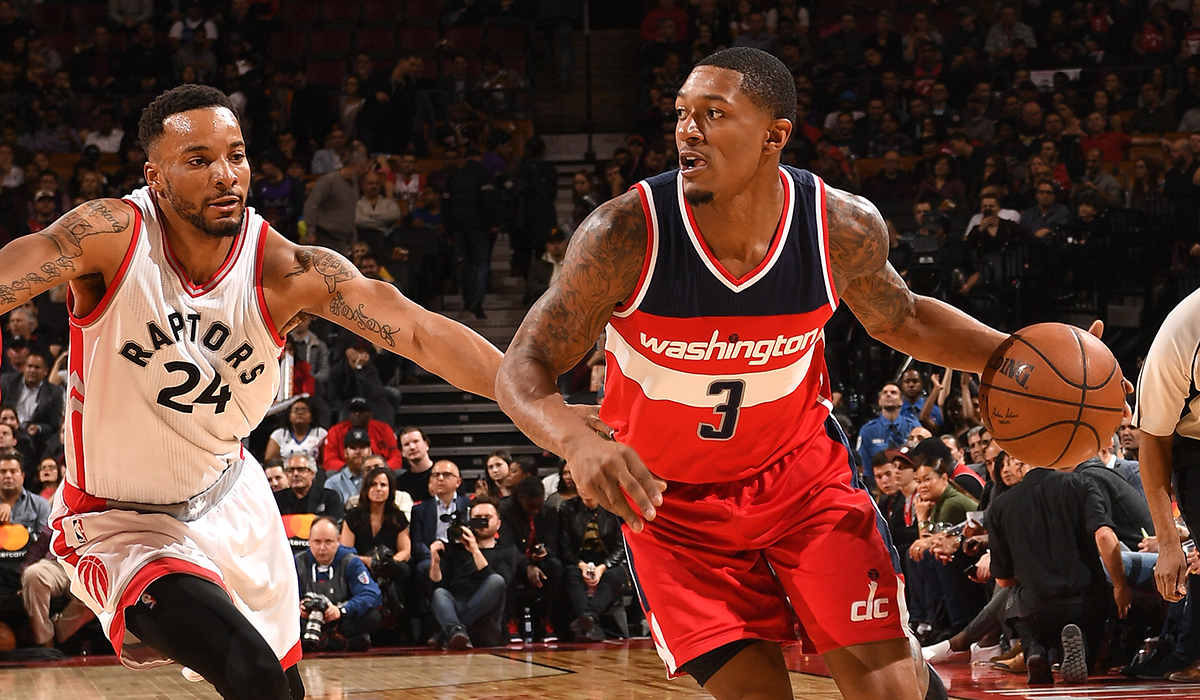 BEAL LEADS STRONG START
Brad opened his night with a dish to Markieff Morris for the first basket of the game. BB then scored himself, curling off a screen for a jumper in the key. He then took a rocket pass from John Wall and buried a fadeaway in the lane over the outstretched arms of Raptors center Jonas Valanciunas, giving his point guard one of 13 assists on the night. Beal then used an assist from Marcin Gortat to cut to the basket for a layup to give D.C. a four-point lead with 8:08 remaining in the first.
Brad hit another mid-range jumper over Valanciunas during the Wizards' hot second quarter which saw them take a 23-point lead with BB's bucket. Bojan Bogdanovic heated up in the second quarter and finished with a game-high 27 points in just his fourth game in a Washington uniform.
With D.C. looking to keep Toronto at bay, Brad hit another smooth mid-range jumper halfway through the third quarter and took a bounce pass on a back cut to the rim for a layup to put the Wizards up 88-68 with 8:38 to play. Two minutes later, BB caught a lob over the top off a patented out-of-bounds play and finished the layup to keep the Wizards up 20.
No. 3 closed out the game by sinking his lone trey of the night on the right side and then hitting a beautiful running layup plus the foul on Raptors forward Serge Ibaka to put D.C. back up 16 with 1:39 to play.
NEXT UP
The Wizards head home to face the Toronto Raptors again on Friday, March 3.
Tipoff in D.C. is set for 7:30 p.m. ET.