Bradley Beal made Washington Wizards history from 3-point range Thursday night, but on the other end of the floor, the Los Angeles Clippers made even more noise from distance.
No. 3 hit five treys and finished with 27 points to become the all-time single-season leader in 3-pointers made, now with 209 on the year. However, J.J. Redick canned seven triples on the other end as the Clips went off for 74 points in the first half. BB and the Wizards fought back after the break, but they ran out of steam in a 133-124 defeat.
Brad wasn't happy with the way he and his squad played on the defensive end in the loss, which snaps the Wizards' four-game winning streak.
"Way too many points. We had 60 at the half, they had 70," Brad said. "No defense was being played. The first team to play defense is going to win. We were able to chip into the deficit, but we used too much energy trying to fight back."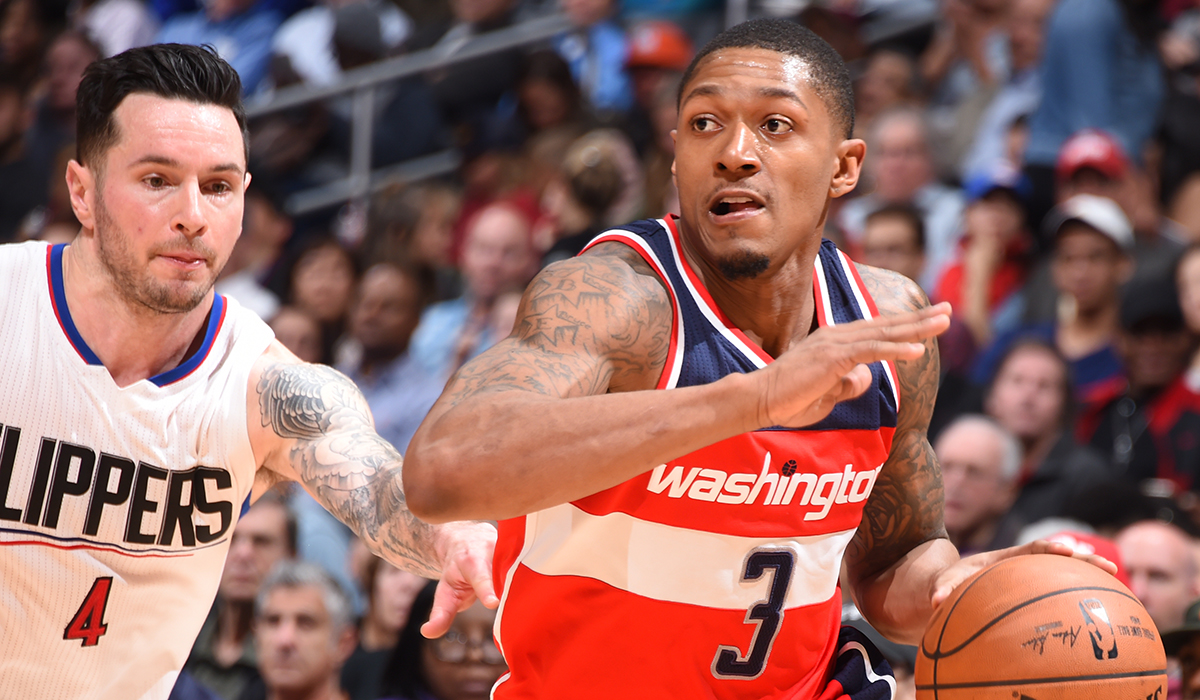 NO. 3'S NIGHT FROM THREE
Brad started his night with a running layup off the glass early and then hit a trey over Redick.
Late in the second quarter, John Wall found BB off a drive and dish for another trey to help reduce the Washington deficit to 11 headed into halftime.
Early on in the third period, No. 3 sunk his third triple of the game off a catch-and-shoot around a screen, and he followed it up with yet another long-distance connection midway through the quarter. In the final minute of the third, Bradley found a wide-open Jason Smith for three to keep pace with the Clippers' fast-paced attack.
Down 11 in the fourth, BB returned and hit a pretty floater in the paint to cut the L.A. lead down to single digits. With under a minute to play, the former Florida Gator stroked yet another trey, his fifth of the evening, but it was not enough to climb back on this night as the Clippers took the back and forth contest.
"They made a lot of shots, I think they had 70 [points] at halftime which is way too many, and then we were able to put some stops together but when you're playing catch up it's always tough," Brad said. "A team like that we always say when they get up to a good lead, they're always gonna let you back into a game, they have a history of that. So we were able to get back into it, we were just using too much energy to fight back into the game instead of keeping it close or having the lead from the get go."
BRAD BACKS HIS BIG MAN
After the contest, Brad was asked about his center, Marcin Gortat. The Wizards' starting big man finished with six points in 19 minutes of floor time. But while Gortat's numbers might be down, Beal knows just how valuable D.C.'s Polish post player is to the team.
"It's tough, because we play small a lot, so he isn't always in the rotation. That probably bothers him, but we're definitely going to need him," BB said. "We need his energy and we need his confidence back up. I think he'll be fine. He's just having a few games here and there. He's very important to this team. He holds a lot of value on both ends of the floor."
RETWEET
NEXT UP
D.C. will travel to Salt Lake City to face the Utah Jazz on Friday, March 31.
Brad will look to help the Wizards defeat the Jazz for the first time this year as they lost in the previous matchup in D.C. 102-92. BB scored 22 points and recorded four assists and three rebounds.
The Jazz are winners of two straight and are locked in a battle for the four seed with the Clippers. Utah comes in up 1.5 games on the Clippers for home-court advantage in the first round.
Tipoff in Utah is set for 9 p.m. ET.