Bradley Beal and the Washington Wizards won a comeback bid against the Los Angeles Lakers on Tuesday night, 119-108.
Brad scored 16 points while adding three assists, one rebound and a block across 35 minutes.
The win gave the Wizards the Southeast Division title, the franchise's first since 1979.
"We had a little water bottle fight in here after the game, so we were all excited," Brad said. "That's history for us, for John and I especially, we've been on the team five plus years and it's our first time clinching our division so that's big time for us and we're excited to keep it going moving forward."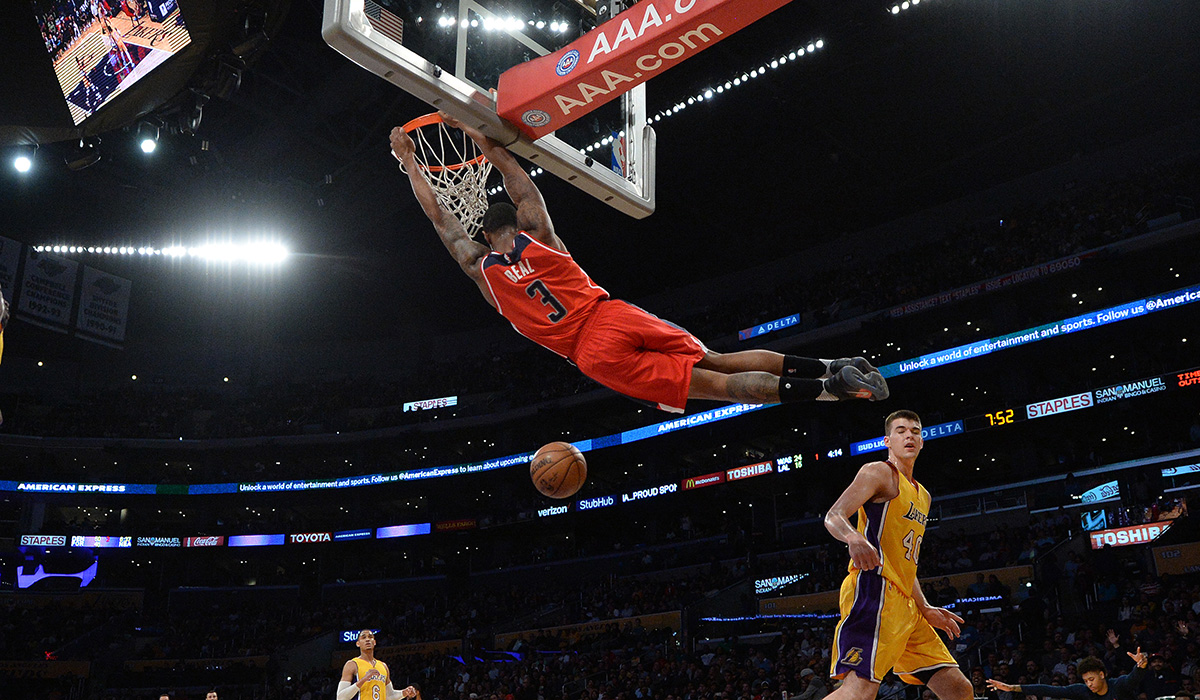 WIZ BATTLE BACK FOR WIN
Brad started his scoring with the game tied at four by catching and finishing a tough layup on an alley-oop from John Wall followed by his lone trey of the evening on a catch-and-shoot from the top of the arc. With 4:20 to go in the opening quarter, Wall and BB ran a perfect 2-on-1 fast break against Lakers center Ivica Zubac, culminating in another alley-oop but this one had a ferocious dunk on the receiving end from BB. Fifty seconds later, with the Lakers on the fast break, Bradley sized up Julius Randle and blocked his layup attempt at the rim.
In the second quarter, Wall found No. 3 off a screen for a jumper to tie the game and later found him again, but Brad, in turn, found a cutting Marcin Gortat for a big dunk. Washington trailed by three at halftime, but during the third, the Lakers used a run of 15 straight made field goals to take a 13 point lead heading into the final frame.
The Wiz battled back, though. Down two in the fourth, BB blew past Jordan Clarkson and finished a gorgeous reverse layup around Randle to tie the game before hitting a step back and-one jumper over Randle to extend the newfound lead to four. Wall brought the Wizards home, as they finished off a furious 37-13 run in the fourth quarter and took the 119-108 victory.
RETWEET
https://twitter.com/CraigHoffman/status/846943655889948672
NEXT UP
D.C. will stay put in the Staples Center to face the Los Angeles Clippers on Wednesday, March 29.
Bradley will look to have another big game against the Clippers, as he dropped 41 points in the last meeting between these two teams in D.C.
The Clippers are coming off a 98-97 loss to the Sacramento Kings at home in which they squandered an 18-point lead with just over five minutes remaining. Clippers head coach Doc Rivers called the loss one of his worst regular season setbacks.
Tipoff in Los Angeles is set for 10:30 p.m. ET.