Bradley Beal and the Washington Wizards faced three of the Western Conference's top five teams in three consecutive games, all on the road, but they couldn't steal a win away from the Verizon Center.
BB turned in two solid individual performances: 27 points against a tough Utah Jazz defense and 20 minutes and five dimes despite not playing the fourth quarter against the Golden State Warriors. However, it wasn't quite enough in a 95-88 defeat to the Jazz and a 139-115 loss in Oakland.
With the defeats, D.C. closes a treacherous West Coast road trip with a 2-3 record—not quite up to the team's standards, but still a promising showing far away from home.
"We don't like it," Brad said. "We wish it was 5-0, 4-1 or whatever it could have been on the winning side, but there are a lot of positives we can take out of it."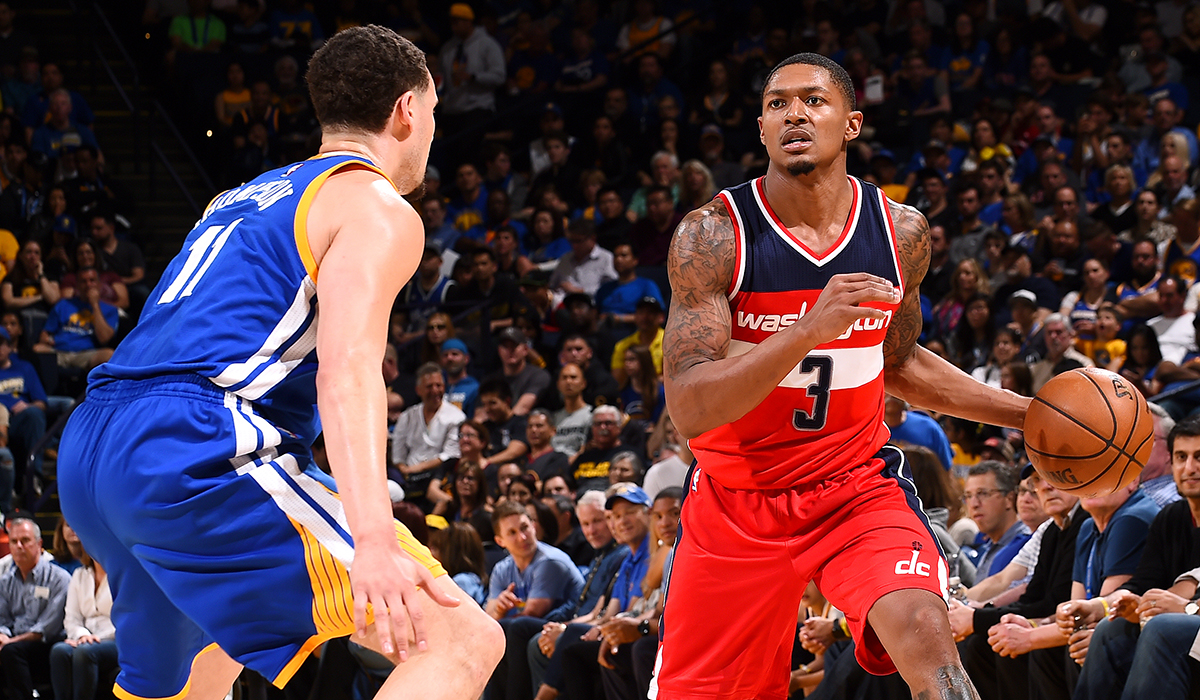 WIZ CAN'T TOP UTAH DEFENSE
The Wiz knew they were in for a physical game in Salt Lake City against the Jazz, who rank at the top of the NBA in team defense.
Beal deciphered that Utah D to the tune of a game-high 27 points. His first came on a 3-ball after the Jazz had already burst out to a 10-2 lead. He later scored in transition after a Kelly Oubre Jr. steal. His final bucket of the opening quarter came when he beat Defensive Player of the Year candidate Rudy Gobert on a tough drive to the rim.
Utah held a narrow lead for much of the way, but Brad gave his squad a lead with an emphatic dunk in the third, going hard at Gobert one again for a rim-rocking dunk.
BB came through with an enormous 15-point fourth quarter to keep the Wizards in the fight. However, with every big shot off the hand of No. 3, the Jazz answered. And they ultimately closed it out at the free-throw line. The Wizards attempted just 16 free throws on the night, compared to 31 by Utah. But Brad and Co. aren't making excuses.
"The biggest thing is just realizing that we're not going to get any calls and we haven't gotten calls," Beal said. "So we need to just play. The playoffs will be super physical and I think that's definitely something we can take out of it. They're going to be aggressive. Fouls will be called, fouls won't be called and we got to control what we can control."
WIZ OUTRUN BY WARRIORS
Brad's hot finish carried over into Sunday night's meeting with the NBA's top team.
He threw down a big dunk off a John Wall dime early in the quarter and canned a 3-pointer late, bringing the scored to 35-30 after one quarter. Unfortunately, the Wizards continued to build their lead on their home floor.
Golden State led 106-88 going into the fourth quarter, and neither Brad nor Wall saw the floor in the final period.
UP NEXT
After five games away from home, the Wiz return to the Verizon Center to host the Charlotte Hornets on Tuesday night.
D.C. currently holds a 2-1 series lead over the Hornets this season, looking to close the deal on their home floor. Tipoff is set for 6 p.m. CT.