Bradley Beal and the Washington Wizards had yet another historic night in this spectacular 2016-17 season.
Brad contributed 19 points on 7-of-15 shooting and added four assists, three steals and two rebounds as the Wiz beat the Charlotte Hornets 118-111 to clinch the franchise's best record since 1978-79.
"It's great. This is my first time in my career being part of a historical team, a team that has the opportunity to get 50 wins. That's definitely a goal of ours. That would be great for the city and the organization. It's an awesome thing. We're breaking tons of records this year," BB said. "John broke the assists record. I broke the 3-point record. It's been fantastic. It's been a great run. It's kind of crazy. It's my fifth season and it's kind of flew by. It's just life. That's hoops. We've been having a good year. We want it to continue and it hasn't ended yet… we've still got a lot of unfinished work to do."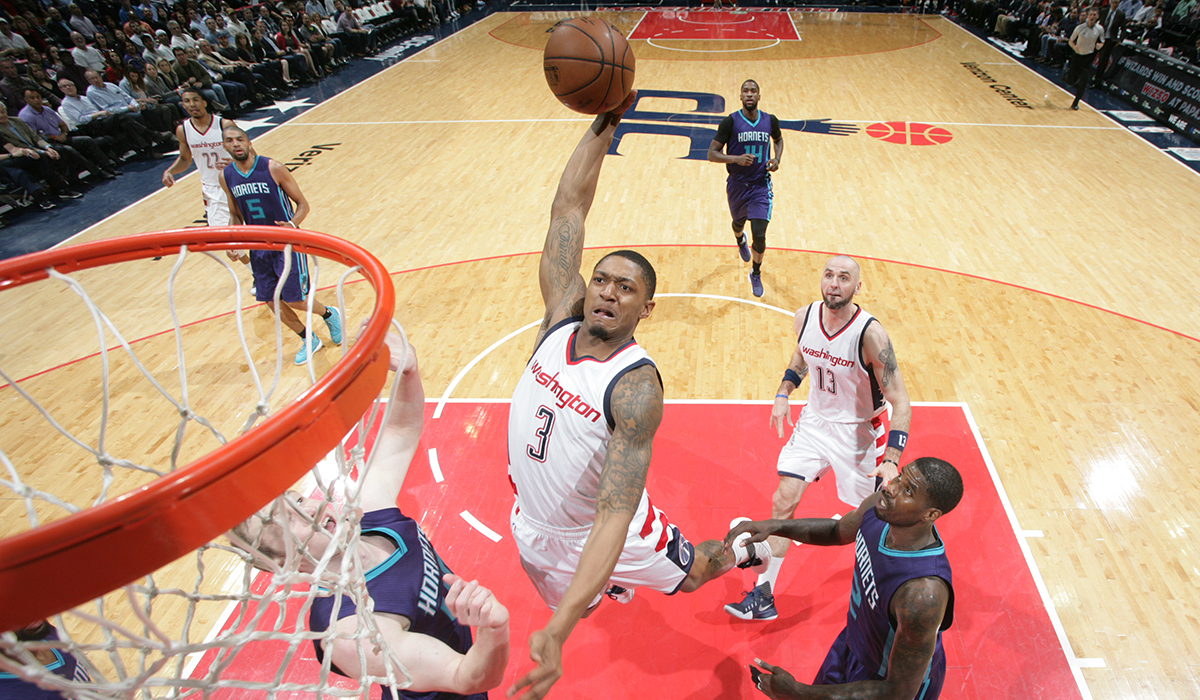 EPIC SLAM HIGHLIGHTS BRAD'S NIGHT
Brad started his night with a step-back jumper from 15 feet and then threw a crosscourt assist to John Wall for a trey. No. 3 later tied the game in the opening quarter with his lone trey of the evening.
In the middle of the second quarter, BB found Markieff Morris for a triple before threading the needle to Otto Porter Jr. for a layup late in the first half. However, the Hornets ripped the Wiz for 39 points in the second quarter, prompting head coach Scott Brooks to do the same to his squad at halftime.
"Coach really let us have it a little bit," Bradley said. "We didn't have the right focus, the right energy. They were way too comfortable on the offensive end, and our defense is what won us the game. We just had a different approach to in the second half. "
Early on in the third period, Brad sunk a midrange jumper off the dribble and then took a steal coast to coast for a dunk over Kemba Walker. With 7:51 to play in the third, a Marcin Gortat block ignited a fast break that was punctuated by a Wall dime to BB for a monster slam to cut the deficit down to one. Five minutes later, No. 3 finish a pretty layup in traffic to give the Wizards the lead.
Late in the fourth and up by five, Brad hit a contested jumper to extend the lead that Washington would not relinquish.
RETWEET
https://twitter.com/SLAMonline/status/849426786693902336
https://twitter.com/oldtop67/status/849430995954806784
"Coach really let us have it a little bit" – Bradley Beal on Scott Brooks' "dark side" at half.

— Hoop District (@HoopDistrictDC) April 5, 2017
https://twitter.com/akaMalloy/status/849444452062175232
https://twitter.com/WashWizards/status/849455323320655872
NEXT UP
D.C. will travel to Madison Square Garden to face the New York Knicks on Thursday, April 6.
Brad will look to help the Wizards sweep the season series against New York. The last time out against the Knicks, BB had 28 points on 12-of-18 from the field.
The Knicks are coming off a win over the Chicago Bulls but remain out of contention for the playoffs again this season.
Tipoff in New York is set for 7:30 p.m. ET.