Bradley Beal led the Washington Wizards' scoring effort as they defeated the New York Knicks on Thursday night, 106-103.
Brad scored 25 points on 7-of-16 shooting and added three rebounds, two steals, one assist and one block. The win marks a 4-0 season series sweep for the Wizards over the Knicks.
"A win is a win, we love it cause our goal is to get 50 [wins] and we've got two more so we'll definitely take it. We're still not satisfied with the way we played, we can play a lot better, especially defensively and offensively we could have moved the ball better too. There's a lot of things we can take from it, good and bad, but a win's a win and we're always gonna take it."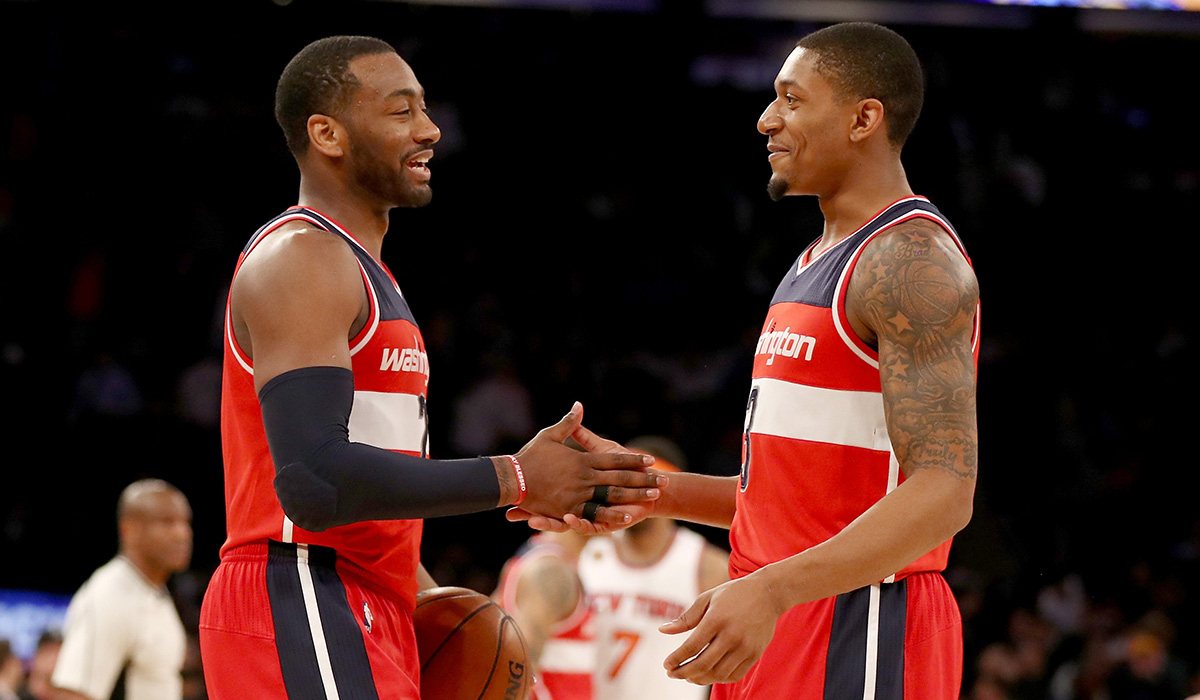 BB'S CLUTCH TREY PROPELS D.C.
Brad started his scoring from the charity stripe after drawing a foul on Marshall Plumlee. Later in the quarter, BB stole a pass, leading to a wide-open dunk and later converted a fast break into a three-ball from the right side
With 4:35 to play in the second quarter, the Florida Gator drove past his defender and finished a crafty layup plus the foul to push the Wizards' lead to double digits.
Early on in the third period, Bradley hit a walk-up trey to keep the Knicks at bay.
The fourth quarter was No. 3's bread and butter on this night, as he scored almost half his points in the final frame. To start, Brad crossed up his defender and finished a hanging layup in the lane. Next, he stroked another three to push the lead back to 10, and then, with the game hanging in the balance and a two-point lead, BB blocked Knicks center Willy Hernangomez on a drive to the rim. Finally, with 50 seconds to play in a tie game, No. 3 caught and fired up a perfect corner three to take the lead for good in the Garden.
RETWEET
https://twitter.com/RBBallWiz/status/850164645646262272
NEXT UP
D.C. will head home to face the Miami Heat on Saturday, April 8.
Back at the Verizon Center, Brad will look to help the Wizards win their first game of the season against the Heat as they are 0-2 in their previous two meetings.
The Heat are currently battling for a playoff spot in the Eastern Conference and are 0.5 games back of the Chicago Bulls and Indiana Pacers, who are tied and in the seventh and eighth spots right now.
Tipoff in D.C. is set for 7 p.m. ET.