Bradley Beal and the Washington Wizards couldn't get it done against the Miami Heat as they fell 106-103 on Saturday night.
Brad contributed 16 points on 6-of-15 shooting and added five rebounds, five assists, two steals and one block. The loss adds to an 0-3 record start against Miami this season. Afterward, Brad saw the game as a wake-up call with the playoffs just days away.
"If we play like this, we're gonna get swept, it's plain and simple. We just gotta look ourselves in the mirror and figure out what kind of team we want to be. We want to be a hot team moving into the playoffs or do we just want to be a complacent team that's gonna be home early?"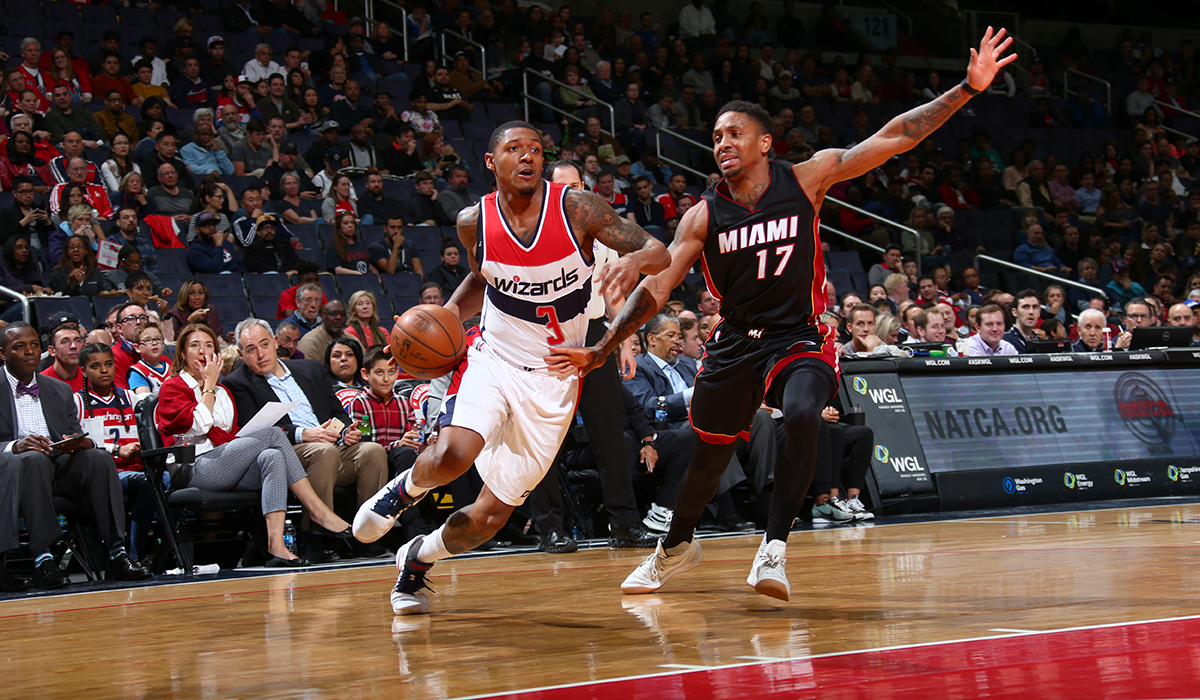 WIZ LOSE CLOSE BATTLE
Brad got into the mix midway through the first quarter on a driving layup and then tied up the game later in the quarter with a jumper off an inbound play. Down one on the last possession of the opening frame, BB hit a step-back jumper at the buzzer to give the Wiz the lead at the end of one.
With 3:08 to play in the second quarter, Bradley kept Washington close with a midrange jumper off a screen. Late in the half, BB stole an outlet pass and found John Wall in the left corner for a three to tie the game heading into the break.
In the third period, the University of Florida product came up with a huge block on Tyler Johnson and ran the floor to find Kelly Oubre Jr. for a layup in transition. With just over five minutes to play in the third, No. 3 took the handoff around a Marcin Gortat screen and buried his only trey of the night.
The fourth quarter was a back-and-forth affair that saw Brad get an opportunity late but he couldn't convert as the Heat won a close game to extend their winning streak versus the Wizards. The Wizards will get one more shot at them in the last game of the regular season.
RETWEET
NEXT UP
D.C. will head to Detroit to face the Pistons on Monday April 10 on TNT.
Brad will look to help the Wizards win the season series against Detroit as the teams split the first two meetings.This will be the final game ever played at The Palace of Auburn Hills because the Pistons are set to move into a new building in downtown Detroit next season.
Tipoff at the Palace for one last time is set for 8 p.m. ET.