Bradley Beal led the Washington Wizards to a victory over the Detroit Pistons on Monday night, contributing a game-high plus-13 scoring advantage in 33 minutes of action.
Brad poured in 33 points on 13-of-20 shooting and added three assists, two rebounds and one block. With John Wall sidelined in this game, Brad took over the offense for Washington.
"I wanted to get a good flow and rhythm before the playoffs and it was a great game. Especially [being] their last game here, it's historical, coach wanted to ruin their going away party so he threw me back out there and I just closed it out. I credit my teammates cause they all did a terrific job throughout the game, we had some let-ups in the third and fourth quarter but we did a good job of executing down the stretch."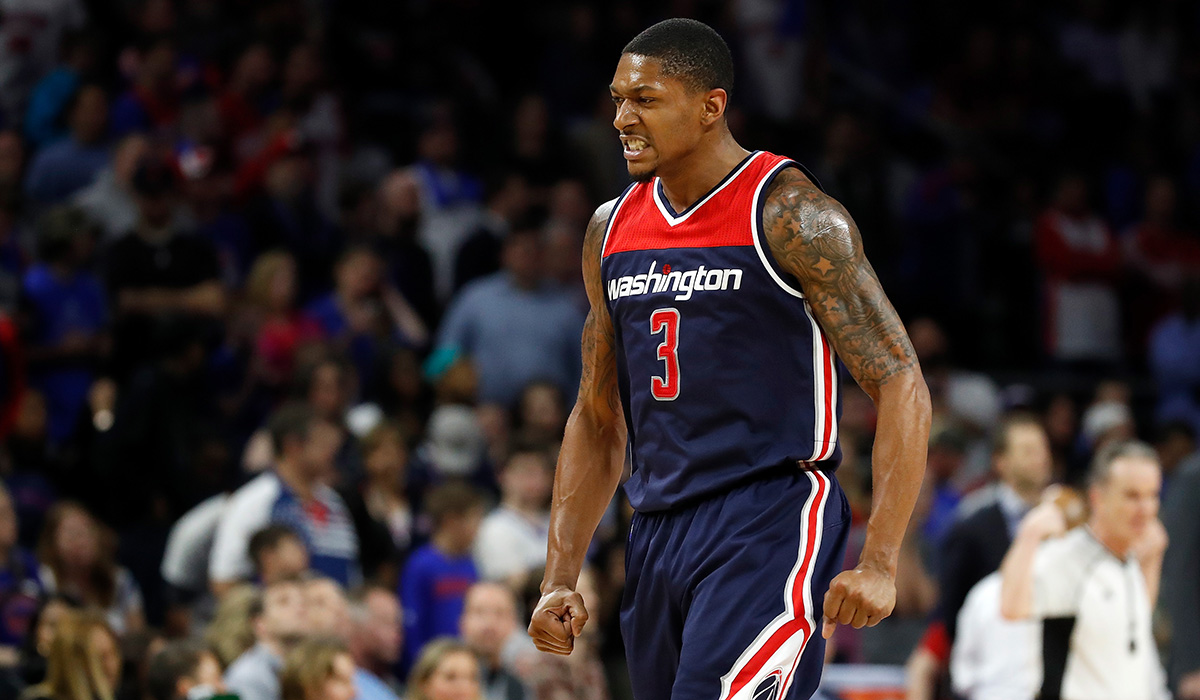 NO. 3'S BIG NIGHT
Brad started his scoring barrage with a 15-footer off a screen and then took two pretty passes from Brandon Jennings and finished with dunks at the rim. No. 3 later caught a long offensive rebound and went straight up into a perfect trey from the top of the arc and then stroked another trey in transition. Bradley ended the quarter with a driving layup to solidify a strong opening period.
At the end of the first half, BB caught an errant pass from Marcin Gortat in the left corner and hit an off-balance trey with a defender in his face to push the halftime lead to thirteen.
With 7:20 to play in the third quarter, the star shooting guard drove to the hoop and converted a hanging layup around Tobias Harris and four minutes later hit a leaning midrange jumper over the outstretched arm of 7'3" center Boban Marjanovic. With just under a minute to go in the quarter, BB whipped a gorgeous pass to Ian Mahinmi for a layup under the basket to push Washington's lead to nine.
After manufacturing two layups, the fourth quarter came down to the wire and with 36 seconds to play and the Wizards nursing a three-point lead, Brad caught the ball and exploded past Stanley Johnson for an emphatic dunk plus the foul to extend the lead to six and clinch the final game at the Palace of Auburn Hills.
RETWEET
PLAYOFF BRADLEY BEAL IS HERE, YO. HE'S HERE.

— Ben Mehic (@BenMehicNBA) April 11, 2017
A healthy Bradley Beal is definitely a keeper.

— Hoop Central (@TheHoopCentral) April 11, 2017
Bradley Beal entered this season with only four games of 30+ points. He has 13 this season.

— Zach Rosen (@ZacharySRosen) April 11, 2017
https://twitter.com/WashWizards/status/851628176434274305
NEXT UP
D.C. will travel to South Beach to face off with the Miami Heat on Wednesday, April 12.
This is the regular season finale for the Wizards as they go for their first 50-win season since 1978-79. While 50 wins is still in play, the Wizards are locked into the East's four seed in the playoffs and Scott Brooks may opt for rest or limited minutes for his starters.
The Heat have everything to play for in this one, but they will need help to get into the playoffs. Miami is in a tight race for the final two playoff spots with Indiana and Chicago and would need one of those two to lose their final game and win against Washington to get in.
Tipoff in Miami is set for 8 p.m. ET.