The 2017-18 season was a banner one for Washington Wizards guard Bradley Beal, headlined by his first All-Star appearance. Over the course of what was a breakout season for Brad were a slew of highlight performances. Before BB and his Wizards brethren get set to embark on a new season in D.C., we're looking back on his top performances of his All-Star season.
Brad's No. 3 performance of the season came on the final day of the 2017 calendar year against the Chicago Bulls. The Panda rung in the New Year on a high note, nearly posting a triple-double in the victory, highlighted by a 39 point performance in which he tied a career-high with seven threes.
BB POURS IN 39 BEFORE WIZ POP CHAMPAGNE
The Wizards entered their New Year's Eve matchup with the Chicago Bulls riding high, winners of three of their last four including a pair of monumental victories over title contenders.
Bradley Beal had continued his excellent start to the season, helping Washingon to victories over the Boston Celtics on Christmas Day and the Houston Rockets a few days later, with a pair of 20-point performances. But the Wiz needed Brad to turn it up a notch on the last day of 2017 to will his team to a win, and he did just that, doing a little bit of everything for his squad, which helped carry them to a 114-110 victory.
The stat line for BB on the night was stuffed. His game-high 39 points came on an extremely efficient 55 percent shooting night, and those seven treys came on 13 tries from deep (54%). Additionally, the Panda also racked up a pair of steals, nine rebounds, and nine assists, falling just short of a triple-double. After his incredible performance, ever the perfectionist, BB kicked himself a bit for what he didn't do in coming up short of that accomplishment.
"I'm a little upset about this game," he said with a smirk. "I missed free throws. I could've had one assist and one more rebound."
On this night, the Wizards needed every ounce of what they did get out of BB against a resurgent Bulls team. Despite not being as successful over the course of the 17-18 season as Boston and Houston, they had plenty of hungry young talent that competed every night. And the Chicago squad touched down in D.C. on a roll, winners of 10 of their previous 12 games after starting the season 3-20.
Early on, the Bulls played with the confidence instilled by that streak. They picked apart Washington's defense to score 38 points in the opening quarter and established a 12-point edge early in the second quarter. Brad's eight first-quarter points were offset by nine from Chicago's Justin Holiday, and he returned to the floor in the second with the Wiz trailing by double digits.
But Washington closed the half strong, thanks to six points by No. 3 in the final three minutes of the frame, and at the break they trailed by just four.
Beal and the Wiz continued to flex their muscle early in the third and on two separate occasions, BB knotted the game, first on a three, and moments later on a pull-up jumper.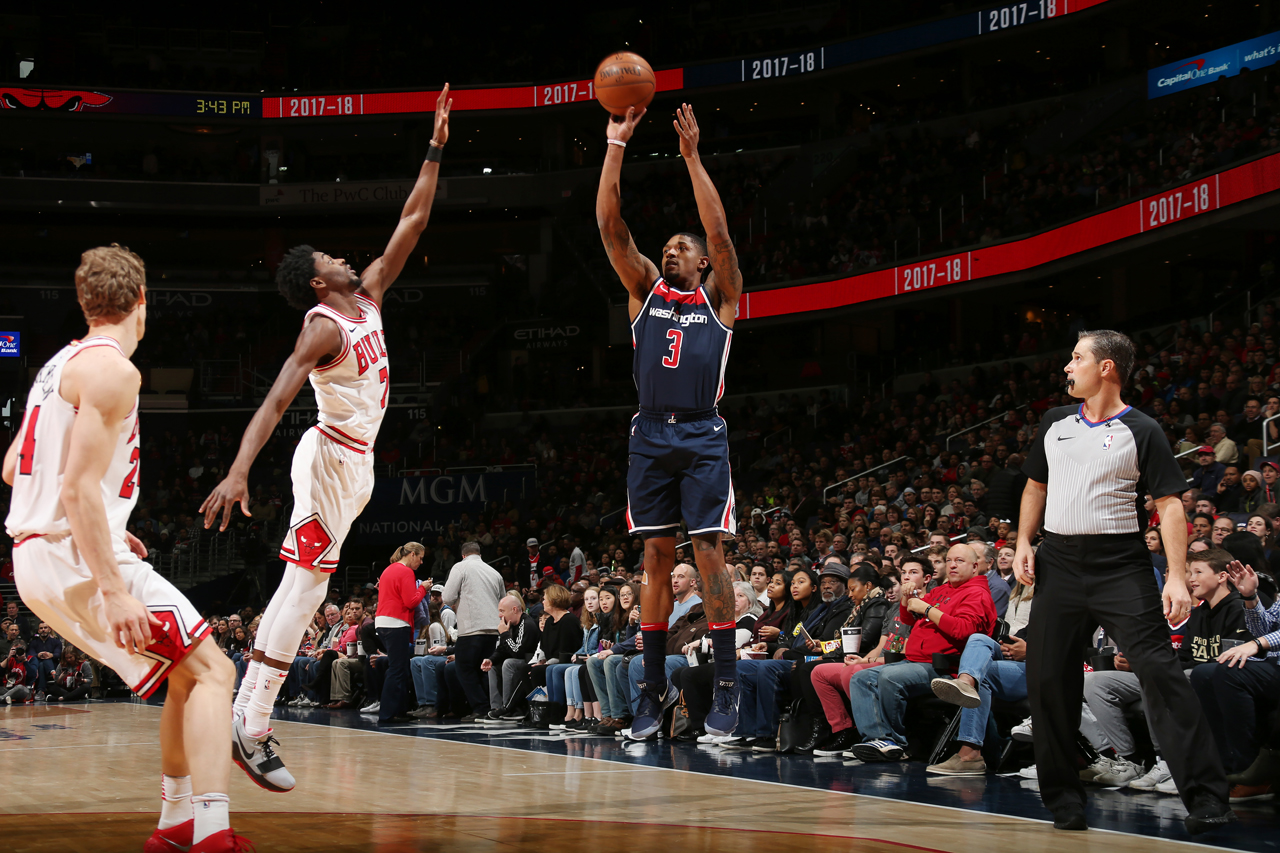 However, the rejuvenated Bulls weren't about to just roll over and let the Wizards own the night. Chicago pushed back and got the lead back to nine, before back-to-back treys by No. 3 and his backcourt brother No. 2 John Wall sliced the deficit back down to three.
"We had our lapses throughout the game where we didn't play hard," Wall said, "and that's the reason they had a lead early on and were winning the majority of the game."
But Brad wouldn't allow the Wizards to leave The Vault unlocked to celebrate the New Year.
So after Chicago took a six-point edge into the final frame, The Panda found another gear in the fourth. BB scored 17 of his 39 points in the fourth quarter with the game on the line, despite a concerted effort from Bulls coach Fred Hoiberg to limit him offensively.
"We were trying to get it out of his hands there for a stretch," Hoiberg said. "But they did a good job finding him, seeking him out."
Most importantly perhaps, Beal was clutch down the stretch in a tightly contested game against a resurgent Bulls' lineup. Over a stretch over more than five minutes from midway through the fourth to the final two minutes, the Panda rattled off 15 consecutive points for the Wizards. During that span, he tied the game twice and gave the Wizards the lead twice.
"I didn't even know that," he said when asked about his fourth quarter performance. "That's just being in the zone, being locked in."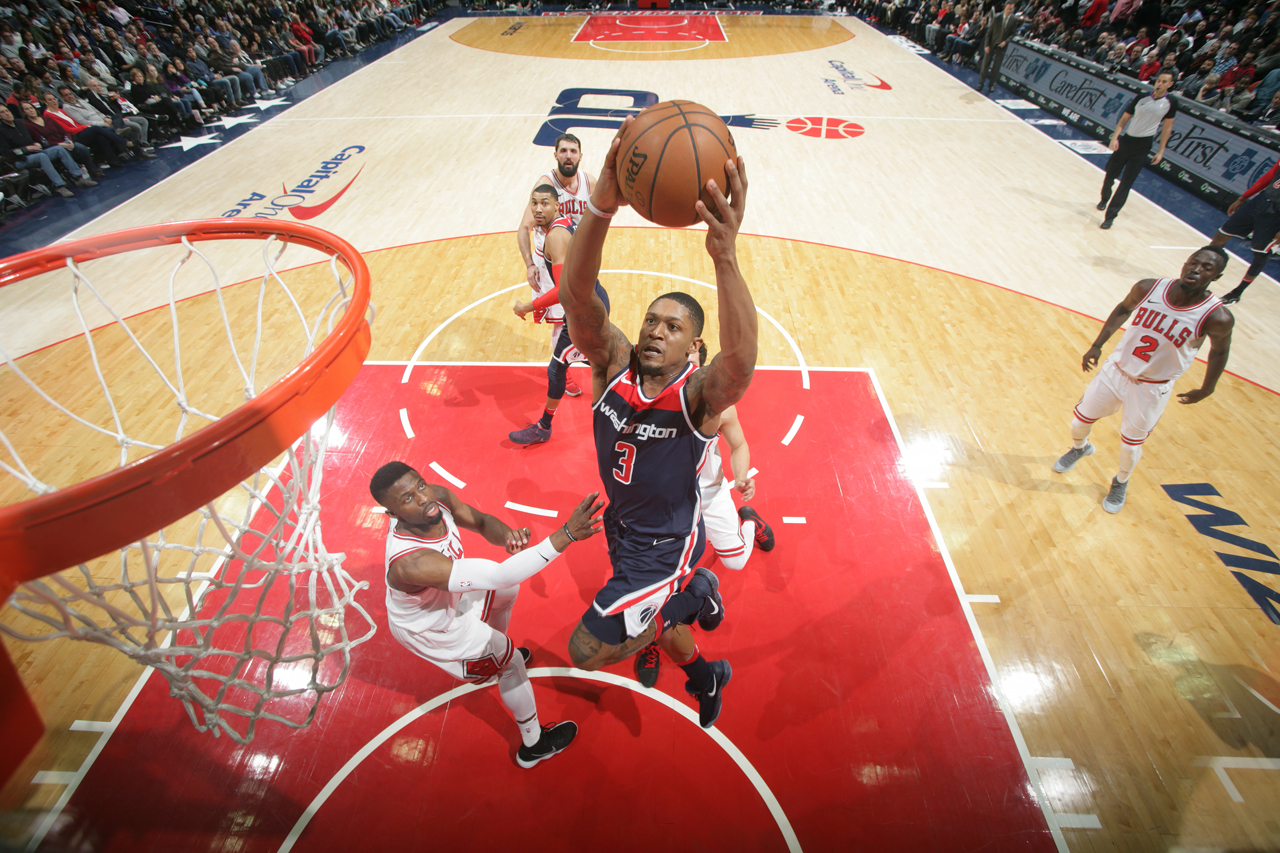 No. 3 also shined on the defensive end against the Bulls, snagging steals that led to easy buckets in transition for the Wizards. However, he noted that he was simply playing the game and trying to win, and credited his teammates for their play as well, to push the Wizards to a come from behind victory.
"Just how hard we're playing," he said. "Us moving the ball on offense, defending, all five guys rebounding, having high rebound numbers and our assist numbers being high. When we do that, we're a really good team because we have guys who can shoot the ball beyond amazing."
Though he wouldn't take credit, Bradley's performance did garner praise from his teammates and coaches, and undoubtedly this game was one of many in the first half of last season that helped make his case to be an All-Star in 2018.
"I thought he was an all-star last year," Wizards coach Scott Brooks said. "I've been saying this — going on the second year now — that Brad's an all-star."
A little over a month later, the league recognized Bradley Beal as such with his first All-Star nod.