The 2017-18 season was a banner one for Washington Wizards guard Bradley Beal, headlined by his first All-Star appearance. Over the course of what was a breakout season for Brad were a slew of highlight performances. Before BB and his Wizards brethren get set to embark on a new season in D.C., we're looking back on his top performances of his All-Star season.
Coming in at No. 1 on the countdown is Brad's 51-point eruption at the Moda Center against the Portland Trail Blazers in early December. The Panda started fast by racking up 12 points in the first quarter and closed even stronger with 32 second-half points in a 106-92 win over the eventual No. 3 seed in the Western Conference.
PANDA'S FIRST 50-POINT NIGHT CARRIES WIZ IN PORTLAND
There are a few games in an NBA player's career that always standout.
First regular season game in the league is the most obvious one. First playoff game, triple-doubles, playoff clinchers and important rivalry victories also stick out.
But few carry a feeling quite like that first time you drop 50.
On Tuesday, December 5th, on the road in Portland, in the 24th game of his sixth NBA season, Bradley Beal did just that to carry the Washington Wizards to a huge win against one of the Western Conference's toughest opponents in one of the league's most notoriously difficult places to play.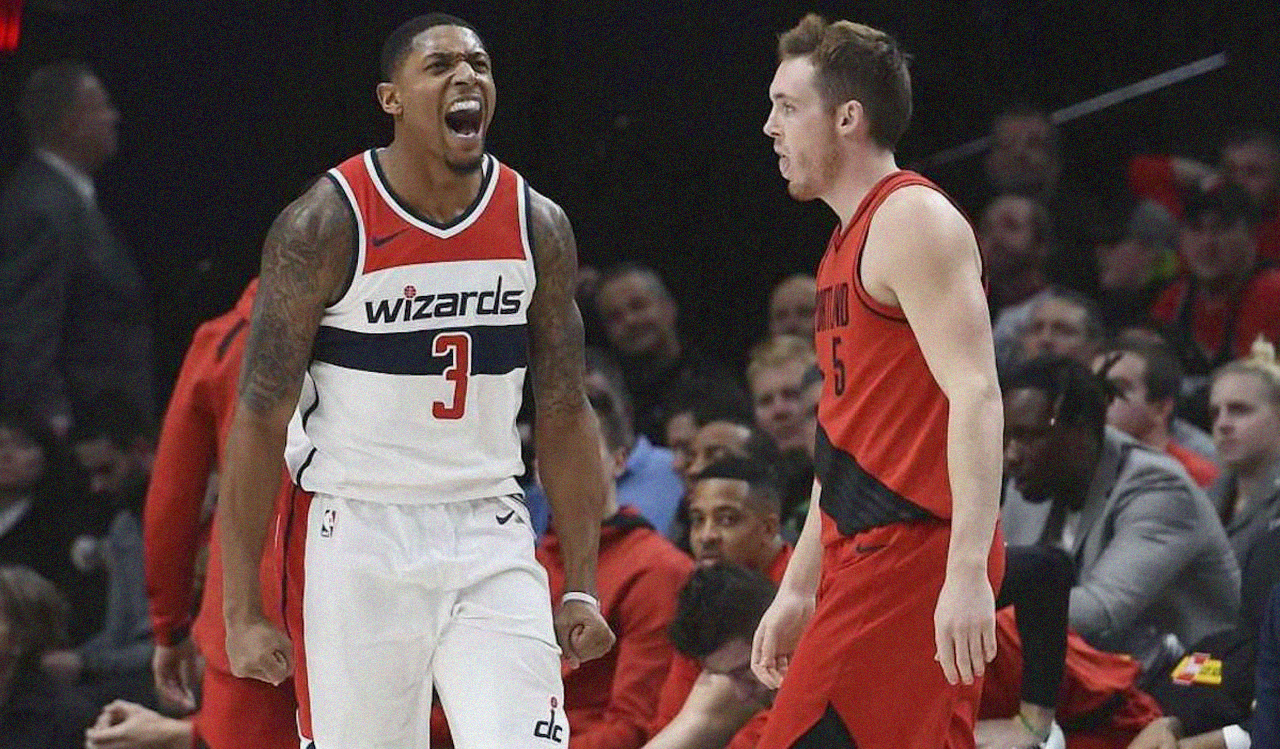 No. 3 tallied 51 points in total, and he did it by shooting a 56 percent clip from the floor (21-of-37). He drilled five threes and added a pair of assists along with three rebounds. The Panda's 51-point outburst wasn't just his own career-high, but it was the most points by any visiting player ever against the Portland Trail Blazers, surpassing Kareem Abdul-Jabbar's mark of 49 set in 1972.
And after establishing a lead late in the first quarter, (in which BB scored 12 of his 51 points) the Wizards never looked back en route to a double-digit road win that restored their confidence after a drubbing in Utah the night before. Wiz Coach Scott Brooks noted that Brad, in particular, took the previous night's loss as a challenge, and delivered on both ends of the floor to quickly right the ship.
"It was a great bounce back game for all of our guys, but in particular Brad played an outstanding game on both ends of the floor," Brooks said. "He took the challenge of guarding one of the best guards in the league. He was feeling good, and I was keeping him in there."
The Wizards entered the game reeling a bit, as did BB. After a hot start to the season for No. 3 that featured him scoring at least 20 points in 16 of his first 21 games, Bradley had hit a bit of a cold stretch, averaging just 12.5 points per game over his last four. The Wiz were 2-2 over that span and teetered right above the .500 mark after an embarrassing 116-69 loss the night prior.
But the sins of night(s) prior were quickly washed away with a new day that saw the Wiz, and their star shooting guard playing at the level they expected of themselves all season.
"I came into the game with the mindset of being aggressive," Brad said. "Start to finish. Especially coming off the game [in Utah] and the way I played the previous four or five games before that. I wasn't happy about that."
And it showed. After Damian Lillard opened the scoring with a layup, No. 3 answered with one of his own for Washington's first points of the game to knot the score at 2-2.
It was just the beginning of an evening on the attack for The Panda. His 12 points in the opening came in all shapes and sizes, including mid-range jumpers, drives and cuts to the hoop and a pair of free throws. After Portland led for most of the frame with Brad doing all he could to keep the Wiz in it, his floating bank shot with 2:26 to go in the first brought his total to 12 and knotted the score at 18.
At the end of the frame, the Wizards held a two-point lead they would never relinquish.
No. 3 added seven more points in the second as the Wizards expanded their lead, as much by locking down on defense and allowing Portland just 15 second-quarter points, as with their own offense. It allowed them to take a 14-point lead in at halftime that matched the final margin of victory. With 19 first-half points, No. 3 had an inkling that he was on his way to establishing a high point mark, but he had no idea just what was in store in the second half.
"I kind of knew at halftime it was going to be a good one, but I didn't think it was going to be a 50-pointer," Brad said afterward.
As the game progressed, No. 3 played more freely, which allowed him to fill up the stat sheet. He continued to be aggressive in the third, finding his shots and drilling them to rack up seven points in the first three minutes of the second half. A short cold stretch followed, but over the final 3:38 of the third, The Panda caught fire, tallying 12 points to push the lead as high as 18.
After three, the Wiz were in complete control, leading by 13 points and Bradley had 38 points, sitting on the precipice of his own career high, of 42 points.
"You never go into a game thinking one of your best players or best guards in the league is going to get 50," said Brooks. "But he has the ability to get high numbers when he's aggressive."
Fittingly, the bucket that surpassed Brad's previous career high came on one of the sharpshooter's five triples on the night. The bucket came early in the fourth frame, after Washington had allowed Portland to creep back into the game a bit and cut the deficit to less than 10.
But in a moment of need, No. 3 stepped into a long three and drilled it to establish his new career-high and push the lead back up to 12 points.
From there, teammates pushed No. 3 to keep shooting and gun for the 50-point mark. Despite a couple misses, he stayed aggressive, knocking down another floater to his 45, then a free throw to his 46. He sat on that total for several minutes until the victory was in hand. Then, with 1:08 left, BB drilled his fifth trey to reach 49 and give him a chance at the milestone.
Moments later, he punctuated his performance off a Portland turnover, taking a dish from Kelly Oubre and jamming it through for an emphatic dunk in the closing seconds that gave the Wizards their first 50-point scorer since John Wall in the 2016-17 season.
Not only was it a fantastic offensive performance for the Panda, but it came in a double-digit victory over a quality opponent that boasts another one of the best backcourt tandems in the league. For No. 3 to post the numbers he did against Damian Lillard and CJ McCollum — two guys who will make you earn every bucket — just makes the feat even more impressive.
"Brad made history today," said center Marcin Gortat, whose picks helped open up lanes for BB all night. "I was glad I was able to contribute with a few screens, a few assists. We were witnessing history today."
The total set a new watermark for Bradley in the scoring department, but as he gears up for another season, in the coming weeks, there's no doubt he'll be gunning to top it in 2018-19.