Bradley Beal scored 14 consecutive points late in the fourth quarter on Wednesday to close out a 123-106 victory over the Philadelphia 76ers and handing them their first loss of 2019. The Panda finished his spectacular night scoring 34 points (13-21 shooting, 6-11 3PT) while adding five assists and two rebounds.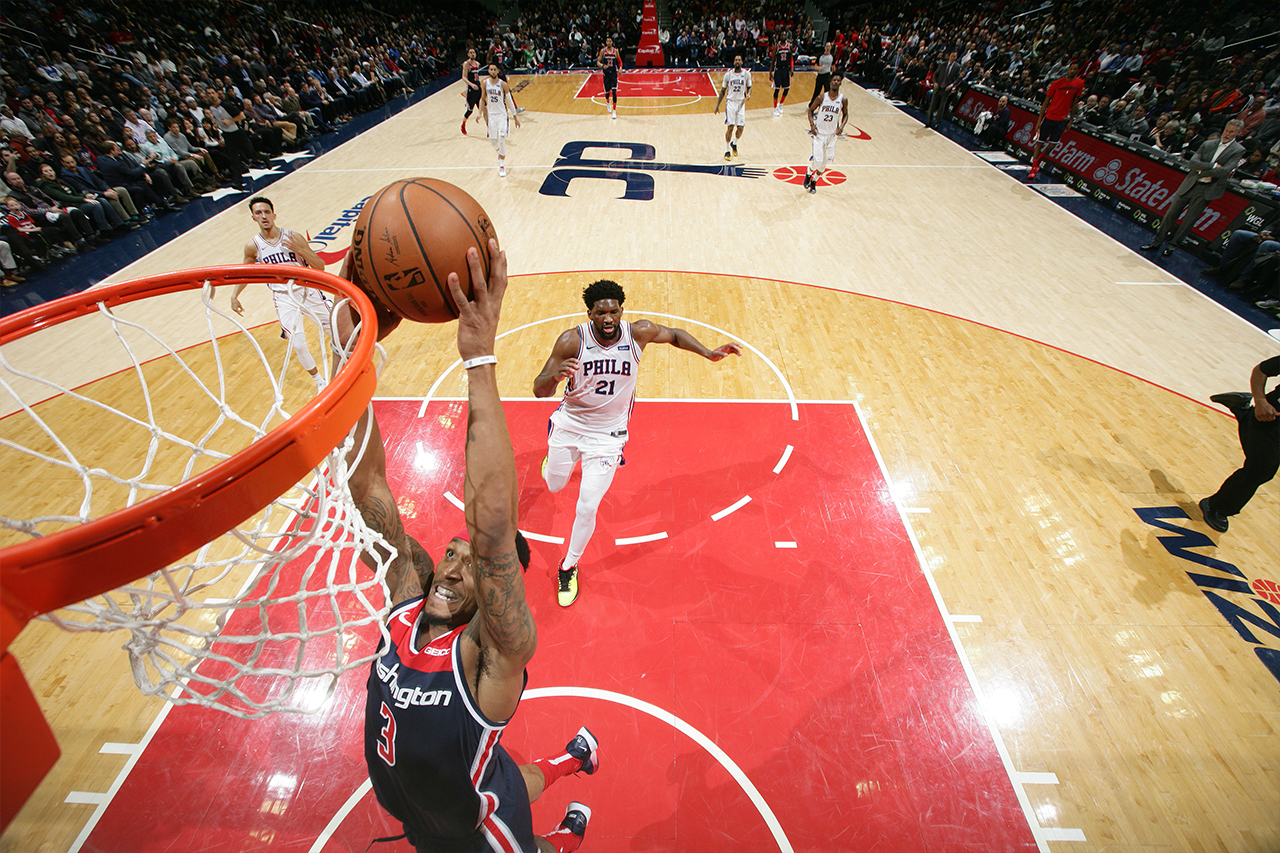 Midway through the fourth quarter, 76ers guard Jimmy Butler converted two free throws, cutting the Wizards lead 102-90 after leading by as many as 26 points.
But Beal ended any possibility of a dramatic fourth quarter comeback by scoring 14 consecutive points (6-for-6, 2-for-2 3PT) for the Wizards that culminated with a step-back three, effectively ending the game as Washington led 116-95 with under four minutes to play. Philadelphia head coach Brett Brown then called a timeout to sub out the 76ers big three of Joel Embiid, Ben Simmons and Butler.
Washington managed to salvage the back end of a home and home after losing at Philly 115-132 the night before.
"(We did a better job) of staying with it the whole game defending. Still gave up a lot of offensive rebounds, turned the ball over in the second quarter again which hurt us last night to, but for the whole game we stayed with it," Beal said. "We stayed aggressive, attacked downhill on offense and got stops when we needed to."
Beal couldn't miss to start the first quarter either, scoring nine of the Wizards first 13 points on 3-for-3 shooting from downtown. He nailed another jumper later in the quarter, finishing with eleven points and the Wizards leading 25-20.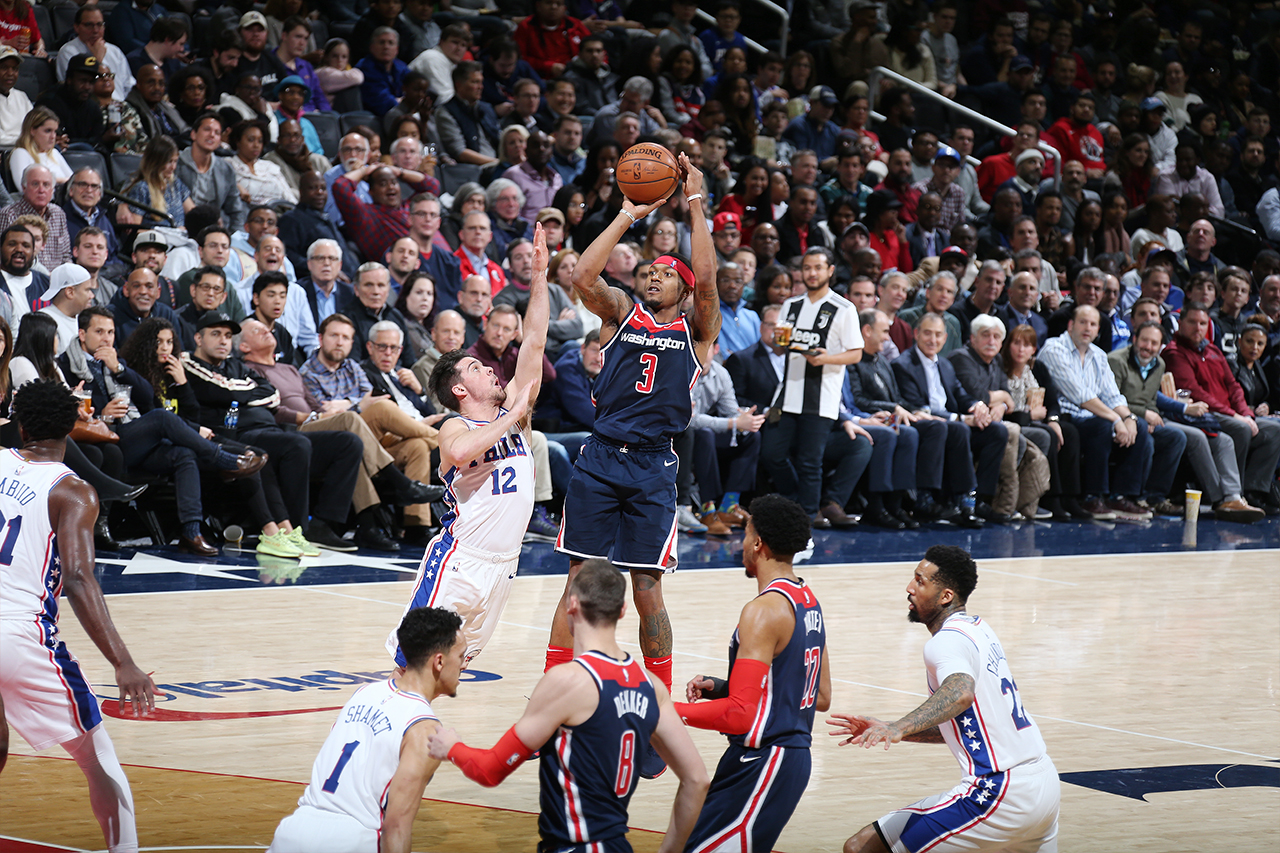 Philadelphia turned the ball over seven times in the first, and they finished the game with 24 turnovers. Beal attributed the defensive intensity to a mentality the team has developed in recent games.
"It's extra effort. It's that mentality of don't let it be you. Don't be that guy that's relaxing on defense, don't be that guy that's getting beat on the box out or anything like that," Beal said. "That's the motto, mental approach we have. It keeps everybody in check, it's able to hold everyone accountable. We preach defense first."
Beal returned to action with 7:39 remaining in the second after his teammates went on an 18-3 run, extending Washington's lead to 20. Beal added seven points on 2-for-3 shooting along with three assists, as the Wizards entered the half leading 63-48.
His only bucket in the third came with 3:04 remaining and gave the Wizards a 25-point lead. Beal finished the quarter shooting 1-for-4 before capping his night with a stellar performance in the fourth.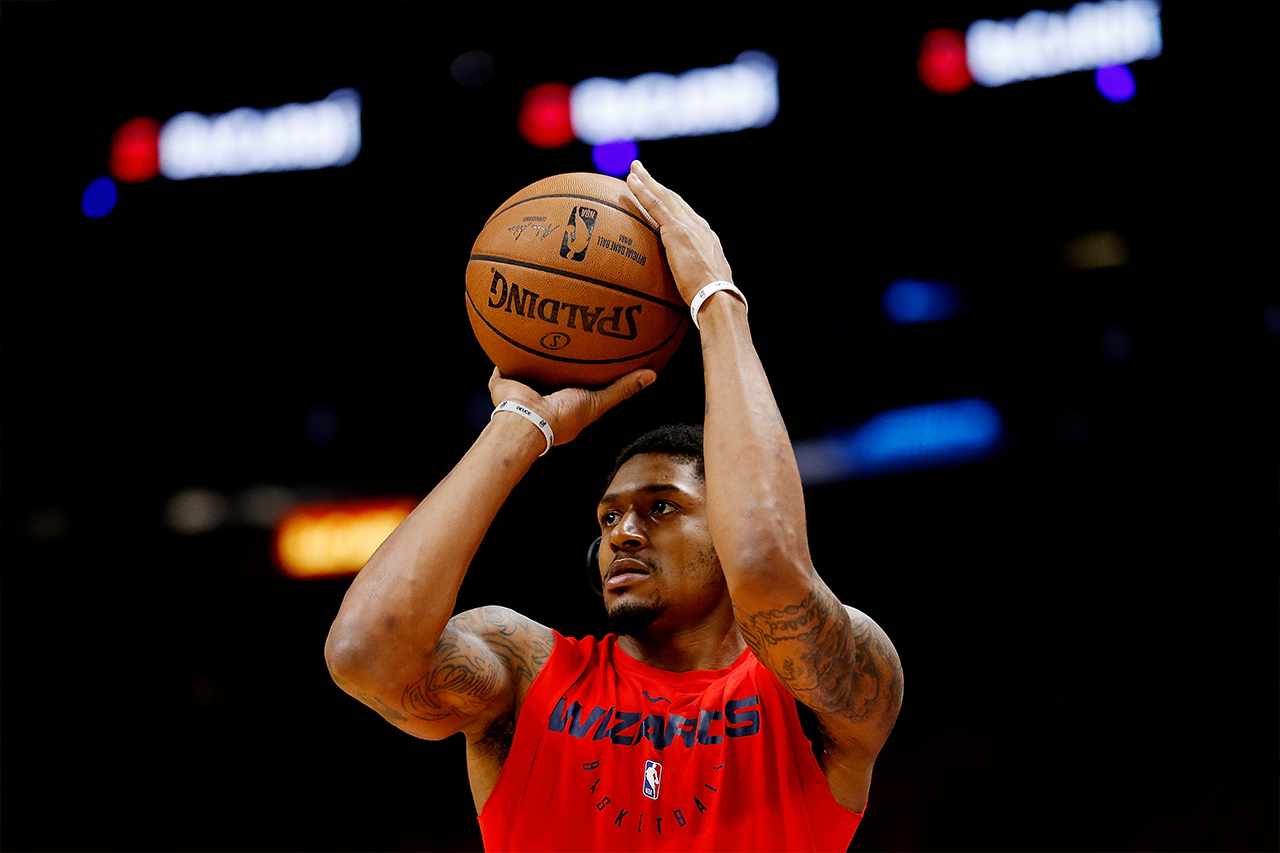 Over their last six games Washington owns a 4-2 record with impressive victories over good teams, showing signs of improvement. But Beal continues to preach patience with a team acclimating to recent acquisitions and implementing teammates into the lineup who are returning from extended injuries, like Otto Porter Jr.
Porter was a key contributor off the bench against Philly, scoring 23 points and snatching six boards. And Trevor Ariza added 17 points of his own as he continues to grow more comfortable in the offense on a nightly basis.
"I don't think we ever panicked. We knew everything was fresh. Just watching clips of previous teams we've played all year is so weird to see how the team is transitioning from the beginning of the year until now," Beal said. "When you look at that, you've got to be able give us time to figure things out, get acclimated. We're still trying to get Otto back to his minutes. But it's great to able to see his aggression and everyone's as well. We're just taking advantage of it hopefully we can turn the corner."
Wizards return to action Friday at home against the Milwaukee Bucks (29-11), current owners of the best record in the Eastern Conference. The game can be seen on NBC Sports Washington with tip off scheduled at 7 p.m. ET.