Bradley Beal and the Washington Wizards (16-24) notched an impressive road victory over the Oklahoma City Thunder (25-14) Sunday.
OKC, victorious in eight of their previous eleven matchups, returned home having won a pair of road games but ran up against a Washington team collectively playing well.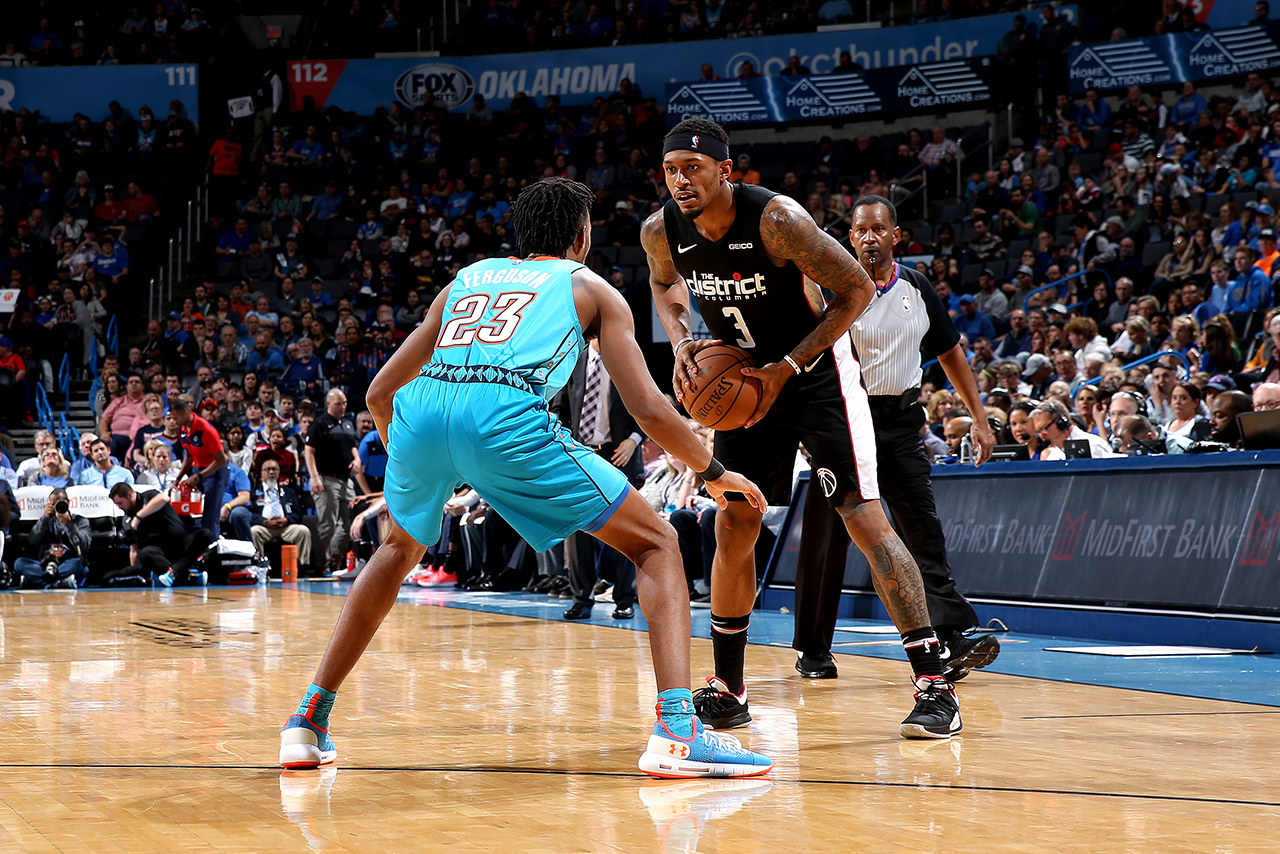 Five Wizards finished the game in double figures, led by Beal who scored 25 points on 10-for-27 shooting while adding five rebounds and six assists in 37 minutes played in the 116-98 victory.
"We did a good job of paying attention to the game plan, knowing the scout, knowing this is one of the best teams in offensive rebounding and converting points off turnovers. [That was] our key emphasis for tonight," Beal said. "We limited our turnovers, limited the amount of offensive rebounds they got, made them take long two's versus in the paint shots, which they're top five in the league. Everything we did, we needed to do collectively on the defensive end. On offense we moved the ball, shared it, moved bodies and took advantage of what they gave us."
Washington and Beal though, struggled out of the gate as the Thunder built an 18-to-7 lead early. Beal missed his first four attempts on the floor before heating up and nailing a corner three over Steven Adams with 5:16 remaining. Following a missed three by Paul George, Beal came down and drained a step back jumper in the same corner, cutting the lead 18-to-12 with 4:55 left in the first.
The Wizards then took their first lead of the game at 21-20 with 1:47 remaining after Beal found Otto Porter leaking on a fast break, lobbing him the ball for an easy two.
After initially failing to get going, Beal finished the quarter strong by also scoring Washington's final three buckets; a put-back layup, a turnaround fadeaway jumper and a blow by and-one layup. The Wizards led 28-to-25 in part thanks to Beal's twelve points.
After the victory Beal acknowledged his struggles shooting the ball early but refused to let it deter him the rest of the game.
"Even to this day, no one can be more pissed off about a miss or a bad game than I can. What I've learned during my growth is keep playing the game. The game is long, 48 minutes. It's so many possessions in a game, so many momentum plays. You make one jumper, that's it for you, you're hot. That's the mentality I've developed myself into and trying to keep that All-Star mentality."
In the second Beal re-entered the game with 8:23 remaining and Washington leading 38-to-27, but OKC wouldn't go away without a battle, cutting the lead to one with 3:01 before the half.
The Panda scored six points on 3-for-5 shooting after checking back in, helping the Wizards go into the break with a 54-to-50 lead.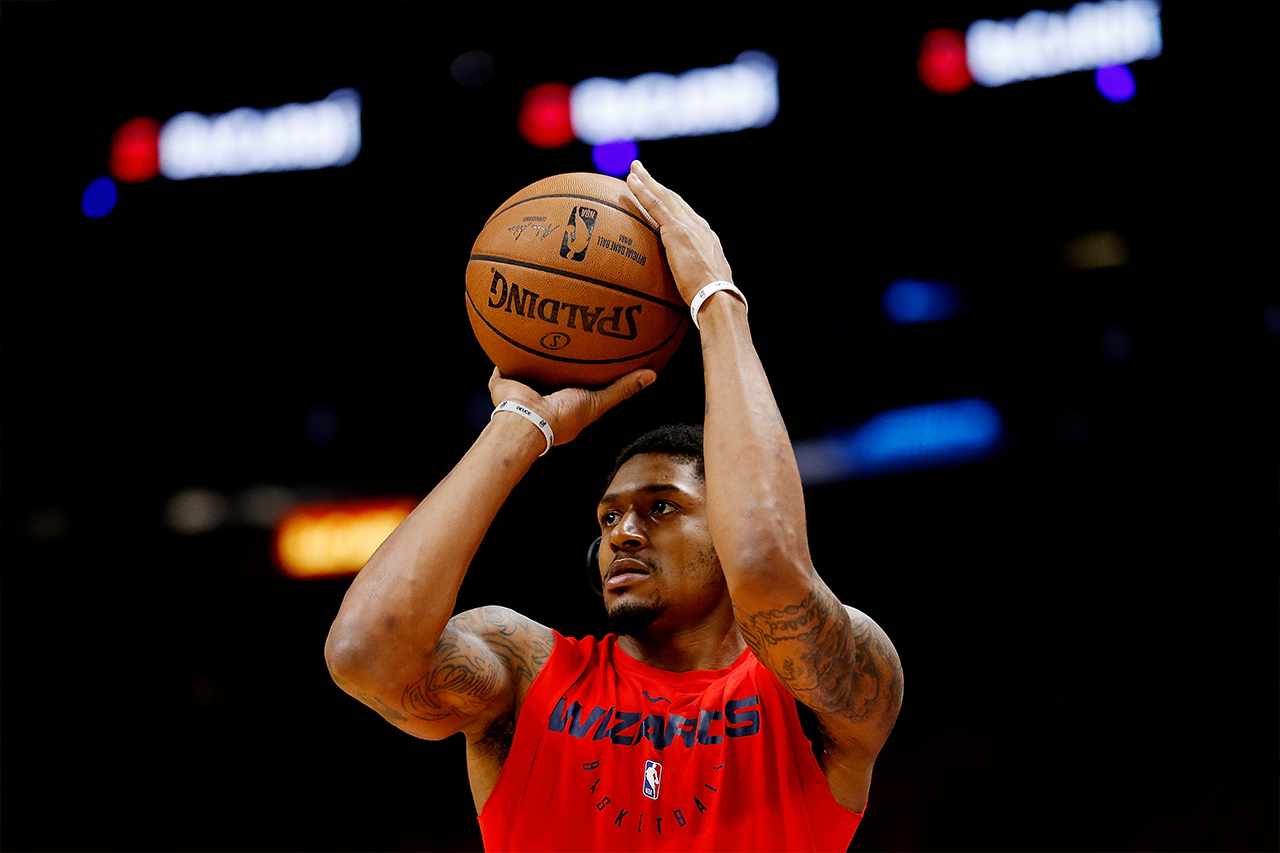 Throughout the third both teams exchanged baskets and found themselves tied at 67 with 6:01 remaining in the quarter. This is when Washington went on a 23-to-12 run to finish the quarter, taking a double-digit lead into the fourth. Beal ignited the run after finding Thomas Bryant inside for quick two and following it up with a nifty layup off the glass. Beal was responsible for 12 of the 23 points scored during the run, assisting three baskets and scoring five points including a step-back three with 36 seconds left that made the score 90-76.
By the time Beal checked back into the game midway through the fourth the Wizards had extended the lead 101-to-81. He wouldn't score again in the final frame but didn't need to as the 20-point deficit proved difficult to overcome for the Thunder. With the game in hand Beal was subbed back out with 2:11 remaining as the Wizards went on to win 116-98 in what was a fantastic all-around performance by the team.
"I can't do it by myself, that's the realization of it, that's the biggest thing. I'm not trying to do it by myself either. I have to trust my teammates, put them in position to score, make plays and encourage them. That's what a leader can do," Beal said. "A leader isn't always about do this do that, he listens to guys, gets a feel for what they like, what they want to do. It's about letting everyone play their game, play freely and have fun doing it."
Next up for Washington is a visit to Philadelphia where they'll square off against the 76ers Tuesday night. The game can be seen on NBC Sports Washington with tipoff scheduled at 7 p.m. ET.