Bradley Beal was a scoring machine over the weekend, dropping a season-high 46 points Friday against the Charlotte Hornets and following it up by scoring 35 more points against  the Indiana Pacers Saturday.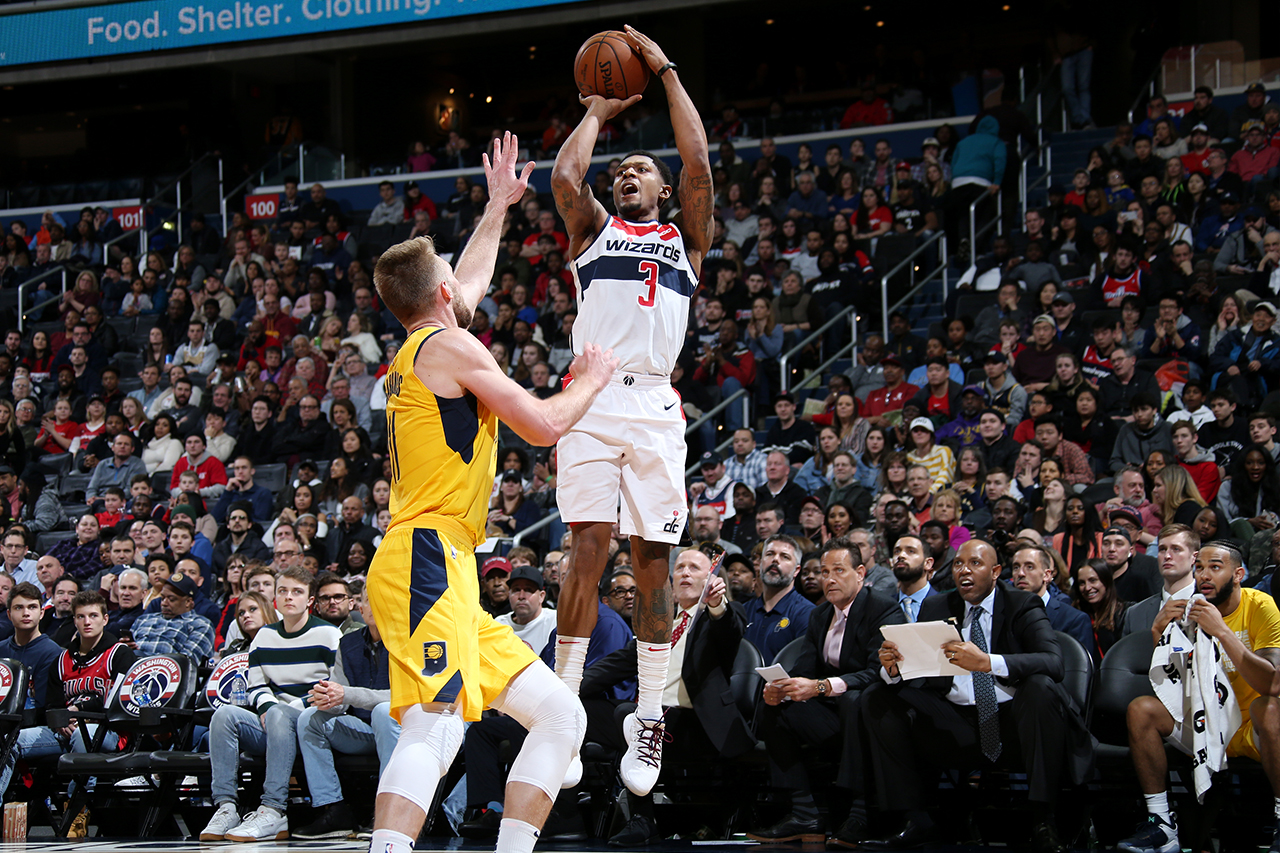 The Panda shot the ball well from all over the floor, going 28-for-47 and knocking down all 18 of his free throws over the weekend. The two-time All-Star continues playing exceptionally well, averaging career highs in scoring (25.7), rebounds (5.1) and assists (5.4).
The highlight play on Friday was a thunderous right-handed dunk through the heart of Charlotte's defense. Late in the third quarter, Beal dribbled up the floor before teammate, Tomas Satoransky, set him a pick at the top of the three-point line. Beal split the defense with one dribble before taking flight inside the paint and flushing down a towering slam over two Hornet defenders.
https://twitter.com/WashWizards/status/1099124189003436032
But Beal's phenomenal performance was overshadowed by two losses, and winning is ultimately all that matters to the six-year pro, who has only missed the playoffs twice in his career.
"We can't blame anybody but ourselves. We've got to be a lot better on both ends, and I need to get better at leading us. Doing whatever it takes to win, that's all that matters," Beal said. "Forty points doesn't matter. We've got to win ball games, and we're not doing it. I'll do whatever it takes to win. Sometimes it's going to involve me scoring 50, sometimes five, I'm going to do whatever it takes."
The Wizards are beginning to feel the pressure to win trailing the eighth seeded Charlotte Hornets by four games with 22 games remaining. The time for a playoff push must start now if the Wizards are to extend their season beyond the 82-game regular season.
"We have to understand that every team we play from here on out is a playoff team," Beal said. "Every team is trying to move up or better their team or be in good rhythm enough to be playing their best basketball into the postseason. We're going to get everybody's best shot."
Washington suffered season ending injuries to key members of their roster earlier this season and underwent several roster transactions. The team continues adjusting to each other's style of play while competing for the playoffs.
Beal's determination to win is unquestionable, however, as he competes every night as the leader of this team. Right now, winning is the only goal in mind for Beal and the rest of his Wizards' teammates.
"The big picture at the end of the day is to make playoffs. Nobody should be focusing on anything else but that. Our goal and job is to make the playoffs," Beal said. "Whatever that looks like, I don't [care] if we're the eighth seed, let's get in. We'll worry about it when we get there."
Washington looks to return to their winning ways Wednesday when they visit the Brooklyn Nets. The game is scheduled for 7:30 pm ET and can be seen on NBC Sports Washington.