The Washington Wizards (15-31) were defeated 151-131 by the NBA's league-leading Bucks (41-6) on Tuesday night at Fiserv Forum in the last outing of a four-game road trip. Bradley Beal led the Wizards with a season-high 47 points on 16-26 (.615) shooting and has now scored 35-plus points in four consecutive games.
On a night when NBA postponed the Lakers-Clippers game at Staples Center after the tragic passing of Kobe Bryant on Sunday – Milwaukee and Washington paid homage to the NBA icon after the tip-off.
Despite the loss, Bradley Beal is producing offensively at an astounding rate throughout this four-game road trip, averaging 40.3 points per game over that span. No. 3 joins James Harden as the only players in the league with a streak of four-plus games with 35 points or more. Beal and Harden are now also the only players this season with multiple instances of back-to-back 40-point games.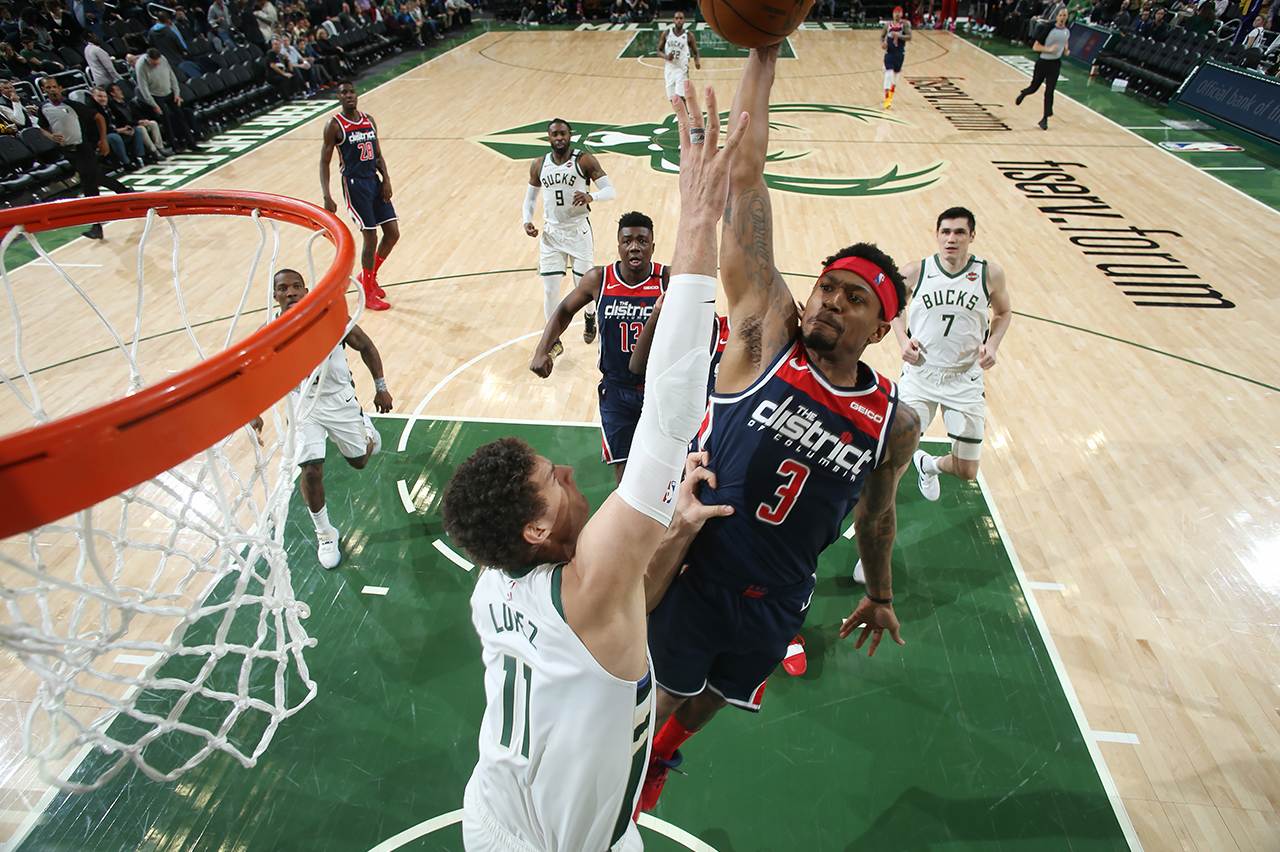 The Panda spent time hanging from the rim Thursday after recording a picturesque alley-oop and ferocious slam.
https://twitter.com/WashWizards/status/1222352409210454016
https://twitter.com/WashWizards/status/1222348560449982465
Two days after setting career highs in free throws made (15) and free throws attempted (18), Beal again found himself doing damage from the charity stripe. BB went 17-18 (.944) from the stripe against the Bucks, surpassing his newly set career high for free throws made and matching his high in attempts. Beal went 14-15 (.933) from the line in the first half alone, becoming the first Wizards player since Gilbert Arenas in 2007 to hit 14 free throws in a single half.
Despite being without defending MVP Giannis Antetokounmpo, who missed the game with right shoulder soreness – his replacement Ersan Ilyasova, came out strong, scoring the Bucks' first four points and seven of the team's first 10. In contrast, the Wiz started ice cold – missing their first five field goal attempts, while Milwaukee was nearly perfect from beyond the arc – going  8-9 (.888) from deep to start the game and opened up a 20-point lead late in the first quarter.
From there, Washington authored an 8-0 run of their own – led by two three-balls from the Latvian Laser Davis Bertans – to cut into the deficit. But, Milwaukee got back to their scoring ways – ballooning heir lead back up to 32 points with 3:58 left in the half.
https://twitter.com/WashWizards/status/1222336124074377216
Washington played catch-up through the entirety of the second half. Despite their best efforts, the Wiz never got the deficit below 10 points.
However, it wasn't for lack of effort. Four other Wizards score at least 15 points, including Thomas Bryant, who led the way with 18 points, 10 rebounds and six assists for his sixth double-double this season.
Isaiah Thomas and Troy Brown Jr. each tallied 16 points, and Bertans wasn't far behind with 15 points of his own on a perfect 4-for-four from three-point land.
"Even without Giannis [Antetokounmpo] we knew this team could put a lot of points up," Wizards head coach Scott Brooks said. "They have terrific basketball players that know how to play. They have a lot of experienced basketball players."
Up next, the Wizards begin a six-game homestand Thursday against the Hornets at 7:00 p.m. ET before matchups with the Nets, Warriors, Mavericks, Grizzlies and Bulls.