For the second time in as many nights, Bradley Beal set a new career high in scoring, lighting up Capital One Arena with a 55-point performance against the league-leading Milwaukee Bucks. Beal's consecutive 50-point outings marked the first time in franchise history that that feat had been accomplished and the first across the NBA since Kobe Bryant did it in 2007.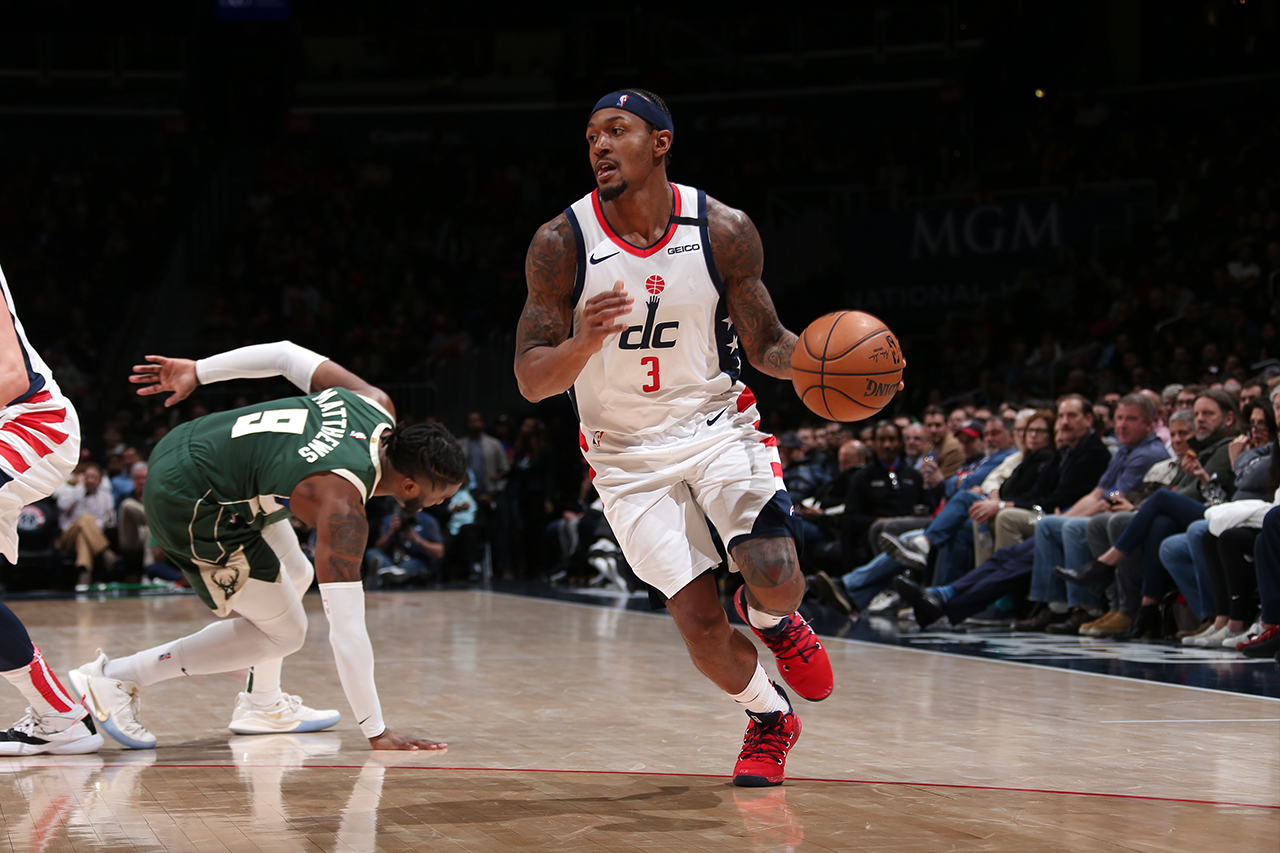 Matching one of Kobe's feats felt extra special on Monday night, as a memorial in Bryant's honor was taking place in Los Angeles at the Staples Center that same night.
The Panda finished the night 19-33 (.575) from the field, 8-13 (.615) from 3-point range and 9-10 (.900) from the free throw line in a narrow overtime defeat against a Bucks team that has only lost eight games all season.
https://twitter.com/NBATV/status/1232145492974411776
Beal and the Wizards gave Milwaukee all they could handle, but they fell 137-134 in the extra period. Despite the team result, head coach Scott Brooks had high praise for No. 3 after the game.
"[He's a] special player doing everything that he can possibly do to keep putting us in a position to have success. Now we didn't win. We haven't won enough games that we would like to have won, but Brad's a winner. He does it time and time again. Tonight, we just came up short," Brooks said. "Great game playing against the team that's probably going to be playing basketball in late June."
For the second straight night, No. 3 showed up when the game mattered the most, with his team trailing in need of a spark.
https://twitter.com/ESPNNBA/status/1232119976875745281
With the Wizards down 10 with 7:40 to go, Beal hit a pull-up 16-footer to cut the deficit to single digits. From there, Beal scored 17 consecutive points for the Wizards over the next five minutes.
A few sequences later, Bradley hit another 3-pointer, his seventh of the night, to tie the game at 121, and he scored on the following possession to give the Wizards a two-point lead. After Milwaukee tied the game on a pair of free throws, the teams went scoreless over the final 54.6 seconds of regulation, sending the game to overtime.
Beal rattled off 22 points on 8-11 (.727) from the field and 4-4 (1.000) from three-point range in a scorching fourth quarter performance.
In extras, BB found his way on to the stat sheet repeatedly as he had been doing all night. Beal scored on back-to-back possessions to give the Wizards a 132-128 lead with 1:57 left in overtime. However, an offensive spurt for Milwaukee quickly erased the small lead.
Unfortunately, a difficult corner three from Troy Brown Jr. rimmed out at the buzzer and sealed the win for Milwaukee. However, Beal and his teammates hope this effort can inspire them for a potential first-round playoff series if it comes to fruition.
"We showed heart, that's what it was – for a full 48. I think we got off to a slow start," Beal said. "We just clawed back, we showed some resilience. In our head, we're viewing this as a first-round match-up if we get there. This is kind of our message to them. We know how tough of a team they are. They're the best team in the league right now. We're going to compete with the best of them and we're not going to go out without a fight."
Bradley Beal is just the third player in NBA history with back-to-back games of 53 points or more.

Wilt Chamberlain, James Harden, Bradley Beal.

That's it.

— Chase Hughes (@ChaseHughesNBCS) February 25, 2020
Beal's performance was his 15th consecutive game with at least 25 points. The performance broke a tie with Walt Bellamy for the second longest such streak in franchise history. Beal needs just two more games with 25-plus points to tie the franchise's all-time record of 17 straight games, also held by Bellamy.
Although the loss hurts, Bradley acknowledges tonight was special.
https://twitter.com/WashWizards/status/1232159445406404610
Next up, the Wizards host the Brooklyn Nets (26-30) on Wednesday at 7:00 p.m. ET before embarking on a four-game road trip out West that features matchups with the Utah Jazz, Golden State Warriors, Sacramento Kings and Portland Trail Blazers.