The Washington Wizards (21-35) defeated the Brooklyn Nets (26-31) 110-106 on Wednesday night at Capital One Arena, snapping a three-game losing streak that began after the All-Star break. Bradley Beal scored a team-high 30 points – including 17 in the fourth quarter – to get the Wiz back on track as they battle for a playoff spot.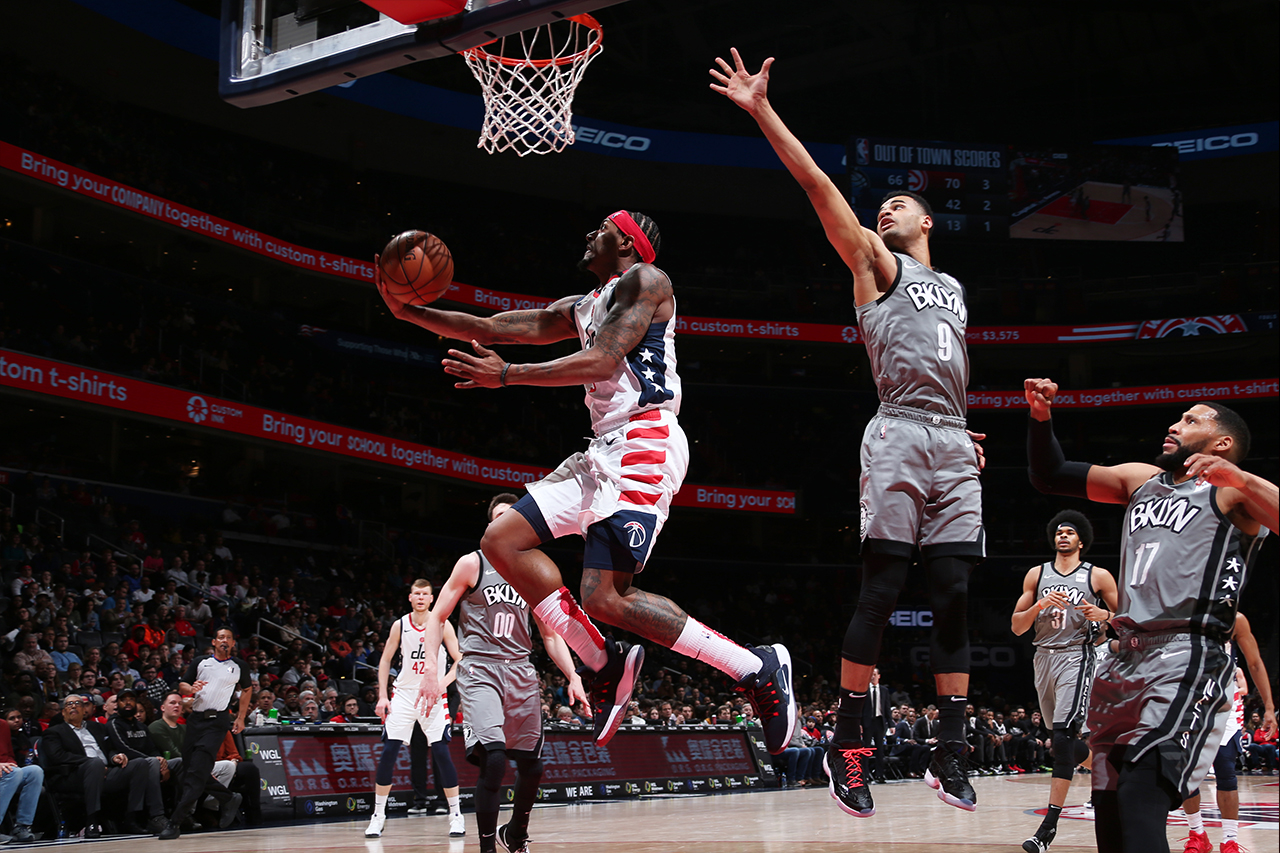 Beal has now scored 25-plus points in 16 consecutive games, one shy of tying Walt Bellamy for the longest such streak in franchise history. His performance was capped by a game-tying three-pointer with 1:02 remaining and an assist on Jerome Robinson's game-winning three with just 9.5 seconds on the clock.
https://twitter.com/WashWizards/status/1232855233241370625
No. 3 has been climbing NBA statistical leaderboards following his back-to-back 50-plus point games, and he kept pace with these figures on Wednesday night with another strong performance.
In addition to his scoring, Beal has been impacting the game in other ways as well. He recorded five rebounds and five assists in the win against Brooklyn, including making the extra pass to Jerome Robinson in a key moment to help seal the win.
"The best part about that play was that Bradley Beal made the right play," Wizards head coach Scott Brooks said. "He trusts his teammates, made the right play to the left slot to Jerome [Robinson]. Jerome didn't hesitate, he had a tendency to hesitate and I'm telling them, 'he who hesitates doesn't make shots.' I like that. He caught it, had confidence, he took the shot, took the ball and made the basket then he got the rebound and they got the two free throws, so it was a great play by him."
https://twitter.com/WashWizards/status/1232885569300115456
Beal has been lighting up the stat sheet in the fourth quarter recently, and that trend continued against Brooklyn.
Individually, BB scored 17 of his 30 total points in the fourth quarter – including seven points in the first 1:30 of the fourth quarter to steal the lead back for the Wizards. For the next 10 minutes, it was a back-and-forth battle, and the Wizards emerged with a crucial victory, thanks to impressive shot-making, unselfish play and solid team defense.
https://twitter.com/WashWizards/status/1232863538957303809
With the win, the Wizards improve to 2-0 against the Nets this season with one game left to play in this year's series.
Next up, the Wizards begin a four-game road trip out West, starting against the Utah Jazz (36-21) on Friday at 9:00 p.m. ET. The road trip continues on Sunday against the Golden State Warriors (12-46) before a back-to-back against the Sacramento Kings (24-33) and Portland Trail Blazers (26-33).