For 47 minutes and change, Friday was a frustrating night for Bradley Beal. But with one shot, Brad turned it all around.
The target of constant double teams from the Chicago Bulls, Brad was siting on just eight points entering the fourth quarter. Add in that the Wizards had seen a 15-point lead in the third cut to just three entering the fourth, and the vibes were not, as they say, immaculate. No. 3 started to get going in the final frame, posting nine points to keep the Wiz in front. But a turnover by Brad on Washington's penultimate possession, which led directly to the game-tying bucket by the Bulls, threatened to sabotage a feel good "Classic" night at Capital One Arena.
Still, the Wizards never lost faith in their franchise player, and Brad never lost faith in himself. The ball belonged in Brad's hands with time winding down, and he did with it what he does best. The score tied with under 10 seconds ago, Brad took a screen from Anthony Gill, collapsed the defense to the right side of the basket, stepped back to gain some space them moved forward and found a hole in what was a near triple team, to put up a one-handed shot high of the glass and bank it in to give the Wizards the lead with 7.4 seconds to go.
"The biggest thing was don't turn the damn ball over, cause I did that the possession before," Brad said. "I told myself "I'm going to get a shot up and I'm going to make the shot." That's what it was, just being locked into the moment, staying engaged in the game. I just made a great read and tried to get the best shot possible. That's all."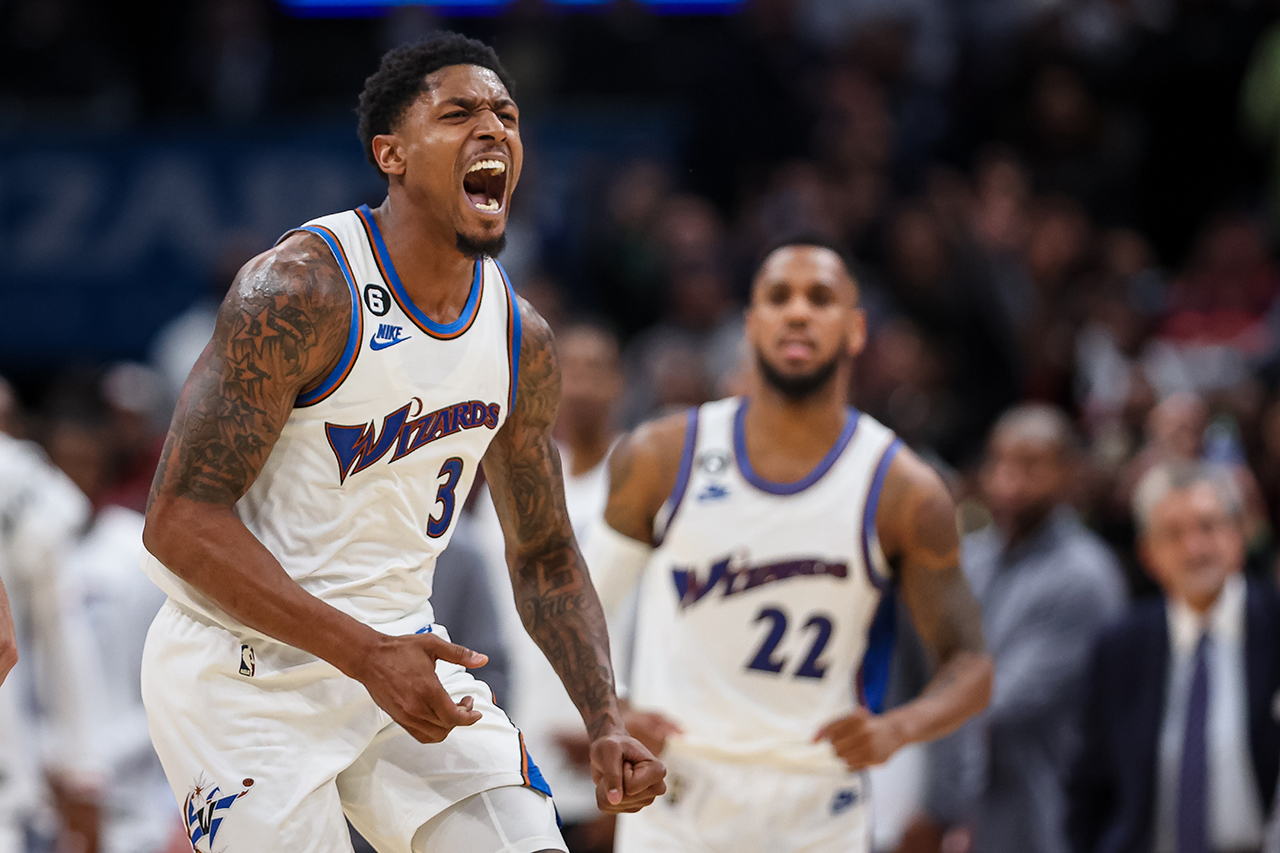 Then there was just the matter of holding on for those last seven seconds. The Wizards did so, but not without a scare. Despite great one-on-one defense from Gill, Demar DeRozan, who finished with a game-high 32 points, got a great look at a long three that just missed as Washington secured a 102-100 victory in The Vault. Afterward, Brad admitted he thought for a split second that DeRozan had erased his own game-winner.
"I was a little nervous for a minute there," he said. "I thought it was cash. I ain't going to lie to you. That was a great look. D-Ro doesn't shoot many threes but when he does…they [go] in. He hit us with one last year in the corner. He seems to love D.C. It was a good look. Good defense by A.G. and tough shot. Contest it, and make him miss."
The Wizards are now off to a 2-0 start for the second straight season.
Getting there was a challenge, as the Bulls did a great job of denying Brad looks at the basket for most of the night. Kyle Kuzma picked up a lot of the slack, scoring 26 points on 8-of-16 from the field, including four threes. Kristaps Porzingis added 14 and Rui Hachimura pitched in 12 off the bench. Along with his 19 points, Brad was Washington's leading assist man, with eight dimes and after the game he beamed with pride about the unselfish way the Wizards played for the second straight game to start the season.
"We're just doing a good job moving the ball, being aggressive, making smart plays with it…sharing it. Whoever is open, shoot it. That's our mentality. We trust each other to make plays and be smart with the ball," he said. "They do a good job of doubling, showing bodies, helping in the paint, so I'm going to trust my teammates to make the shot, making the extra pass, make the read, and if it's a hockey assist, it's a hockey assist. It's not all on me to just score, score, score. I've embraced the role of creating for my teammates and trusting them to make the right shot, the right play, as well."
That trust was on full display in the first half. Despite No. 3 taking just three shots in the opening frame, the Wizards connected on 11-of-21 attempts (52.4 percent) and seven of those 11 buckets were assisted. BB played the whole quarter and had four points and two assists, but Washington hung in, trailing by just four, 30-26 after one.
In the second frame, the Wizards turned the tables, and they did it with defense, forcing Chicago into six turnovers in the second quarter alone. The Bulls had a five point lead with seven minutes remaining in the half, but Washington scored the next 14 points to take control of the game. That run included two dimes from Brad, as he found Porzingis and Kuzma for back-to-back buckets. He followed with a basket of his own, knocking down a fadeaway jumper off a feed from Deni Avdija which put the Wizards in front by seven. A few plays later, No. 3 drilled a stepback to push the lead to nine and Washington held onto a 56-50 edge at halftime.
Early in the third, Washington continued building upon the lead, and it peaked at 17, 71-54, with 6:20 to go in the third. But Chicago finished the quarter on a 20-6 run to pull within three by the close of the quarter. After going scoreless in the third and watching his team's lead all but evaporate, Brad picked it up on the offensive end in the fourth. He re-entered with 8:08 remaining and Washington up by just two, and in the final eight minutes he scored 11 points and added assisted, giving him a hand in 14 of the final 17 points the Wiz scored.
First, he knocked down his first trey of the game to re-establish some breathing room. Moments later he converted a layup off a feed from Delon Wright to push the lead back to six. After Kyle Kuzma drew a foul on a three-point attempt and sank all three of his tries from the stripe, Brad found Deni for a deep three that made it 96-88 in favor of the Wizards with four minutes to go. DeRozan followed with three from the line, but No. 3 answered with a turnaround jumper to make it 98-91. However, Chicago scored the next seven points to even the score, Brad finally stopped the bleeding with a drive to the rim for a bucket that put Washington in front 100-98, and after Nikola Vucevic missed a three with under a minute to go, the Wizards had an opportunity to create some distance.
But Brad had a pass attempt stolen by DeRozan, who took it the length for a dunk to tie it at 100.
That set the stage for Brad's clutch runner to win it and the stop on defense that made it stand up.
"We're resilient. We take pride in who we are, and getting stops. That's what's going to win us games," Brad said. "We respect everybody. Everybody's a pro. The last two games we've played, Indiana has good guys and Chicago for damn sure has good guys and pros on their team, too. We respect that. But we don't back down. We don't give in to their runs. That's a part of the game. We're going to run, too. But it speaks volumes to a lot of vets we have. A lot of guys who have been in winning situations, they come in, know what to do, know what to expect, and we stay poised when runs are made and make the right plays down the stretch. That's all we can do."
The Wizards will look to push their hot start to 3-0 on Sunday when they take on the Cavaliers (1-1) in Cleveland. Tip-off is slated for 7 p.m. and the game can be seen on NBC Sports Washington.