After scoring 23 points on Wednesday night against the Indiana Pacers, Bradley Beal said his first regular season NBA game in nearly nine months didn't feel like a first game. What it did feel like, for Brad and the Wizards, was a win.
Brad led the way in the scoring column, as expected in Washington's 114-107 season-opening victory over Indiana. He scored his 23 points on an efficient 9-of-17 from the field. But he also had a team-high six assists and wasn't alone on the scoring leaderboard. Kyle Kuzma was right behind him 22 points and Kristaps Porzingis (15 points), Will Barton (14 points) and Daniel Gafford (12 points) as five Wizards finished in double figures. After the game, Brad said that was the most important thing to come out of Wednesday's victorious effort.
"I felt good. Energy-wise it was good to be back on the floor. Didn't really feel like a first game of the year. Just kind of felt like another game and it's good to be able to get up and down, get off to a good start. It's good to be 1 and 0. Good way to start," he said. "Being able to look up and see multiple guys in double figures and knowing that I don't have to carry a bunch of that, knowing that I can create, give them the ball, let them work, be ready to catch and shoot, get some catch and shoots back in my game again, it's great."
From the start it was abundantly clear this was a different Washington team with a different offense. They scored 36 points in the first quarter on 13-of-25 from the field. That outburst was led by Kuzma's 10 points on 3-of-5. Brad had seven points of his own on an identical 3-of-5, and added two assists, both on threes by Kuzma. Brad got it started, knocking down his first attempt of the season, a three.
https://twitter.com/WashWizards/status/1582874738766278656
Washington's defensive effort in the first was also a sign of a different team, and perhaps the product of a different lineup. Washington coach Was Unseld Jr. decided to go with an interesting starting five for the first game of the year. Brad and Monte Morris made up the backcourt as expected, and Kuzma and Porzingis were in as well, but they were at the 4 & 5, with third-year forward Deni Avdija getting the start in between them. After the game, reporters wondered about the starting five and Brad revealed he was as much in the dark as they were, but that he was thrilled with the balance it provided on both ends of the floor.
"I had no idea who he was starting tonight. You can kind of get a feel in practice but he mixes up the lineups so you couldn't really get a gist. It was a good mix," he said. "Deni is a willing defender, big body, same with Kuz, so it makes it easier to switch at the 3-4 position with those two. Offensively, Deni has been working on his catch and shoots. We trust him to play in pick and roll, too. So we have multiple guys who can dribble, put the ball on the floor and gets us kind of in a way to not step on each other's toes. So I think Wes did a good job of mixing it all together. We're all unselfish too, so it just makes it that much easier."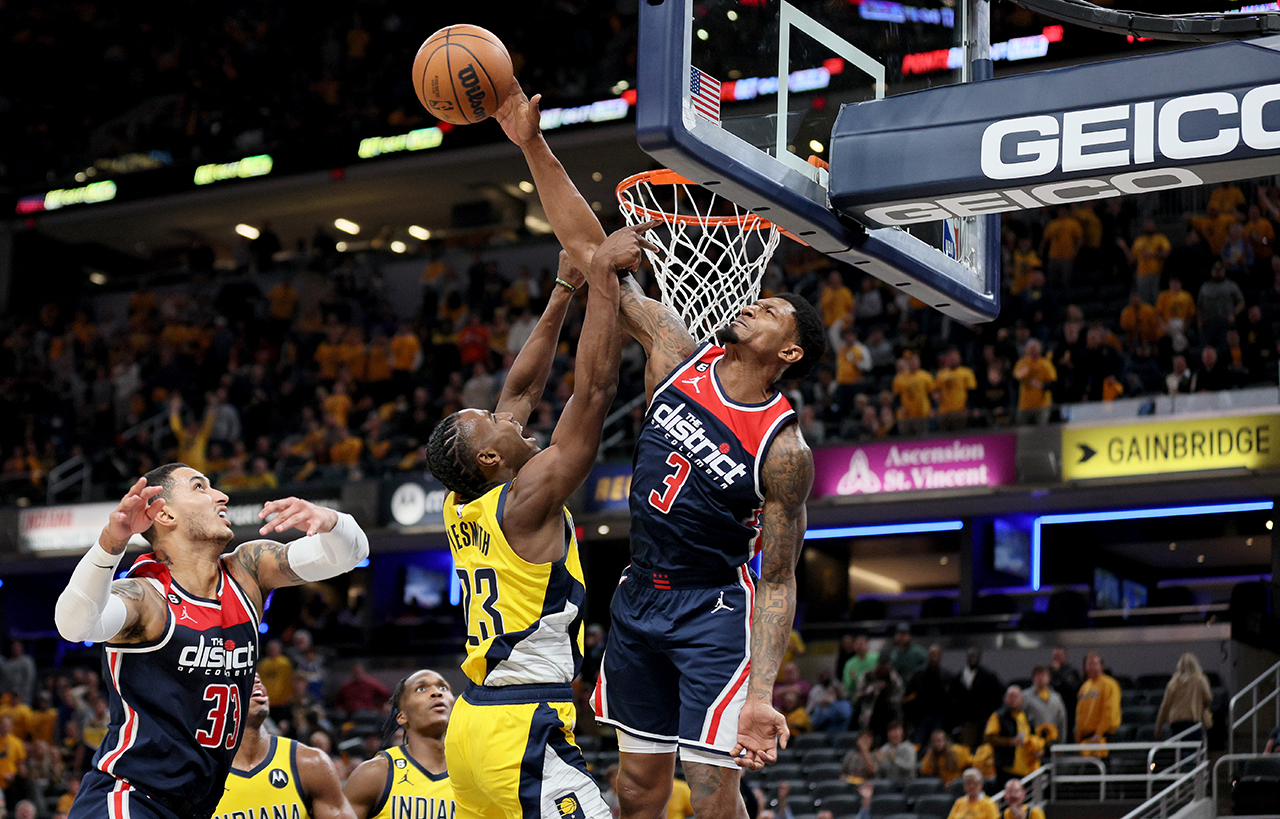 Eight of the ten players that touched the floor for Washington in the first 12 minutes scored at least two points. It doesn't get much more unselfish than that, and the result was a 36-25 lead after one. The Wizards were still up by 12 when Brad returned midway through the second, but Indiana soon started a 12-1 run to pull within one with just over five minutes left in the half.
But Washington wouldn't relinquish the lead and Brad played a big role in keeping it intact, scoring two buckets during an 11-0 Wizards run. He finished the quarter with another six points on 3-of-5 and went into halftime with a team-high 13 points on 6-of-10 shooting. At the break, the Wizards held a 60-52 lead.
Indiana spent much of the game sending multiple defenders Brad's way and denying him his shots. Fortunately, his teammates were able to step up in a way that has not been the case in recent years past.
"We know teams are going to heat him up, using him as a facilitator," Unseld said. "I thought he did a pretty good job, It was pretty good balance tonight."
In the third, Brad had a pair more assists to go along with seven more points, as Washington maintained their lead for the entire frame. Kuzma, who grabbed 13 rebounds to go along with his 22 points and Porzingis, who had 10 boards, both recording opening night double doubles, continued to pick their spots well, something No. 3 knows will be a deciding factor in how deep the Wizards go this season.
"We're still figuring it out when we're playing against other teams. But it's good," he said. "We love Kuz's aggression. He's constantly getting better and learning. And then KP is a unicorn. His size is unmatched. His touch is unmatched. We're going to need both of them to continue to make those strides."
https://twitter.com/WashWizards/status/1582896416170868737
Early in the fourth, paced by the efforts of reserves Barton and Gafford, Washington got the advantage up to 18 on multiple occasions. However, the Pacers came after it hard in the closing minutes, a 9-0 run got them back within single digits with six minutes to play, and after Brad found Kuzma for a bucket to make it 110-99 with two minutes to go, the Pacers scored the next eight points to make it a one possession game with 31 seconds on the clock. Moments later, Tyrese Haliburton had a look at tying it from deep, but he missed the mark and Washington closed out the game at the free throw line.
"We were turning the ball over, not getting back in transition. Our transition defense was horrendous the whole night. That's what kept them in the game," Brad said. "Getting out fast, pushing the ball, getting those open threes in transition down the stretch. We can't have that. We were turning the ball over, too, giving them more threes, more looks at the basket, offensive rebounds. So there's a lot of stuff we can cleanup, But it's all controllable things. I think that's what's promising about it. We can control our effort getting back, control rebounding, securing the ball, and control our turnovers."
Washington will look to correct those things ahead of Friday night's home opener against the Chicago Bulls at Capital One Arena. The game will feature a head-to-head matchup between Brad and fellow All-Star Demar DeRozan. Chicago (1-0) comes in off their own season-opening road win on Wednesday night in Miami despite the absence of Zach LaVine and Lonzo Ball.
Tip-off from The Vault is scheduled for 7 p.m. and the game can be seen on NBC Sports Washington.