Bradley Beal and the Washington Wizards have stressed strong play going into the All-Star Break, and they executed Thursday night, dominating the Indiana Pacers to go into the break.
Brad went 7-of-14 from the field and 4-of-7 from 3-point range for 19 points while adding four assists and three rebounds across 36 minutes.
The Wizards never trailed in this one and continually kept the Pacers at bay. One of the league's hottest teams, D.C. has now won 13 of its last 14.
"Games like this you get caught up in looking forward to the break too much," BB said. "The game right before the break and the games after the break, those are the toughest ones. We did a great job of making sure we stayed focused and locked in the rest of the game."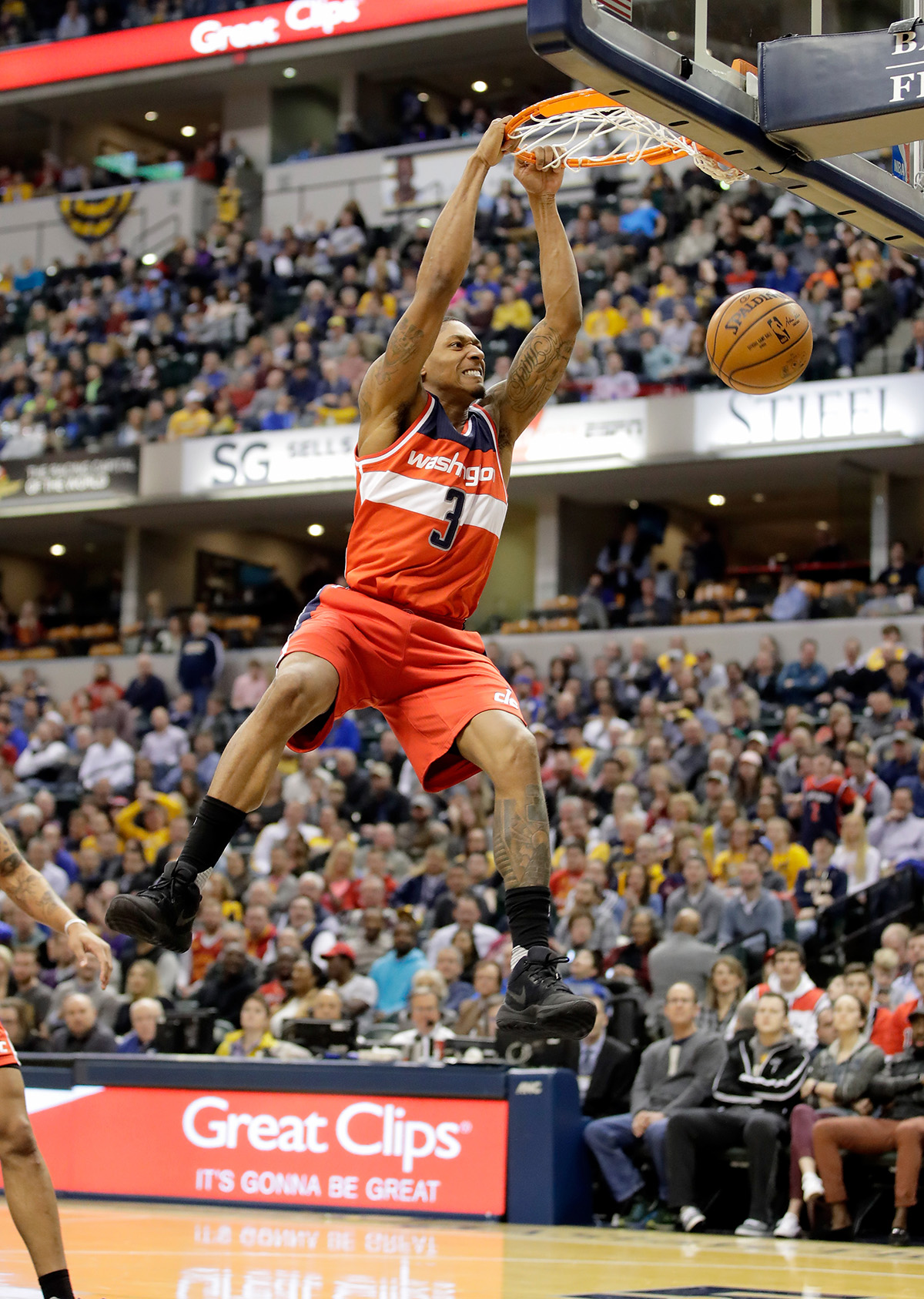 BEAL'S STRONG NIGHT
No. 3 opened his night with his first 3-pointer and two assists to Otto Porter Jr. and Markieff Morris for threes as the Wizards rode a hot start from downtown to a 34-27 lead at the end of the first.
With 7:23 to go in the second, Brad jumped a passing lane for a steal and finished with a dunk to extend the lead to eight before hitting his second trey of the night to make him the franchise leader in consecutive games with two or more 3-pointers at 12 (passing Chris Whitney and Gilbert Arenas at 11).
With teammate John Wall's layup late in the third, the Wizards had their entire starting five score in double figures for the 22nd time this season (most in the NBA).
"It's just tough to guard us, man. We have so many threats," BB said. "You forget about Keef and you forget about [Marcin] Gortat, and then you key in on Otto. Then you got me. You key in on me, then you got Otto. Then [Wall] is driving to the basket and has his game going."
Washington led 95-85 in the fourth when BB drove to the hoop and finished a beautiful reverse layup to put the Wizards up 12 with 7:45 remaining. No. 3 then sealed the win late with his fourth and the Wizards' 15th 3-pointer of the game, matching a season-high for the team.
HIGHLIGHTS
RETWEET
Love how Bradley Beal has changed his shot selection this season. 42.5% of Beal's shots have been threes, up from 34% last season.

— Prince Ali (@ShafiqueAli) February 17, 2017
NEXT UP
The Wizards head to the All-Star break after the win over the Pacers. Their next game comes next Friday, February 24 on the road against the Philadelphia 76ers.
Bradley will look to build on a strong performance in the first game against Philadelphia, finishing with 20 points, four rebounds, one assist and one steal while shooting 53.3 percent from the field.
Tipoff in Philadelphia is set for 7 p.m. ET.