When Bradley Beal is playing with confidence, he's one of the most dangerous players in the NBA.
No. 3 showed that with a monster weekend: 38 points, 10 rebound, four assists, one steal and one block in a 133-122 win over the Sacramento Kings on Friday night, and 26 points, six assists, one rebound and one steal in a 125-124 win the following night against the Portland Trail Blazers—extending the team's win streak to five, including four straight on the road against Western Conference foes.
"Confidence," Brad said when asked about the key to his outstanding play of late. "I'm happy, healthy and playing with a lot of confidence. I'm being aggressive and just trying to play my game."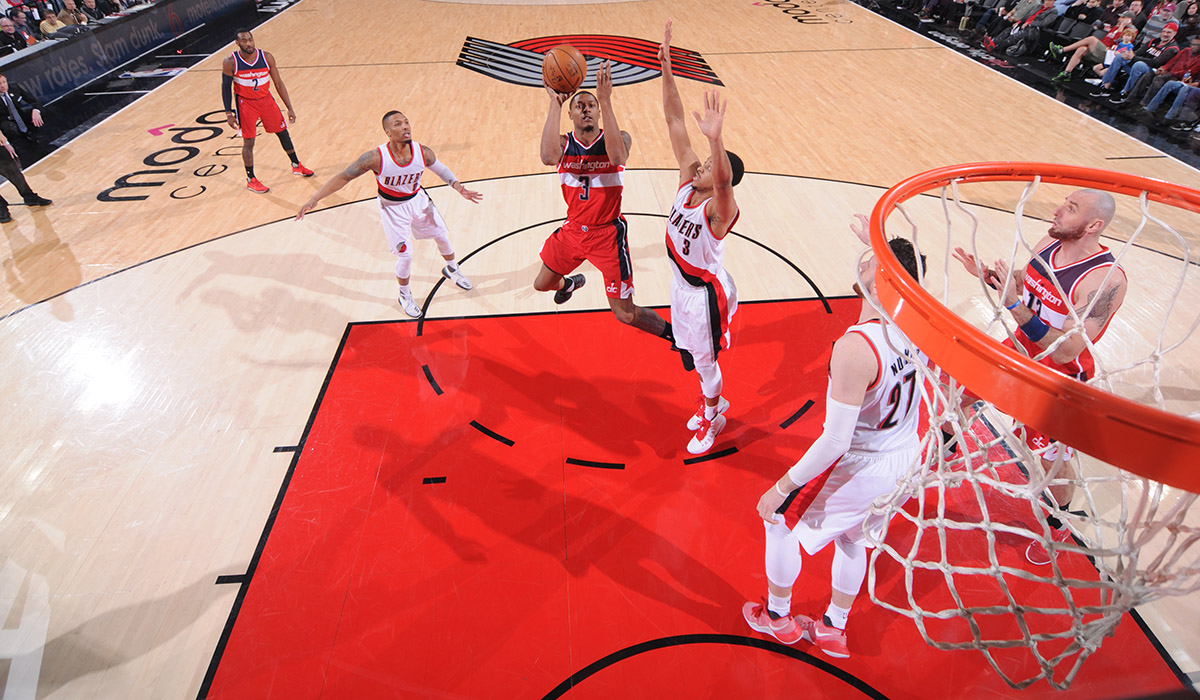 D.C. BACKCOURT DOMINATES
Everything is working for Beal and the Wiz right now. Brad was 13-of-24 from the field, 5-of-9 from 3-point range and 7-of-7 from the free throw line, logging 43 minutes against the Kings. The following night, he shot 50 percent from the floor and from three as D.C. downed Portland at the buzzer.
The Washington backcourt duo of Brad Beal and John Wall showed why they're perhaps the league's best guard twosome, combining for 128 points (an even 64 apiece), 31 assists, 17 rebounds, four steals and two blocks in two weekend wins.
"Hust having a lot of veterans, me and Brad being better as leaders and being better at closing out games," Wall said of the difference maker during Washington's win streak. "We've been very smart; we've just been aggressive. We're not always taking the shot – if somebody's open, we're willing to make that extra pass. We're all locking in on the defensive end and understanding we have something special here going on with this team even with the way we started, and we're just trying to finish the season on a high note."
BB FLIRTS WITH 40 VS. KINGS
Brad opened the game in Sacramento with a driving layup before later contorting his body for an and-one in the paint. Midway through the second quarter, No. 3 caught a pass from teammate Bojan Bogdanovic and stroked his first trey of the evening before doing the same on a feed from Wall to open the second half.
With 6:50 left in the fourth quarter and the Wizards down 10, the Florida Gators great started to heat up. He hit two more catch-and-shoot treys from Wall to bring the Wizards within two and then executed a perfect 2-on-1 fast break with his backcourt mate, ending in a layup at the rim to tie the game. With 3:08 left in the fourth, Bradley caught the ball in the left corner and lulled his man to sleep before blowing by him and finishing a reverse layup to put the Wizards up two. With 43 seconds remaining in the quarter and the game tied up again, Brad got Kings guard Buddy Hield on a switch and hit a step-back jumper over the rookie to push the Wizards back in front. After the game went to an extra period, No. 3 hit a corner trey to put the Wizards in front for good as they finished off the Kings.
"It's important for us in terms of the seeding," Brad said of the win. "John and I both looked at (the scoreboard) and said to each other we got to get it and turned it on in  the fourth quarter."
In Portland, Brad continued his hot scoring in the first quarter with a layup in transition followed by a trey off C.J. McCollum. In the second half, he hit a trifecta from the top of the arc, followed by a pair of mid-range jumpers as the Wizards tried to crawl back in the game from a 21-point deficit. After another 3-ball, BB took a bump from Damian Lillard and threw up a prayer that banked in off glass to pull Washington within 14.
With 5:21 to go in the third, Brad found himself wide open for a step-in trey to cut the Trail Blazers' advantage to 10. With 2:15 to play in regulation, the Wizards had rallied back to just a one-point deficit before Bradley gave them their first lead of the night with a top-of-the-key three over McCollum again. The game later ended in controversy as forward Markieff Morris hit a jumper with 0.4 seconds remaining in overtime to put Washington up by one but appeared to have previously stepped out of bounds. The officials determined they couldn't review the play and the Wizards walked away with the victory.
WHAT THEY'RE SAYING
BRAD ON FORMER WIZARD, CURRENT KING GARRETT TEMPLE
"That's a great friend, that's somebody you always want in your locker room. You always want a guy like that who bonds well with everybody, who's a leader, who is vocal, leads by example, works hard and is a true professional both on and off the floor. He made my life easy. He helped me out a lot. That's my brother to this day."
WIZARDS HEAD COACH SCOTT BROOKS ON BRAD BEAL AND JOHN WALL
"They're tied at the hip. They understand they need each other. They understand they need all the other guys on the team. They've been great leaders."

"That's one of the hardest things to do, and that's to lead when you're young and develop your game and who you are in the league. Brad and John have been great leaders for our team and hopefully they continue to build that part of their game because … when you're … the best two players on the team, you've got to be able to lead. And not lead when you're doing well or scoring well. You've got to lead when times are tough, and they did a good job of that in the first part of the season."

"They both compete on both ends. There might be some better scoring backcourts; there might be some better defensive backcourts. But the two-way backcourt, they could be as good as anyone."
BB ON LEARNING FROM TOUGH WIN OVER KINGS
"We love the wins but we're putting ourselves in bad positions. We're developing bad habits. Something we can't have this late in the season, moving forward we'll face tougher teams and against playoff teams you get down like that early they're going to put you away."
BRAD ON HIS TEAM'S DEFENSIVE EFFORT
"Once we do that, our whole momentum changes, our whole swagger, our whole identity changes. We're more physical, we're more locked into the game, we're playing faster. Then our offense flows right out of it."
NO. 3 ON THE PLAYOFF RACE
"With the seeding, the chips are going to fall where they fall. We can't control other teams, what may happen, who may move up or who may move down but all we can do is go out each game and try to win that game."
RETWEET
https://twitter.com/Jah__2x/status/840602331674734592
https://twitter.com/TheJoshAVinson/status/840742280923299840
NEXT UP
D.C. heads to Minnesota to face the Timberwolves on Monday, March 12.
Bradley will try to lead the team to a fifth straight road victory against the Wolves after posting 22 points, three rebounds and three assists during their first meeting in Washington on Jan. 7.
The Timberwolves are coming off a loss in Milwaukee and will look to right the ship back home against the Wizards.
Tipoff in Minnesota is set for 8 p.m. ET.
RELATED LINKS