Bradley Beal led Washington Wizards in scoring as they took down the Chicago Bulls on Friday night at home before falling on the road to the Charlotte Hornets on Saturday.
Brad recorded 24 points and four rebounds over 32 minutes on 10-of-18 from the field and 3-of-4 from deep to beat the Bulls. On Saturday in Charlotte, Brad posted 18 points, three rebounds, two assists, one steal and one block.
The Wizards won a close one over Chicago, 112-107 and dropped an equally close contest in Charlotte, 98-93.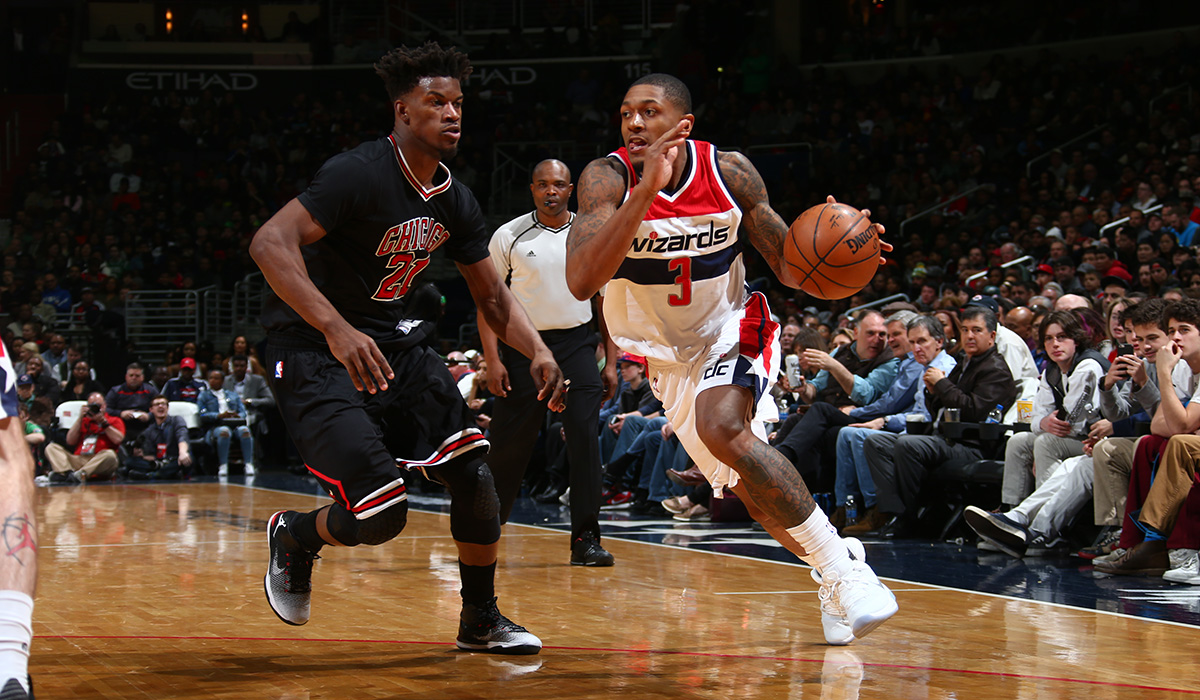 BB EFFICIENT IN VICTORY
Brad started the Wizards' scoring by nailing a step back jumper over Bulls center Robin Lopez and then receiving a pass from John Wall and hitting his first trey of the evening. Later in the opening frame, BB stroked his second trey from the right side.
In the third quarter, the Florida Gator reemerged on the receiving end of a pretty alley-oop from Wall to extend the Washington lead to thirteen.
Midway through the fourth quarter with the Bulls threatening, No. 3 hid behind a screen from Marcin Gortat and hit his third trey. With 3:23 remaining in the game, Bradley drove by Jimmy Butler and Lopez on his way to a crafty left-handed finish around the rim. Brad then scored on the next two possessions to keep Chicago at bay. After the game, BB praised John Wall's career high assist total,
"He's a terrific passer, he sees guys cutting before they cut after they cut and he's able to still make that pass," Brad said of Wall. "He's constantly getting better, his IQ's getting higher, he wasn't even focused on scoring cause he was dishing the ball. Twenty assists is by far the greatest performance I've seen him dishing the ball out."
WIZ COME UP SHORT
The next night in Charlotte, Brad hit his first shot from beyond the arc to give the Wizards an early lead before taking flight down an empty lane for a two hand jam.
In the third, BB came off a screen and hit a jumper to tie the game at 52 a piece. Late in the game, No. 3 hit a high arching jump shot off the glass to keep Washington within three. With 1:07 left to play and the Wizards down seven, Bradley came off a screen on the inbound play and sunk a trey to cut the deficit to four and then stole a pass on the other end and finished with a dunk to make it a one possession game. In the end, the Hornets were able to hold on and take a close one.
"Can't fault our effort," Brad said. "Effort was there, it was a good game, we just didn't shoot it well."
RETWEET
https://twitter.com/CSNMA/status/842494355655090178
https://twitter.com/RealDealBeal23/status/842808700133949440
https://twitter.com/RealDealBeal23/status/843148685320093696
NEXT UP
D.C. travels to Boston to face the Celtics on Monday, March 20.
Bradley will try to help the Wizards take the season series against their conference rival as they currently lead it 2-1. The Wizards and Celtics have a history of some heated matches this season and this should be a good one.
Washington comes into this game just 1.5 games back of Boston for the second seed in the Eastern Conference.
Tipoff in Boston is set for 7:30 p.m. ET.