In his 22nd career playoff game, Bradley Beal showed some veteran savvy, overcoming a slow start to help his squad take care of business in a Game 1 victory over the Atlanta Hawks.
No. 3 had just two points in the first quarter but 20 over the next three, adding three assists, three rebounds and three steals along the way, as well as a team-high plus-21 scoring advantage during 39 minutes of action in D.C.'s 114-107 triumph, which gave them a 1-0 series lead in the first round of the Eastern Conference playoffs.
"It's the first of four each series and that's our goal, we take it one game at a time," Brad said. "It's important that we protect our home floor for one, and then two, a lot of guys haven't played in the playoffs before so a lot of guys were fired up about it and guys were hyped and anxious. We had the crowd behind us, we had everything going in our favor, but it's only one game and we still got three more."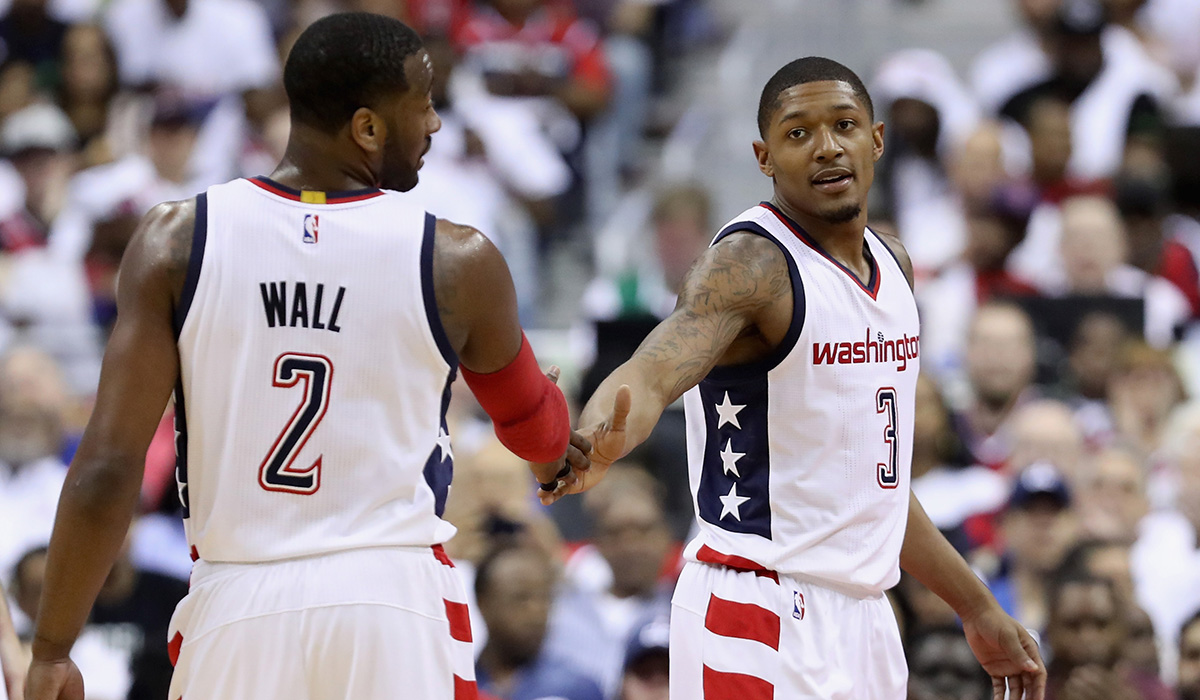 BB'S STEADY PLAY HELPS WIZ
Brad got started in the first quarter off of an offensive rebound that he put back up and in for two but couldn't get another shot to fall in the opening frame. The Wiz found themselves down by four after the opening period, but BB and Co. didn't panic.
"Just staying with it. It's a long game. I've played in the playoffs before, so I understand the intensity of it," Brad said. "I can't get caught up in myself. I can't get caught up in having that selfish mindset of not making shots or not getting shots or not being who I'm capable of being. Just stay within the flow of the game and be who I am. When I did see one go down, just continue to fire them up."
With 7:05 remaining in the second quarter, BB caught a pass off a back screen and drilled an elbow jumper before stroking a trey after breaking free off a Marcin Gortat screen. The Wizards still trailed by three heading to the break, but they owned the second half to take control.
At the start of the second half, Bradley assisted both Gortat and Markieff Morris for buckets to retake the lead. Midway through the third, the Big Panda stepped into a passing lane and stole an entry pass that ignited a Washington fast break.
Shortly into the fourth quarter, No. 3 hit his second trey of the game over Tim Hardaway Jr. to push the lead to 12.
"I'm happy for Brad," said Wizards head coach Scott Brook.s "Brad missed a lot of shots early and I've seen the growth of him, it doesn't affect him. He's like, you just reboot the computer every five minutes and just focus on making the next shot. That's a sign of his toughness that he brings to our team."
The Hawks kept this one close but could not climb all the way back into it as the Wizards won by seven.
RETWEET
NEXT UP
D.C. will host the Atlanta Hawks in Game 2 of this best-of-seven series on Wednesday, April 19.
Washington will look to go out and protect their home court advantage and take a 2-0 series lead. For Atlanta, if they split the first two in D.C., they will take control of home court advantage with the series heading to the Southeast.
Tipoff in D.C. is set for 7 p.m. ET. and will be broadcast on NBATV.