There were plenty of impressive numbers from Bradley Beal's performance Wednesday night—a team-high 42 minutes, 31 points, but the most important: one big dagger 3-pointer.
Beal peppered three assists, three steals and a couple of rebounds into his big scoring night as the Washington Wizards successfully protected home court, beating the Atlanta Hawks 109-101 to take a 2-0 series lead. Afterward, No. 3 talked about embracing the postseason grind.
"I feel good," Brad said. "It's all about mind over matter in the playoffs. Everybody's tired, everybody's mentally drained, everybody's physically drained at this point in the year so it's a matter of who wants it most and how bad do you want to win. It's a mental challenge more than anything, just going out there and competing no matter how many minutes you play, just leave it all out there on the floor."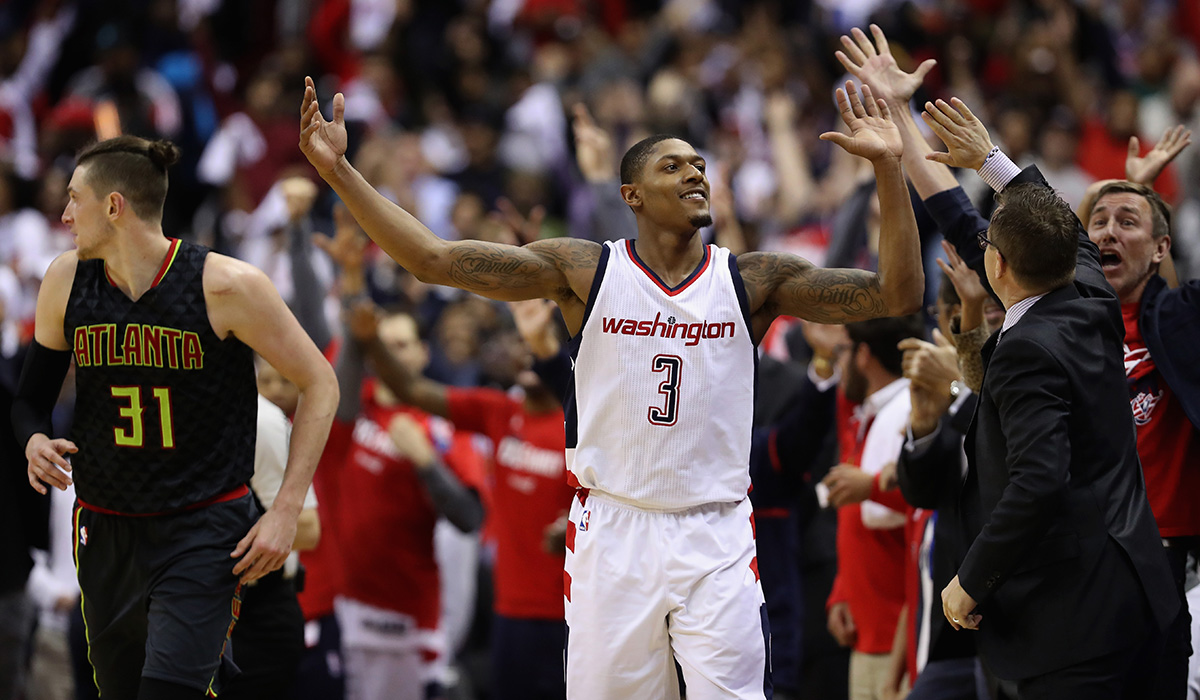 NO. 3'S DAGGER 3 DROPS HAWKS
Brad started his big scoring night in the first quarter on a mid-range jumper and followed it up by draining an open trey. Atlanta took a one-point lead into the second quarter, but the Wiz took control before halftime.
With 8:57 to go in the second, BB assisted Jason Smith on a roll to the rim, and shortly after, No. 3 skied for an offensive rebound and hit John Wall in the shooting pocket for a trey. Halfway through the quarter, Brad dropped another three off a screen and the Wizards took an eight-point lead into the break.
At the start of the second half, Beal knocked down a mid-range shot off the dribble. However, Atlanta used a plus-12 quarter to take a four-point lead into the final frame.
Brad opened the fourth quarter with a contested layup to keep within striking distance and another with 7:20 left to take a two-point lead. Halfway through the final frame, BB stroked another trey and with 4:20 to go he finished a layup in traffic plus the foul. Brad connected on another midrange before finding the ball in his hands with a five point lead and 40 seconds to play. No. 3 caught a pass from Wall on the right side and launched a high-arcing three that was good from the moment it left his hands for the dagger. He then turned to the crowd and raised his hands in triumph as the Wizards took Game 2.
HIGHLIGHTS
RETWEET
https://twitter.com/Obando_brandon/status/854873802093842432
https://twitter.com/DSieve15/status/854873817105264641
https://twitter.com/_Dmar10_/status/854876683777847296
NEXT UP
D.C. will head to Atlanta for Game 3 of this best of seven series on Saturday, April 22.
Washington finds itself in a favorable position heading into Atlanta after protecting home court. Atlanta will look to feed on the crowd at Phillips Arena to get back into the series.
Tipoff in Atlanta is set for 5:30 p.m. ET. and will be broadcast on TNT.