After two thrilling victories on their home floor, Bradley Beal and the Washington Wizards couldn't steal their first game at Phillips Arena Saturday night.
BB tallied 12 points, five rebounds, one assist and one block in the 116-98 defeat in Game 3 against the Atlanta Hawks. The home team jumped out to an 18-point lead after the first quarter, and the Wiz just couldn't dig out of that early deficit.
"We didn't come out with the right focus," Brad said. "I think they hit us first and we spent the whole game playing catch up…We just weren't defending, we had a lot of great looks, a lot of missed shots but we still had a chance to win defensively and we didn't do it. We gotta be better, we know we gotta defend for us to win."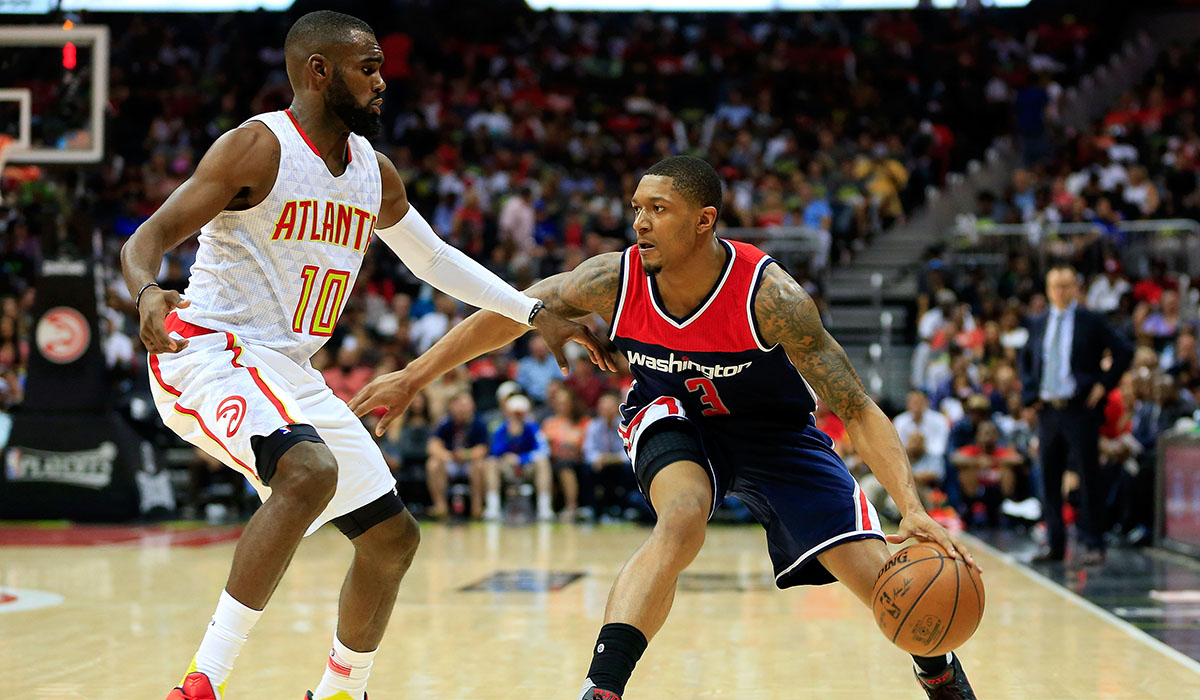 HAWKS DEFEND HOME
Brad started Washington's scoring effort with a smooth midrange jump shot but couldn't get anything else going in the opening quarter. The Hawks used the first taste of their home fans to race to a 38-20 lead after the first period.
No. 3 opened the second with a pair of jumpers en route to an even 26-26 quarter, which allowed the Hawks to take an 18-point advantage into the half.
At the start of the second half, BB stroked another midrange jump shot and found Markieff Morris with a bounce pass and he buried a midrange jumper.
Bradley emerged again in the fourth quarter, rebounding his own miss for a putback layup in heavy traffic early in the period. Later, he took Tim Hardaway Jr. off the dribble and hit a pretty step-back jumper. The Hawks led this game wire to wire, as the home team has protected its court all three games of this series so far. Brad couldn't get his shot going in Game 3 and credited the Hawks defensive scheme.
"They didn't help, I knew that from the jump ball," BB said. "They didn't help off me, they were going over the top on screens and loading up the paint on pick and rolls, so they did a good job today, but it won't happen again."
HIGHLIGHTS
RETWEET
https://twitter.com/GHancoc37493642/status/855948328063963136
NEXT UP
D.C. stay in Atlanta for Game 4 of this best of seven series on Monday, April 24 at Phillips Arena.
Brad will try to bounce back from a tough first visit to ATL with a chance to take a commanding 3-1 series lead in Game 4.
Tipoff in Atlanta is set for 8 p.m. ET. and will be broadcast on TNT.