Bradley Beal did all he could to push the Atlanta Hawks to the brink of elimination with the series heading back to D.C., but the little details sunk the Washington Wizards in a Game 4 defeat.
Bradley Beal and the Washington Wizards fell to the Atlanta Hawks 111-101 on Monday night at Phillips Arena. The loss evens the series 2-2.
Brad dropped 32 points on 11-for-23 shooting and five rebounds, two assists and two steals in Game 4, but the Wiz fell 111-101, evening the series at two games apiece.
"A little bit of everything, our approach to the game was a lot better today versus Game 3, but just having it for a whole 48," Brad said. "We had some mental lapses, loose balls and block outs that we missed. All the little things ended up hurting us in the end, all those things add up for big plays for them so we just gotta take care of the little things and make sure we're focused for a full 48 [minutes]."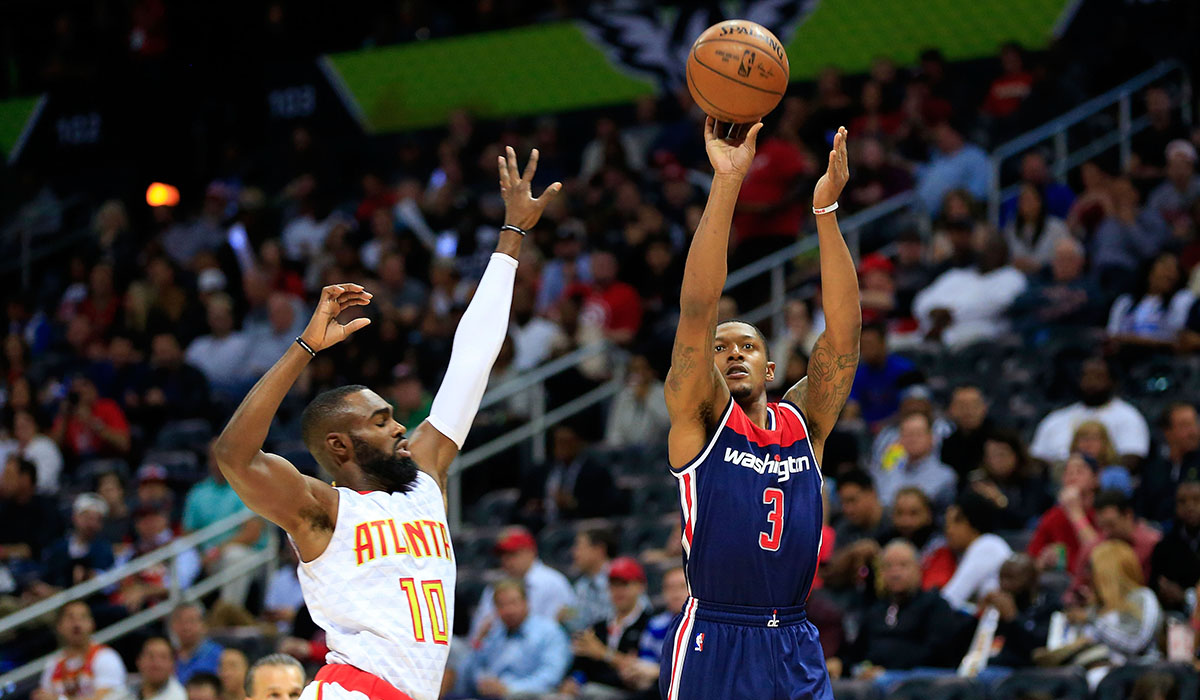 BRAD'S 32 NOT ENOUGH IN ATLANTA
Brad got into the game early on a driving layup with his jump shot not falling last game, and it benefited his confidence, as he added a midrange jumper early on. No. 3 hit his first trey of the evening with 7:20 to go in the first quarter, breaking a slump dating back to Game 2. He then followed that up with a pretty layup in traffic to cap a strong opening quarter.
BB came back into the game midway through the second quarter and immediately banked in a jumper and connected on a technical free throw to quell an Atlanta run. Later in the quarter BB stroked his second trey of the game and the Wizards head to the break down by nine after a dominant second quarter from Atlanta.
At the start of the second half, Brad hit his third triple of the game and then coaxed Dwight Howard into a shooting foul to get two easy points at the line. BB got going and sunk another open trey before hitting a pretty floater in the lane and ending the period with a midrange jump shot and 12 points for the quarter.
Bradley got a short rest at the beginning of the fourth quarter but the Wizards needed him back in the game after a 7-0 Atlanta run. BB came in and hit another three ball to bring the Wizards within four with just under six minutes to play. Brad hit two late free throws but it wasn't enough in another quarter dominated by the Hawks.
"We're 2-2 right now, we move on, we have home court right now so we're gonna protect our house and come back here more focused for Game 6. But I don't think it's a rivalry, just two competitive teams who are fighting for the same thing."
HIGHLIGHTS
RETWEET
https://twitter.com/iHoop_nuffsaid/status/856675062245732352
https://twitter.com/MiikeCheck/status/856686199892738048
https://twitter.com/iamjaredcollier/status/856697274851876864
NEXT UP
D.C. will head home to the Verizon Center for Game 5 on Wednesday, April 26.
Brad will attempt to keep his offense going and translate it into a win as the series shortens into a best of three. Washington will look to their home fans to propel them to a 3-2 series advantage.
Tipoff in D.C. is set for 6 p.m. ET.