Bradley Beal and the Washington Wizards lost a couple of tough road contests to the Atlanta Hawks, but back in D.C., the scales tipped in favor of the Wiz.
Brad was feeling right at home, scoring 27 points on 11-for-22 shooting and added five rebounds, three steals, three blocks and one assist in the 103-99 Game 5 win Wednesday night at the Verizon Center to take a 3-2 series lead.
"We're confident, we just gave up two [games] when we were down there, they beat us in both games, but we gotta have the same mentality and focus that we had here at home," Brad said. "We had a different edge about ourselves and were more locked in and we gotta have that same approach going down to Atlanta."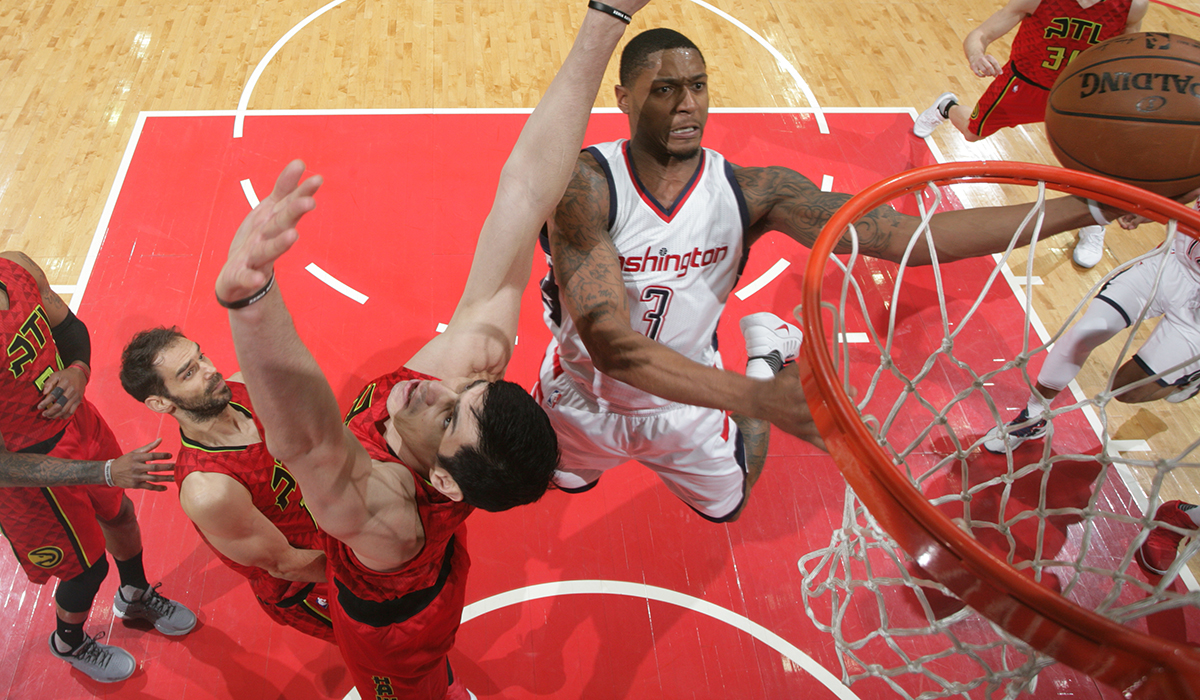 BRAD'S 27 LIFTS D.C.
Brad started the game hot, as he scored the Wizards' first seven points. Brad opened with a midrange jumper off a screen, his lone trey of the game and a layup off a beautiful backdoor cut. He then spun and hit a layup off the glass over Dwight Howard before levitating and finishing a difficult layup in traffic. Brad punctuated a strong first quarter with a dime to Kelly Oubre Jr. for a three in the corner.
With 4:15 left in the half, BB floated a runner over the outstretched arm of Howard as the Wizards took a one-point lead into the break.
At the start of the second half, No. 3 sunk a turnaround jumper in the key, floated a runner off the glass and came off a pick for another midrange. Washington upped their lead to four going into the final frame.
Midway through the fourth quarter, The Real Deal snuck around his defender and bounced in a runner in the paint, followed by a midrange jumper after getting free from a Marcin Gortat screen. John Wall hit the dagger for Washington with 49 seconds to play, and the Wizards held on in an entertaining game to retake the series lead.
No. 3 wasn't the only one with it going for D.C. Wednesday night. Beal came away praising the play of the Washington reserves in the critical Game 5 victory.
"They were awesome for us tonight. I think we were a little disappointed with the last game when we allowed their bench to come in and score a lot of points and really have a big impact on the game, but I think it was vice versa tonight. I think we were the aggressors, especially BJ [Brandon Jennings], he came in with a lot of energy and a lot of focus, Kelly [Oubre Jr.] the same thing and Bo [Bojan Bogdanovic] the same thing. We do a terrific job of being focused here at home, we just gotta carry it on the road with us."
HIGHLIGHTS
RETWEET
NEXT UP
D.C. will head back to Phillips Arena for Game 5 in Atlanta on Friday April 28.
Brad and the Wiz will go for the series clincher with a chance to book their ticket to the second round. Atlanta is bound to come to play as they are now fighting for their playoff lives.
Tipoff in Atlanta is at 7:30 ET on ESPNU/NBATV.