When the Washington Wizards had an opportunity to clinch on the road in Game 6, they looked to their star guards to fuel a victory.
Bradley Beal scored 31 points on 11-of-17 shooting and added three rebounds, three assists,  three steals and one block, as well as a game-high plus-32 during his 34 minutes on the floor. Meanwhile, John Wall gave the Wizards a monster 42-point, eight-assist performance, earning high praise from his backcourt partner after the 115-99 victory.
"He brings it each and every day by example," Brad said of Wall. "Every time we step on the floor, he's the voice, right before we step out on the floor he's the voice, so we're all locked in to what he says. He's been there before, I've been there before, but he's the floor general at the end of the day. We're all locked in, we're all listening."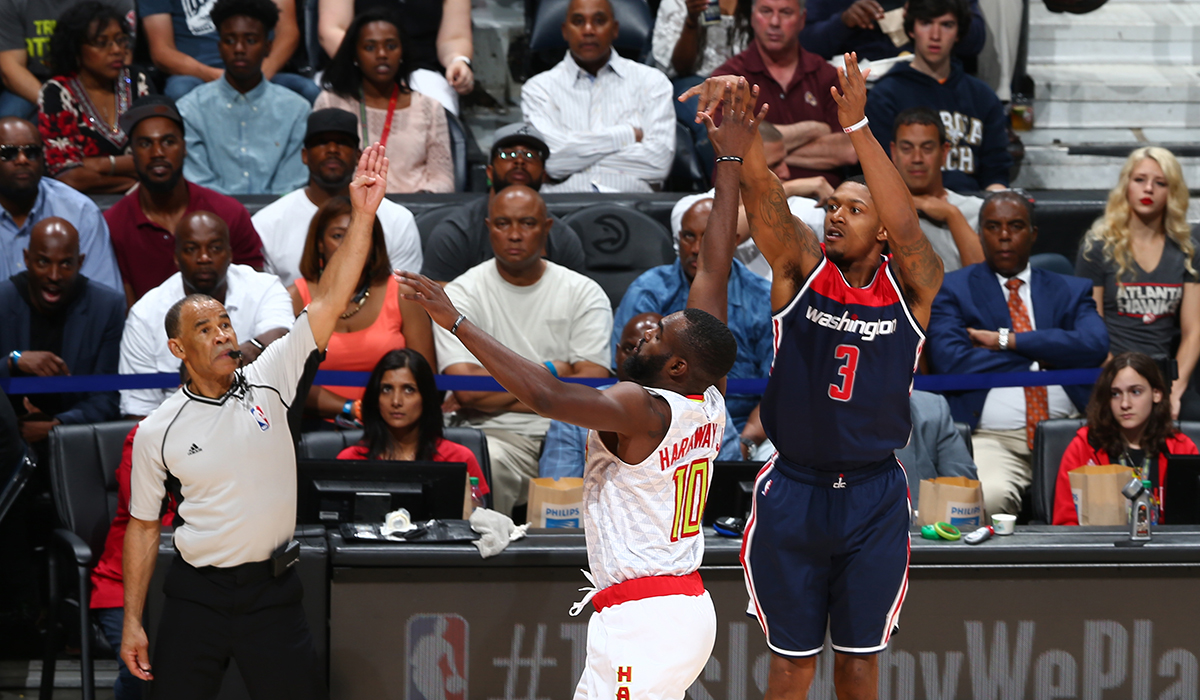 D.C.'S BACKCOURT SPARKS SERIES WIN
Brad came out of the gates on a mission to get the Wizards to the next round. He started scoring a minute and a half into the game by rattling in a trey and followed it up with a great defensive stop turning into a layup in the paint on the other end. Near the end of the opening quarter, BB took a loose ball caused by Kelly Oubre Jr. the length of the floor for a dunk. While airborne, however, Atlanta guard Kent Bazemore shoved him resulting in a somewhat awkward landing and a confrontation under the basket. Benches cleared and two double technical fouls were assessed on the play, one to BB and Bazemore and one to Hawks guard Tim Hardaway Jr. and Wizards forward Jason Smith.
With 3:30 left in the half, The Real Deal followed a John Wall missed layup in for two and finished the half strong with a pair of midrange jump shots and a fast break layup to push the Wizards lead to 19 at the half.
Early in the second half, No. 3 found Otto Porter Jr. for a trey, then got fouled on an alley-oop attempt before he buried two free throws at the line and sunk another midrange jumper. Late in the third quarter, Wall rocketed a dime to No. 3 in the right corner for his second trey of the evening.
In the fourth quarter, Brad continued his midrange dominance, using a pick as the ball handler and coming off off ball screens for open shots on his way to 31 points and a comfortable 16 points win to close out the Hawks.
 "The first thing is that we can win on the road," he said. "We've shown we can fight through adversity, we were up 19 or 20 points and it ended up coming back down to three and we ended up closing it out. Just being able to withstand their run and come together and get a win on the road, that's the biggest thing. Just keeping our focus, we've won in Boston before, it's gonna be a challenge, but I think we're up for it."
HIGHLIGHTS
RETWEET
NEXT UP
D.C. will head to Boston to start the second round against the Celtics on Sunday, April 30.
Brad and the Wiz head to face the top-seeded Celtics and want to get the same level of production from No. 3 as during their regular season meetings. After a Nov. 9 meeting where he experienced hamstring tightness and only played 10:51, Brad averaged 28.3 PPG, 53% shooting from the field and 50% shooting from three during Washington's final three meetings against Boston.
Tipoff in Boston is at 1 p.m. ET on ABC.