It looked like Bradley Beal and the Washington Wizards would successfully steal home-court advantage from the Boston Celtics on Tuesday night, but in one of the most entertaining games so far in these NBA Playoffs, the Wiz came out on the wrong end of an overtime thriller.
The Wiz scored 42 points in the first quarter, but the Celtics rallied behind Isaiah Thomas' 53 points to win 129-119 in overtime at the TD Garden, sending the series to D.C. for Game 3, where the pressure to protect home will now be on the Wizards.
"They're a really good team," said Celtics coach Brad Stevens said of the Wizards. "I don't know if we figured anything out. We were lucky to win."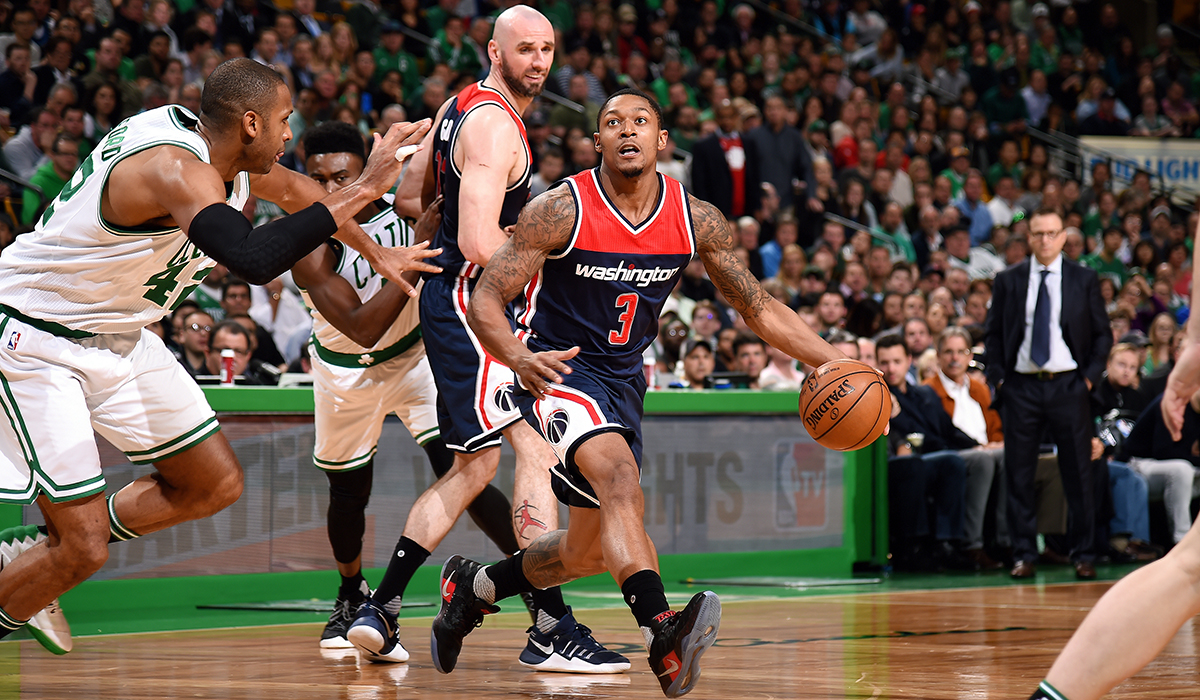 BOSTON DEFENSE BLANKETS BEAL
It was a tough night for No. 3. Brad scored 14 points on 4-for-15 shooting and had five rebounds, four assists and one steal. Afterward, Wizards head coach Scott Brooks talked about the Celtics' relentless defense on Beal.
"We have to do a better job of getting their hands off of him, one," Brooks said. "If they're going to allow him to be guarded that way we've got to make some adjustments ourselves. We're going to look at the film and try to figure out how to get their hands off him. You're not allowed to do that, but we have to figure out how to get some better looks for him. But that's part of something we have to figure that out as a staff."
Brad drew a foul on Isaiah Thomas just over a minute into the game and connected on one of two from the charity stripe. Late in the first half, Brad connected on his lone trey of the game in what was a slow first half for the Wizards' guard.
Early in the third quarter, No. 3 connected on a short jump shot give D.C. the lead. He was again nowhere to be found on the offensive end until the fourth quarter when he drew a foul on Celtics rookie Jaylen Brown and veteran Al Horford, connecting on all four free throws. With just under eight minutes left in the fourth, Brad stroked a midrange jump shot off a feed from John Wall and another four minutes later from Otto Porter Jr. With just seconds left in regulation, Wall missed an 18-foot jump shot and Brad collected an offensive board but could not find the bottom of the net on his last second attempt.
In the fourth quarter and overtime, Celtics point guard Isaiah Thomas was outstanding, registering 29 of his career high 53 points on the evening. The Celtics outscored the Wizards 15-5 in overtime and took a 2-0 series lead.
HIGHLIGHTS
RETWEET
https://twitter.com/NotUrAvGent/status/859607596826857472
NEXT UP
D.C. will head home to the Verizon Center for Game 3 against the Celtics on Thursday, May 4.
Brad will look to the home crowd to help him bounce back from a tough night out in Game 2. The Wizards face a virtual must-win contest in Game 3 as no team has ever rebounded from a 3-0 deficit in the NBA Playoffs.
Tipoff in D.C. is at 8 p.m. ET on ESPN.