Bradley Beal and the Washington Wizards would not be denied on Thursday night as they beat the Boston Celtics 116-89 at home in Game 3 to avoid a 3-0 series deficit.
Brad was one of six Wizards in double figures, including all five starters, as he contributed 11 points on 4-for-12 shooting, three rebounds, three assists and one block in an all-around effort by the home team. The win cuts the Wizards' series deficit to 2-1.
"We made them miss shots, we were contesting the 3-point line and we were doing a good job of staying in front of the basketball," said Wizards head coach Scott Brooks. "I thought our weak side was locked in. Against this team if you relax for four or five seconds in any given shot clock, you're gonna give up open shots. I thought our guys were locked in for the entire shot clock until they took the shot and we were rebounding the ball much better – that helps."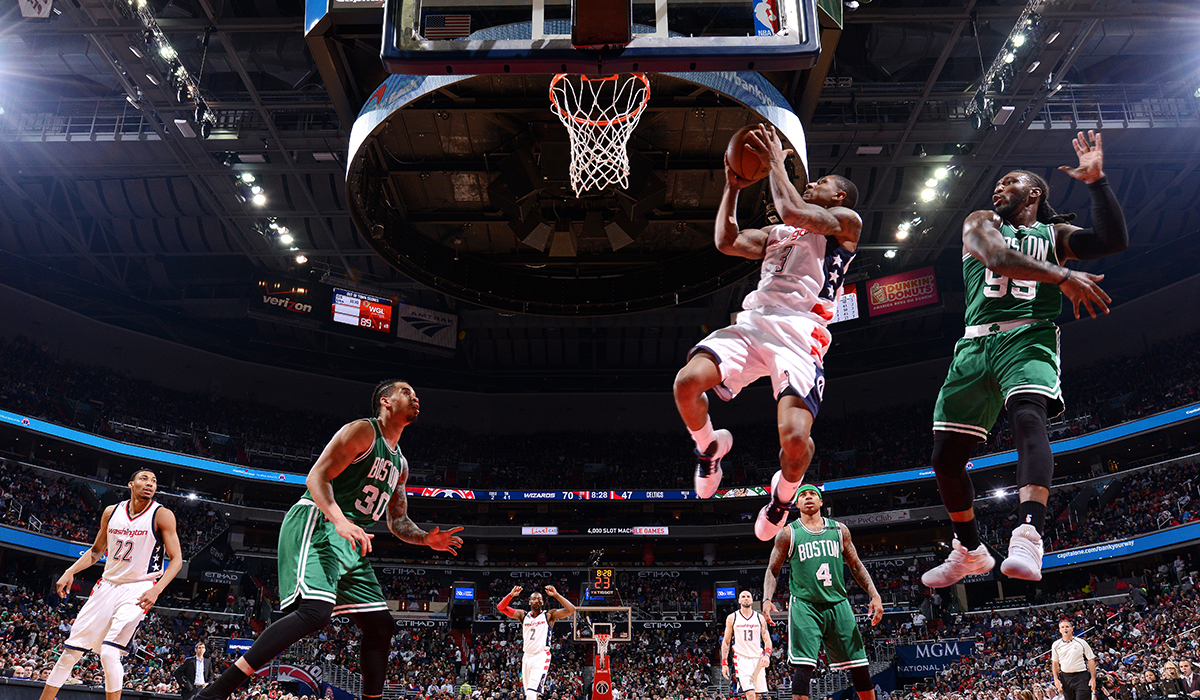 D.C. DOMINATION
Brad started the scoring for either side in this game as he hit a reverse layup off a put-back and put the next five on the board for Washington. No. 3 sink two at the foul line before connecting on his only trey of the night off an assist from John Wall, while the D.C. point guard was seated on the court after a loose ball. Brad then dished to Marcin Gortat for a layup to cap a strong start both for himself and the team as the Wizards lead 39-17 after the first quarter. They never looked back.
The second quarter brought technicals, flagrant fouls and ejections in yet another physical bout in this Eastern Conference semifinal series. Ian Mahinmi and Jonas Jerebko picked up technicals via a double technical, and then Kelly Oubre Jr. took exception to a hard screen by Boston center Kelly Olynyk, responding by shoving Olynyk to the ground and warranting a flagrant foul-2 and automatic ejection. Later in the quarter, No. 3 made two of his patented midrange jumpers that he has perfected in recent memory, and the Wizards took a 23-point lead into halftime.
Three minutes into the third quarter, BB blocked Isaiah Thomas' shot at the rim and later assisted Gortat for another layup as the Wiz added three more points to their lead going into the final frame.
In the fourth quarter, the technicals piled up again as Brandon Jennings and Terry Rozier were whistled for a double-technical foul and both head coaches, Brad Stevens and Scott Brooks, were T'd up as well. The actual game was well out of reach by the time the fourth came along, and The Real Deal didn't need to see the court for the entire quarter as the Wizards coasted to a 27-point victory.
"We've been talking about it all series," Brooks said of the emotion shown on by both sides. "We just want to make sure that we just play basketball and I thought that's what we've been trying to do. Our job is to play, my job is to coach and the referee's job is to control the game and that's all I have to say. I think when you play in the playoffs and you're fighting for something special, you're gonna play with passion and I have no complaints on either team if they're playing with passion within the rules."
HIGHLIGHTS
RETWEET
NEXT UP
D.C. will get two days off before Game 4 against the Celtics on Sunday, May 7.
Brad will look to bounce back personally after two quiet outings in the scoring department in Games 2 and 3. Washington wants to protect home court and even this series heading back to Boston.
Tipoff in D.C. is at 6:30 p.m. ET on TNT.