There were plenty of offensive fireworks courtesy of Bradley Beal and John Wall in Sunday night's Game 4 win over the Boston Celtics, but defense made the difference as the Washington Wizards successfully protected the Verizon Center and tied the series at two.
Brad poured in a game-high 29 points on 11-for-16 shooting and grabbed four rebounds along with one steal. His backcourt partner Wall added a 27-point, 12-assist double-double, as the Wiz used a 26-0 run in the third quarter to claim a 121-102 victory.
"It was our defense, that's all it was," BB said of the big third-quarter run. "We realized at halftime we weren't defending the way we were capable of and it was still a tight game, we came out in the third quarter with a better mindset that everything was gonna stem from the defensive end and we were able to force a lot of turnovers. On top of that, we converted. We're one of the best teams in the league at converting off turnovers so it was important that we were able to get our hands on 50-50 balls and be able to convert on the offensive end."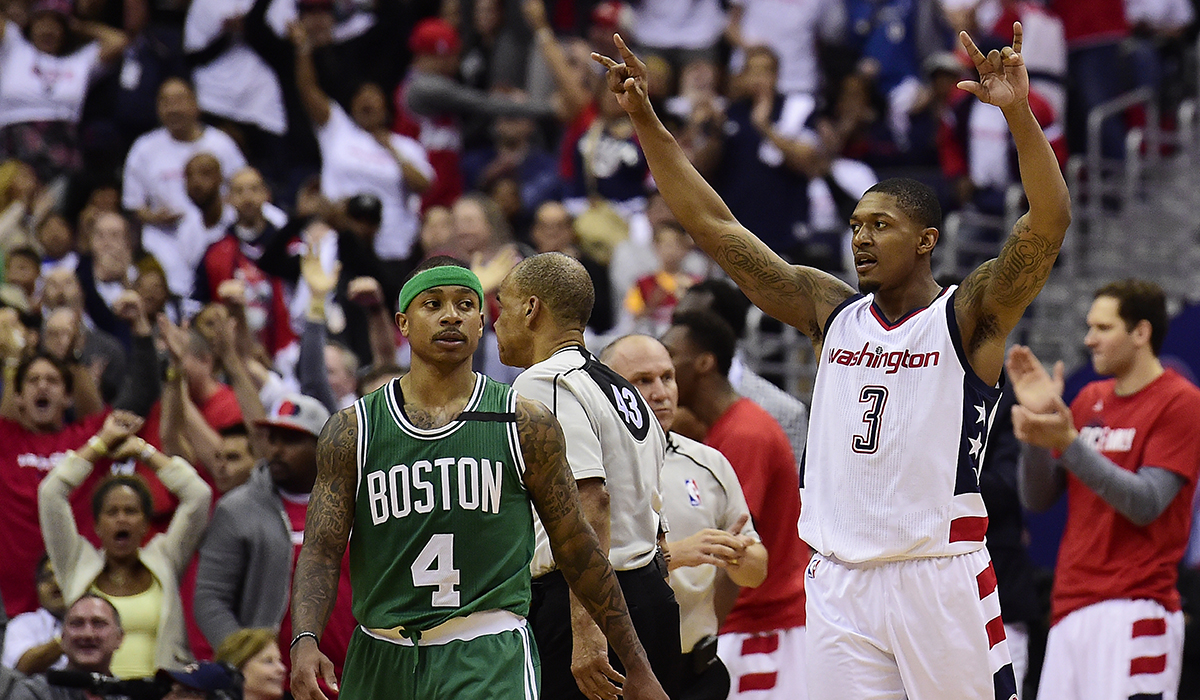 WIZ EXPLODE OUT OF HALFTIME
Brad put in the second basket of the night on a leaning jumper over Isaiah Thomas and later tied the game on the receiving end of an alley-oop pass from Wall. With just over two minutes to play in the opening quarter, Brad made a beautiful backdoor cut for a layup.
In the second quarter, No. 3 connected on a trey and the Wizards fought back from an early deficit to tie the game at 48 at the half.
In the third quarter, the Wizards fell behind by five and then ripped off a 26-0 run to run away with the game. During the run, BB connected on another three off an offensive rebound, hit a turn around jump shot over Thomas and finished a fast break with a hanging layup plus the foul. Late in the quarter, BB hit a third triple to add to the newfound advantage. From Brad's perspective, it was all about defense during that run—along with a little fun.
"[Our defense] is why we're able to get out in transition and get open shots, open layups," Brad said, "and we were just having fun, and I think that's probably the biggest difference for sure."
In the final quarter, the Florida Gator blew past Jae Crowder for a layup then threw down a monster slam after an offensive rebound by Ian Mahinmi. During the finishing touches, Brad hit a push shot in the paint and the Wizards ran away with Game 4
HIGHLIGHTS
RETWEET
https://twitter.com/Chayes_24/status/861369442974003200
https://twitter.com/BigJD_/status/861370738770669568
NEXT UP
D.C. will travel back to Boston for Game 5 against the Celtics on Wednesday, May 10.
Brad and the Wiz will look to keep their momentum going into Boston to steal a game on the road that they'll need to win this series.
Tipoff in Boston is at 8 p.m. ET on TNT.