Bradley Beal and the Washington Wizards were pushed to the brink of elimination on Wednesday night as they lost to the Boston Celtics 123-101 in Game 5 to go down 3-2 in the best of seven series.
Brad scored 16 points on 7-for-19 shooting and dished out four assists while grabbing two rebounds. He also had one steal and one block on the game.
"We didn't shoot the ball well tonight, looking back at the film after tonight we're gonna look did they make us miss or did we miss a lot of shots? Our starters were 4-for-17 or something from three, not like we normally shoot," said head coach Scott Brooks. "Whether you give them the credit or we missed shots, I don't know that at this point but we had an off shooting night, we gotta play better [and] we gotta shoot the ball better. They played well, Boston played a good basketball game. Avery [Bradley] was on fire, Al [Horford] was terrific, we had no answers for those guys. We've done a pretty good job on their best player [Isaiah Thomas] but not a good enough job on the other guys."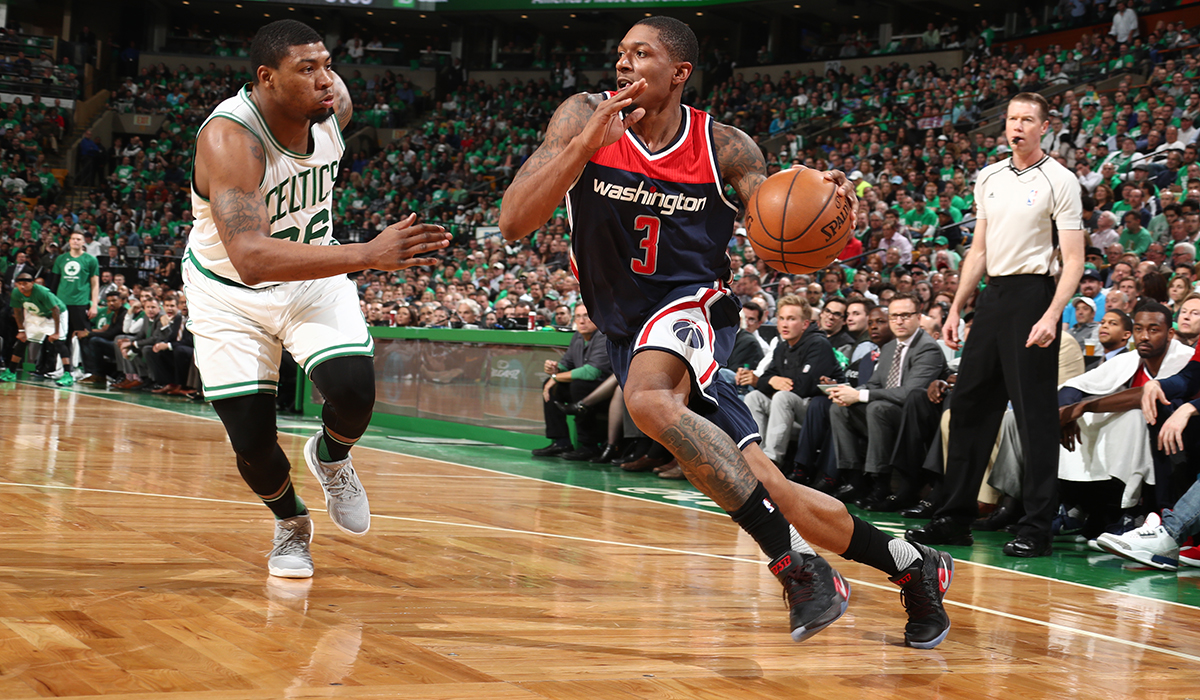 WIZARDS COME OUT FLAT
Brad put his first points on the board nine minutes into the game when he rebounded his own miss for the putback layup. Brad added four more in the opening period on a driving layup and a turnaround jump shot over Marcus Smart.
In the second, BB hit a step-back jumper on Smart and denied Avery Bradley's layup attempt before ending the half with a hanging layup off the glass in heavy traffic.
In the third quarter, the Real Deal Beal drove on Isaiah Thomas and finished a layup over the smaller guard and later finished an and one runner in the paint on Celtics rookie Jaylen Brown.
In the final quarter, the Gator product didn't see the floor as the Celtics were coasting to the finish line behind 29 points from Avery Bradley, a playoff career high.
"We have to play better, we're gonna have to win one game on the road, we've said it all along," Brooks said. "It doesn't matter when you win it, I would've preferred to win Game 1, didn't happen, Game 2, didn't happen, Game 5, didn't happen, so we have one more crack at it. We gotta take care of our home floor first and then we got a chance for two of the greatest words in sports playoff history: Game 7. We're trying like heck to get to Game 7 and we have to play much better to do that in Game 6."
RETWEET
NEXT UP
D.C. will travel back home for Game 6 against the Celtics on Friday, May 12.
Brad and the Wiz will look to keep their playoff hopes alive back home at the Verizon Center. The home team has won every game between these two teams this season and playoff series, so the Wizards hope to continue the trend on Friday.
Tipoff in D.C. is at 8 PM ET on ESPN.