Bradley Beal and the Washington Wizards fought until the very end on Monday night, and despite a huge scoring output by No. 3, the Wiz saw their season end in a 115-105 loss to the Boston Celtics in Game 7 of the Eastern Conference semifinals. The loss sends the Wizards home for the season and leaves them a win short of the East finals.
Brad scored at will, pouring in a game-high 38 points on 12-for-22 shooting, and grabbed four rebounds, dished two assists and swiped two steals. Beal expressed disappointment after the season came to an end despite his stellar play,
 "I don't even know, I'm more disappointed that we lost more than anything," Bradley said. "I don't care how well I played, I don't care if I'd have played bad, the end result [and] the only thing that matters is getting a win, so these stats really don't mean too much of [anything] to me right now."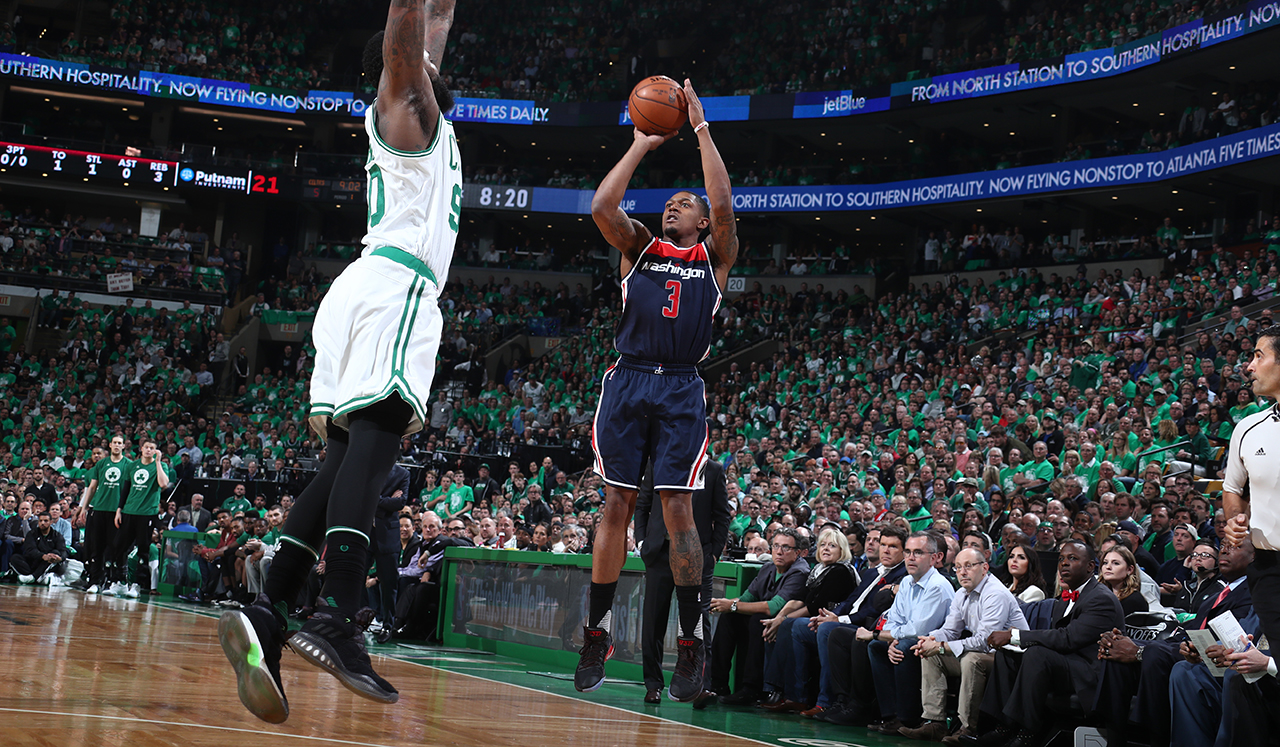 D.C. FIGHTS UNTIL THE END
Brad hit his first shot of the game on a turnaround jumper plus the foul in the first and added three more points at the foul line.
In the second, BB dished to Markieff Morris for a corner three before hitting one of his own off a curl. He then hit a contested runner in the lane and ended the half with two more free throws to give the Wizards the lead at the break.
At the start of the second half, the former Gator hit a midrange jumper to push the lead to four and then posted up Isaiah Thomas for another two. After Al Horford tied the score with a three, Bradley drove past him on the other end for a layup and the lead and added another three with a shot over Marcus Smart.
In the final quarter, No. 3 turned on the offense to try to save D.C.'s season. He started the quarter by putting Kelly Olynyk on skates and burying a jumper in his face and then drove past the Celtics big man for a left-handed layup. With 6:50 left to play, No. 3 stroked a three off a screen and then did the same again while drawing a foul to complete the four-point play. Brad ended the game with another pair of foul shots but couldn't bring the Wizards all the way back in this one as the Celtics held on for the series win.
"I hate losing, especially when we feel like we were the better team, but you credit them cause they played their tails off each and every game, you know they competed their butts off but this definitely hurts the most. We put ourselves in a great opportunity and a great situation in Game 6 and we gotta do a better job of closing it out."
HIGHLIGHTS
RETWEET
https://twitter.com/lrod20007/status/864310122000125954
https://twitter.com/george_eshes/status/864310292162990084