Bradley Beal put on in offensive showcase as he and the Wizards (6-13) returned home to Capital One Arena on Tuesday night. No. 3, accounting for more than one-third of Washington's 120 points, scored 42 to go along with six boards and four assists in a hard-fought 127-120 loss to the Orlando Magic (9-11).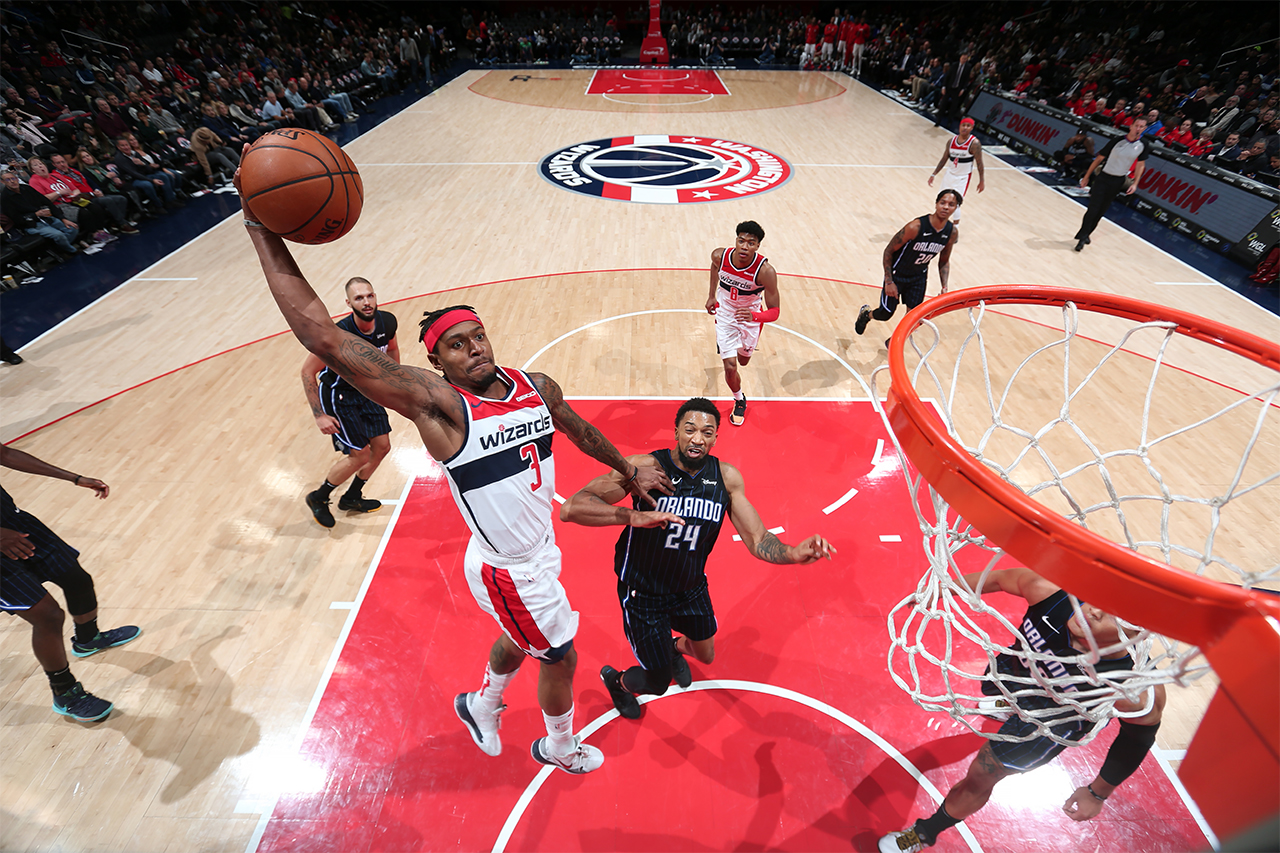 The Wizards were short-handed on Tuesday after it was announced prior to the game that starting center Thomas Bryant would be out in addition to Moritz Wagner, C.J. Miles and Ian Mahinmi. Thus, the Wizards were forced to get creative and rearrange their starting five against the Magic.
Despite missing some key pieces, Bradley and the Wiz were anything but lethargic or disjointed after a long West Coast road trip. Rather, they just came up a bit short against a quality opponent.
"They're a long, athletic team and I thought they made threes throughout the game, but they made timely ones as well," Wizards head coach Scott Brooks said. "We fought and we battled and we're obviously short-handed. We competed. I thought we put them on the free-throw line way too many times in that second half…I give our guys credit. They fought and they battled."
Beal was one of those who fought and battled. No. 3 recorded a season-high in both minutes played (42) and field goal attempts (30). Beal shot 16-30 (.533) from the field, 3-6 (.500) from three-point range and 7-10 (.700) from the charity stripe. Most impressive, the effort resulted in his on fourth 40-point game of the season. Only James Harden has more 40-point games this season than No. 3.
Teammates Davis Bertans and Isaiah Thomas each topped the 20-point mark while Rui Hachimura played a balanced game, scoring 15 points to go along with six rebounds, four assists and just one turnover.However, the effort wasn't enough to come away with a victory.
Trailing by double-digits at the half, the Wiz began the third with a bit of a run to narrow the gap. First, Bertans hit the first of three triples – all on consecutive possessions – before Beal knocked down a pair to complete a 21-6 run and give the Wizards a 75-74 lead with 8:14 left in the third quarter. The Magic responded with a run of their own that that gave then a nine-point advantage heading into the final frame.
It's very much a "next man up" mentality for Washington moving forward.
"We've got to work with what we've got," Beal said postgame. "We can't make excuses and on top of that it's giving a lot of guys the opportunity to come in and earn minutes. They're going to make the best of [those minutes]. We're just going to keep chipping away. We're right there, it's just being able to maintain our runs and keeping [the other team] from being able to go on such large runs."
The Wiz will be back in action at Capital One Arena to to take on Joel Embiid and the Philadelphia 76ers (15-6) on Thursday night. Tip-off is set for 7 p.m. ET.