Bradley Beal's 26-point, 10-rebound double-double, coupled with a 27-point performance by Rui Hachimura and a 25-point outing from Davis Bertans carried the Washington Wizards to their seventh win of the season – a 119-113 decision over a talented Philadelphia 76ers squad. The Wiz improved to 7-13 on the season with the victory.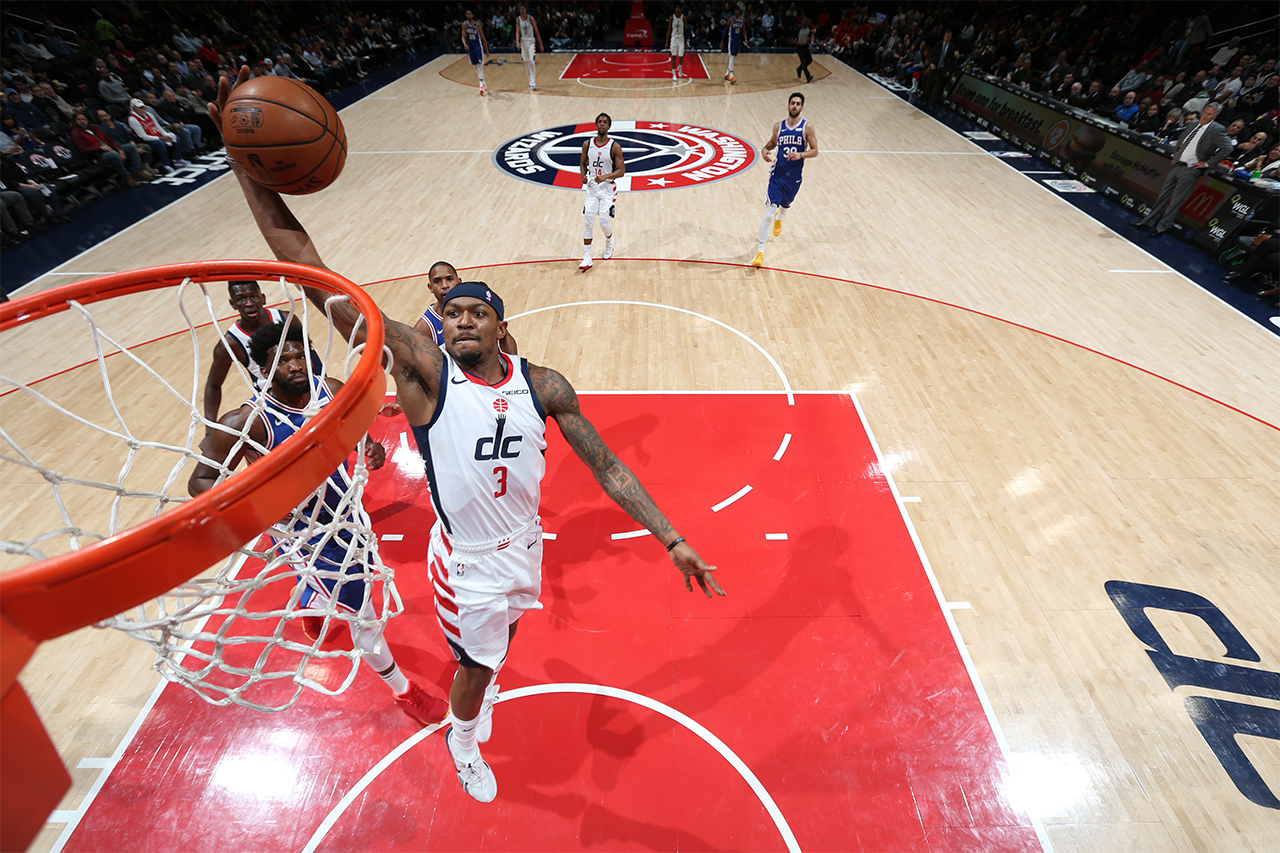 The trio of Beal, Bertans and Hachimura has emerged as an offensive three-headed monster. For No. 3, this is his fifth 20-point double-double of the season. In Bertans' case, his season-high 25 points off the bench marks his third consecutive 20-plus point game, which is the first such streak in Bertans' career. And, Hachimura led all Washington players in both points (27) and minutes played (43) as the rookie is adapting to the NBA rather quickly.
"I thought we competed throughout the game," Wizards head coach Scott Brooks said. "I saw a lot of good things from everybody."
After a slow start offensively, Bertans came off the bench to provide the shooting spark Washington needed, including six triples in the first half, five of which came in a second quarter when the Wizards outscored the Sixers 40-22. With that, the Wizards took a double-digit lead into halftime and never looked back.
Bertans was 8-8 from the field and 6-6 from 3-point range in the first half, becoming the first Wizards player to hit at least six 3-pointers in a half without a miss since Trevor Ariza in 2014.
"You just smile…He makes it look so easy," Brooks said. "It's only maybe a few people in the league that can take those shots and have the confidence to take and make them. I thought the ball movement, his ability to space the floor is like the best in the league at that position."
In the third quarter, Brad left his mark on the game, scoring 11 of his 26 points to help the Wizards keep their lead heading into the final frame.
Despite going cold in the final stanza, shooting just 7-23 (.304) from the field, the Wiz held strong, securing the win and fending off a 10-0 Sixers run down the stretch.
The Wiz will look to stack this success in the second night of a back-to-back against the Miami Heat (15-6) on Friday night. Tip-off in the Sunshine State is set for 8 p.m. ET at American Airlines Arena.