Bradley Beal followed up on a promise he made last June to continue building his relationship with several local high school students by hosting a holiday dinner for Ron Brown College Preparatory High School students on Tuesday night. The event was full of surprises for the students, as Beal continues inspiring local children to excel in school and beyond.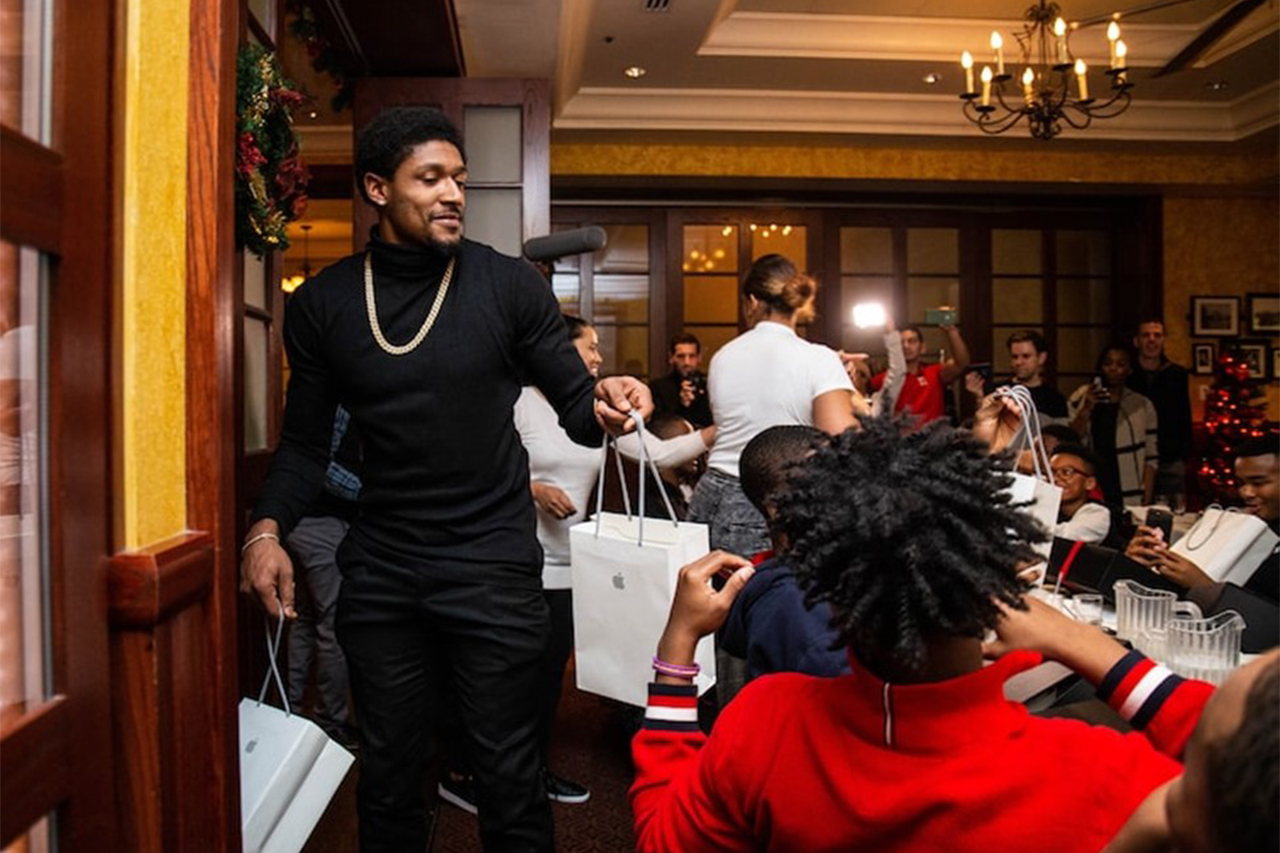 In June, Bradley Beal was named the NBA Cares Community Assist Award winner at the league's annual award show. He was presented the award by teammate and 2016 recipient John Wall. The award allows BB to receive $25,000 to the charity of his choice, a donation from the NBA and Kaiser Permanente.
"I'm honored and humbled to be named the season-long NBA Community Assist Award winner," Beal said in a statement. "I would like to thank the Wizards organization and Ron Brown College Preparatory High School for allowing me the opportunity to connect with their inspiring students. I am looking forward to continuing and building on this relationship for many years to come."
In September, Beal served as principal for the day at Ron Brown College Preparatory High School (RBHS). In the role, he participated in a variety of school activities as the students began the new school year. The two-time All-Star also held a private advanced screening of Creed II for local community groups and students from RBHS, surprised the high school basketball players and coaches with two pairs of shoes (one basketball and one lifestyle), and took 10 students from RBHS on a private tour of the National African-American History and Culture Museum.
Last month, Beal sponsored buses for college tours for students. In November, students went on tours at Virginia State University, Salisbury University, and Lincoln University. Later this season, Brad will attend one of the tours, furthering his partnership with the high school into tangible actions.
On Tuesday, during his off day, Beal followed up on a promise he made after being awarded the 2018-19 NBA Cares Community Assist Award – that his involvement with RBHS would not be a single occurrence.
He made good on that promise on Tuesday night by hosting a holiday dinner – followed by rounds presents. Beal hosted 20 students – the 10 top student athletes and 10 other top performing students – as well as four staff members, including Principal Benjamin Williams. Taj Davis and Makhi Daye, the two students who went to the 2018-19 NBA Awards with Beal, were in attendance.
https://twitter.com/WashWizards/status/1207090106768728064
The students had a lot to be grateful for on Tuesday night thanks to Bradley and his wife, Kamiah. The holiday gifts consisted of "Bradley's Favorite Things." Included in the box of what Beal called his essentials for the students were either To Kill a Mockingbird – one of his favorite books – or Just Mercy, the story of social justice and lawyer Bryan Stevenson. The rest of the gifts: a Nike gift card, four tickets to the December 30 game against the Heat, a Beal jersey that he signed for each student, a sketch book, a colored pencil set, and a Wizards lanyard.
https://twitter.com/WashWizards/status/1207098256657911808
Then, the big-ticket item was delivered by the Beals as the unwrapping continued. The couple handed each of the students an Apple bag with an iPad, and the students went wild. Beal and the RBHS faculty on hand noted to the students in attendance that they had no excuses not to get in their college applications now with their new iPads.
https://twitter.com/WashWizards/status/1207100936222658560?s=20
"This means a lot to me probably more so than them to see their reaction and see how grateful they are," Beal said after the students opened up their gifts. "I challenged them in the classroom last year; a lot of them have changed their grades around tremendously and are in this room tonight. It's special for everybody for sure."