In a game that saw the Washington Wizards short-handed with seven players out for the game, they defeated the New York Knicks 121-115 on Monday night at Madison Square Garden.
It took a career performance from Troy Brown Jr. (26 points, 9 boards and 7 helpers), another 30-point game from Bradley Beal and a do-it-all debut from the newly-signed Gary Payton II – who inked his deal to come to The District just hours before tip-off – to get the win. Washington has now won 19 of their last 22 games against the Knicks dating back to 2013.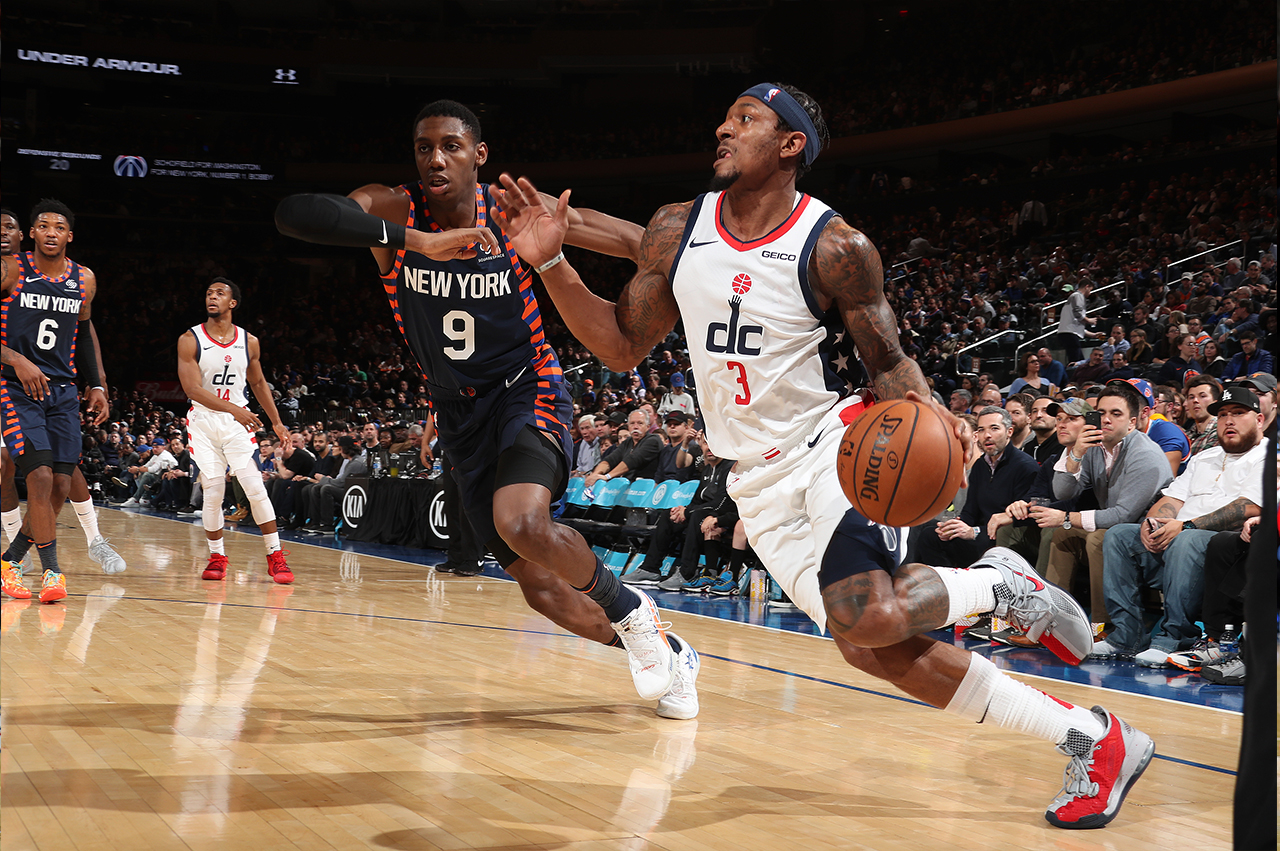 Beal scored 20 points in the first half and finished with 30 points on the night, his 14th 30-point game of the season and fourth in his last five games.
"Brad is a winner," head coach Scott Brooks said. "He's playing with a team that is fighting, scrapping, trying to stay afloat and he's leading us. I don't ever look at Brad's stats from a shooting perspective. He helps us, gives us the confidence.…The team is about guys that are playing hard and playing the right way. I'm proud of them. We're going to keep scrapping. We're going to get some of our healthy players back eventually. Until then, our guys are going to have to continue to scrap and fly all over the floor."
Washington's ninth win was very much a back-and-forth battle, complete with multiple lead changes prior to the final buzzer. For instance, late in the first quarter with the Wizards trailing by 13, Payton II took the court and immediately swung the game in Washington's favor. Shortly after Payton II entered the game, Washington went on an 18-3 run to take a 42-40 lead with 8:51 left in the first half.
"He has what every coach wants," Brooks said of Payton II postgame. "He has a defensive toughness. He has a presence. He makes winning basketball plays. It's remarkable."
Then, after trailing by one at half, Washington opened the third quarter on a 13-0 run that got everyone on the court involved. Each of the five Wizards players hit at least one field goal, giving Washington a 77-64 lead with just under nine minutes to go in the third.
Brown Jr. and Payton II led a 22-8 Wizards' run to start the fourth quarter, giving Washington a 116-99 lead with 4:40 left in the game. The duo combined to score 17 of Washington's 27 points in the final frame and helped fight off a Knicks' run that cut the lead back down to three in the final minute of the game.
With the Wizards up three with 10 seconds remaining, Brown Jr. blocked a Mitchell Robinson put-back attempt that would have cut the lead to one.
The Wizards now have two days rest before taking on the Detroit Pistons (11-20) on Thursday at 7:00 p.m. ET at Little Caesars Arena. Washington and Detroit faced off just seven days ago, a 133-119 win for Washington behind 35 points and 10 assists from Beal.