Bradley Beal put up a game-high 43 points Monday at Capital One Arena, leading a comeback that ultimately came up short in the game's final minutes. Beal scored 15 points in the fourth quarter, bringing Washington within five after trailing by as many 17 in the game's final frame – but it wasn't enough. The Wizards (17-32) were defeated 125-117 by the Warriors (12-39).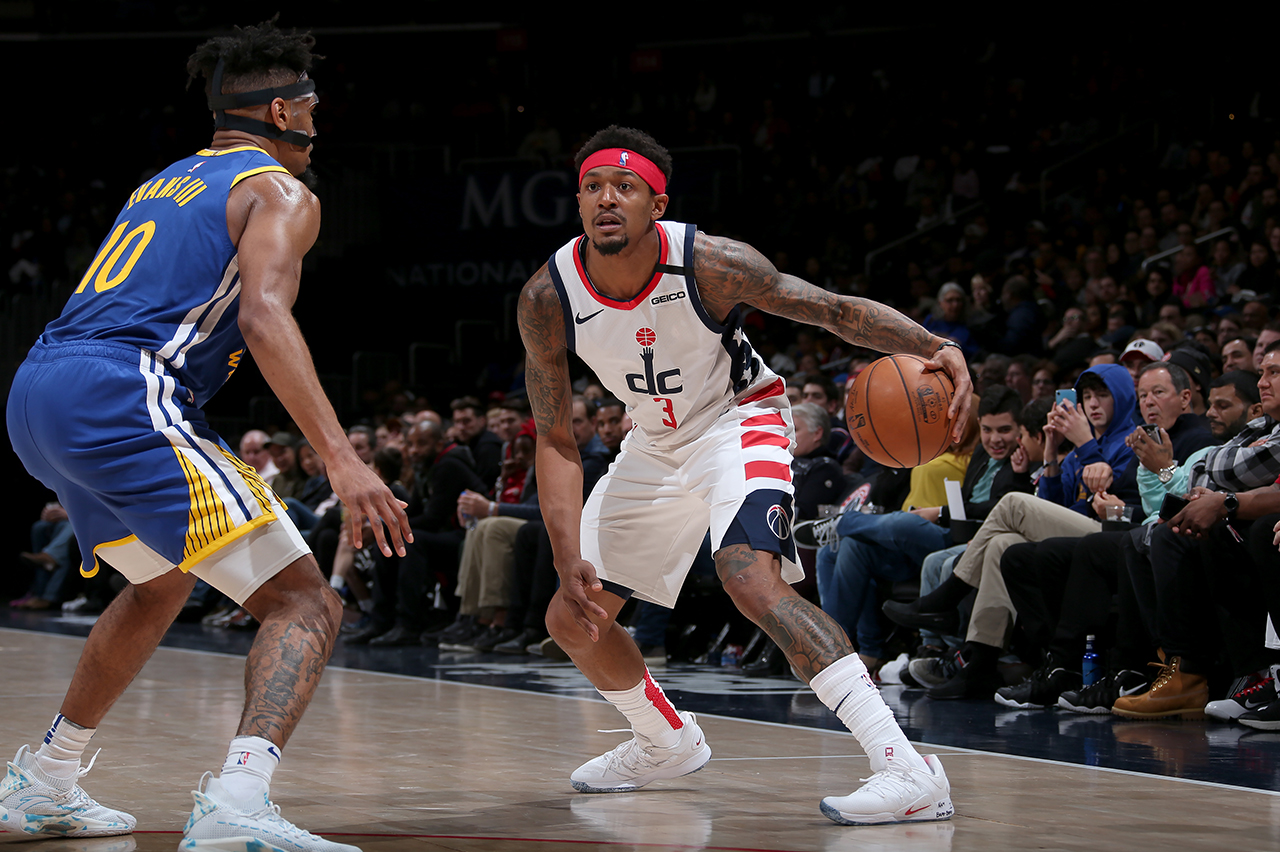 "We didn't come out to play with the right mindset," Wizards head coach Scott Brooks said. "(Golden State) plays hard. They're a lot like us. They played hard but tonight we didn't. We didn't have that. We didn't have the right mindset."
Despite their struggles defensively, the Panda put on a show Monday night. Over his last seven games, Beal is averaging 38.8 points and has scored at least 34 points in each outing. Tonight, No. 3 accounted for 43 points to go along with six boards and two assists over a game-high 39 minutes of action against Golden State. Bradley now has seven games this season with at least 40 points, the third-highest mark in the league.
BB's aggressiveness was on full display as he repeatedly drove to the basket, bypassing the Warriors defenders to get the buckets.
When he wasn't driving to the lane, Beal showed his range – hitting the deep ball three times on seven tries.
https://twitter.com/WashWizards/status/1224516825691508737
The returns of Rui Hachimura and Moritz Wagner to the court provided some added depth and should provide a boost to the lineup going forward. Hachimura tallied 12 points, while Wagner added eight of his own on Japanese Heritage Night at in D.C.
Davis Bertans and Thomas Bryant were the other two Wizards to end the night in double figures. The Latvian Laser recorded a majority of his points via the three-ball, hitting 5-of-7 from beyond the arc.
On what was yet another historical night for the Panda, his 13 second quarter points elevated Beal to third place on the franchise's all-time scoring list, passing teammate John Wall. That said, it was all love from Wall after the game.
https://twitter.com/WashWizards/status/1224497003738140676?ref_src=twsrc%5Etfw%7Ctwcamp%5Etweetembed%7Ctwterm%5E1224497003738140676%7Ctwgr%5E393535353b636f6e74726f6c&ref_url=https%3A%2F%2Fwww.nba.com%2Fwizards%2Fwizards-warriors-recap-020320
The Wizards will be back at Capital One Arena on Friday, hosting the Dallas Mavericks (31-19) at 7:00 p.m. ET in The District.