Tonight, the lives of 60 basketball players are going to change completely at the NBA Draft.
It happened to me just five years ago, and I remember it vividly.
Being a part of the draft process is so exciting. For me, and for every guy who is getting drafted, it's a lifelong dream. It's something we thought about as kids. Growing up in the game, you visualize every scenario: getting drafted, playing against LeBron and the best players in the world, making the playoffs, playing in the Finals—that's the dream.
All the hard work has finally paid off and now you have an opportunity to live it.
It's truly a dream come true.
THE LEAD-UP
For all the guys who are getting drafted tonight, the hard part of the draft process is already finished—though the nerves certainly aren't, but we'll get to that later.
When you decide to enter the draft, they have a comparison for each player, who they think your game resembles the most. Mine was always Ray Allen, with a little bit of D-Wade off the dribble. That was my M.O. coming into the league, and it does kind of fit my game to this day. Some guys turn out to exceed the comparisons, some turn out worse. (But they seem to be pretty good with the comparisons.)
They also have the combine and all kinds of pre-draft workouts and stuff for teams to take a better look at you. Personally, I didn't participate in the combine. I did the skills work, agility work, weight lifting, the vertical jump and all of that, but I didn't do anything that involved a basketball. And I didn't have a big workout in front of scouts. So for me, the biggest part of the pre-draft process were the three visits I had scheduled, and the workouts with those teams.
Those visits were a lot of fun. It was great to be competitive, and go against the other guys they were looking to draft. That was amazing, to be able to get into the competitive setting and to showcase your talent in that nature. On top of that, getting to know the organizations and see how they treat their players, it was all great. It was an unbelievable experience.
It was also great to get to know a few players and learn about how they work. That was especially true on my visit with Washington, talking with John Wall. The entire visit with the Wizards was a really down-to-earth, family environment. We worked hard and got a lot of shots up at the workout, so it was tough, but it was really fun. They were able to pick my brain a little bit, and I was able to pick theirs. They got to know me personally. I just felt really comfortable with the coaching staff and with the organization as a whole.
So when they actually drafted me, I felt good about it. John and I were already cool. That first meeting at the workout made our relationship that much stronger, and made it that much easier to get along, because we knew each other previously. He was like a big brother for me. For me to be with the Wizards now—it's crazy how it all worked out in the end, because you never know how it's going to go.
DRAFT NIGHT
Going to New York City and Newark for the draft was a crazy time. We had appearances, meetings and interviews all over the place—meeting with sponsors and different people. They kept us busy.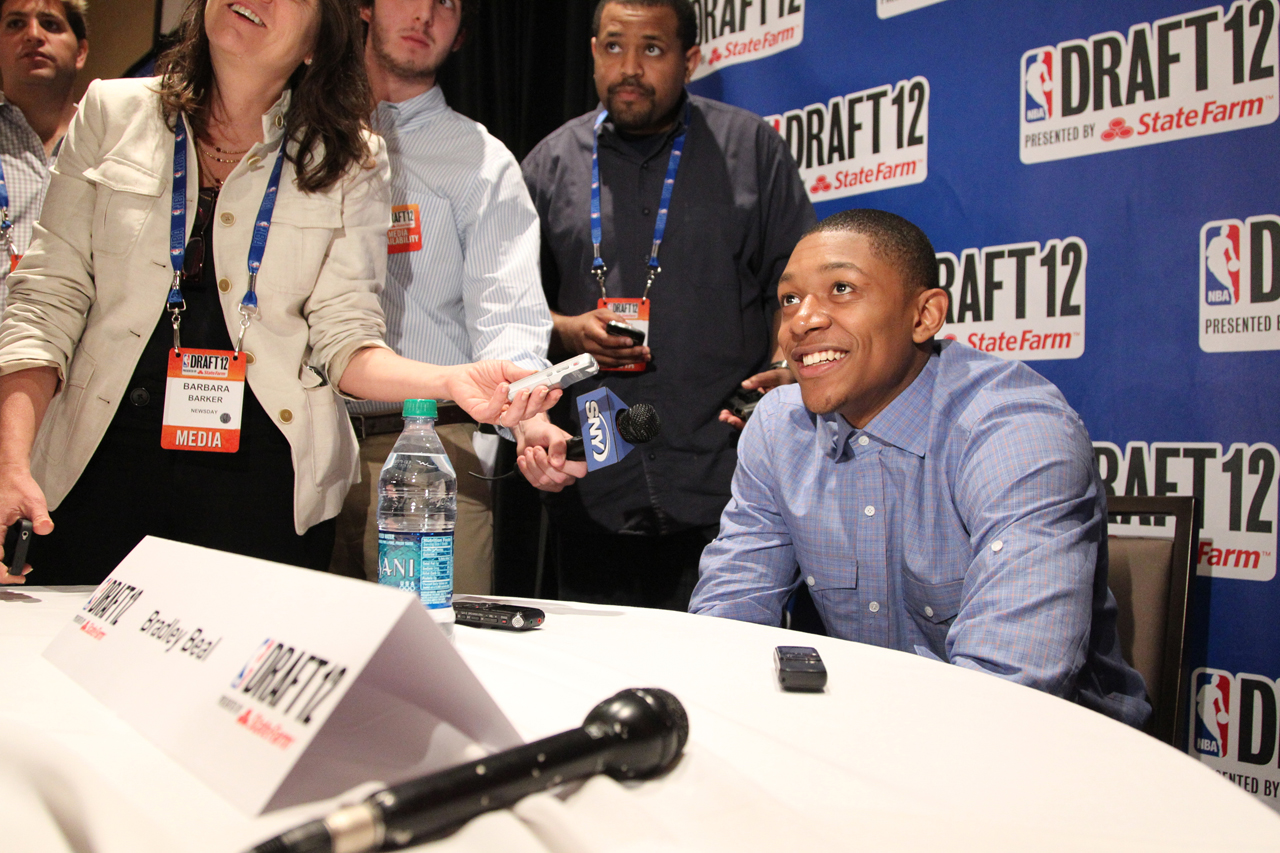 At the end of the day, it's your brand, and that's what comes with being an NBA player. You're starting to brand yourself and market yourself. Everything starts to come into focus, and it all becomes reality. So they seem like long days leading up to it, but when the draft finally arrives, it's like, "Wow. It's here already."
It happens fast.
There were a bunch of us who were in the same class who got to go through that whole process together. Myself, Anthony Davis, Michael Kidd-Gilchrist, Austin Rivers, Andre Drummond, we came out of high school together, we did one year in college together and then we got drafted together, so that was pretty cool. I also played against Dion Waiters and all these other guys in college. So one way or another, I got to know a lot of them and establish a relationship with them, whether it's playing against them, playing on Team USA together, whatever it may have been. It all comes back around, and we all eventually met up again in the NBA. It's an unbelievable experience, and an unbelievable accomplishment for all of us.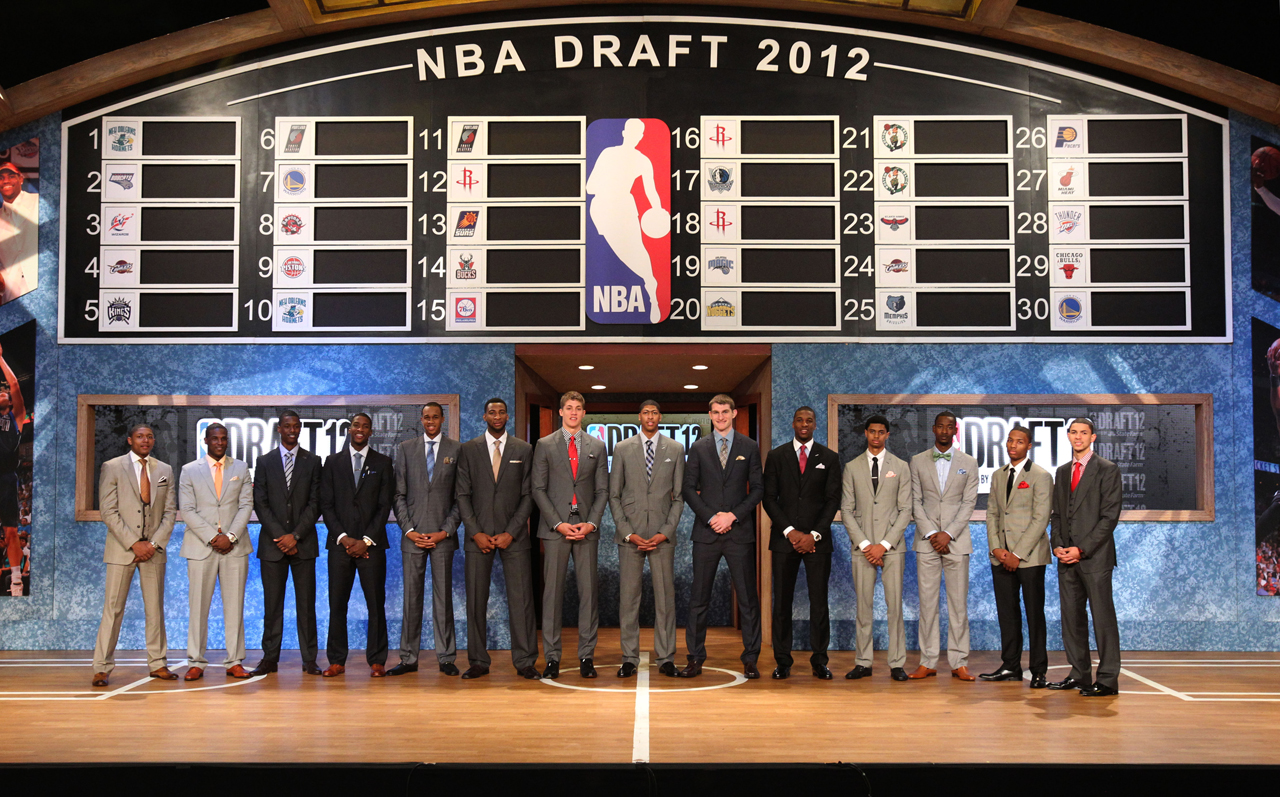 Being in town for the draft is a fun, unbelievable experience as a player, for you and for your family. It's amazing to be able to see your dream happening right in front of you. My mom, my dad, my brothers and my grandparents, aunts, uncles and cousins—we all got to share in that experience together. I had a nice little group of people. But at the table on draft night, we were only allowed five or six people. It was my two older brothers, my parents and my agent.
My agent helped me get a suit tailored from a place out of Chicago. It matched my skin. I love the color orange. I had a burnt orange tie and my suit was tan with some brown piping. It was different. I wanted to stick out a little bit, but be neutral. I loved it. And to top it off, it was my birthday—by far the best birthday I've ever had.
But even though I was looking good, I was beyond nervous.
The whole night is filled with anxiety. You have no idea what's about to happen, or who is going where. Everybody has a mock draft. Everyone has an idea of where they think you will go. But drafts change. It's all about what a team needs, and if you fit their system.
From the time I declared for the draft, I was told that I was going to go somewhere between second overall and fifth. We all knew for sure Anthony Davis was going No. 1. After that, it was up for grabs. There were all sorts of trade rumors and talks throughout the whole process, just like there are today. I remember there was a rumor on the day of the draft that OKC was trying to trade James Harden, and move up to pick me. That kind of confused me a little bit because I never worked out with OKC or even met with them. They had a later pick in the draft, so we weren't really looking at them, and we didn't think they were looking at me.
It was a confusing, nerve-wracking time, and as the night began I really had no idea where I was about to go, and I was nervous as I don't know what. My hands were sweaty. I was shaking. My stomach was doing backflips. I had no idea if I was going to go to Charlotte or Washington or if OKC was going to trade up. There was even a rumor that Cleveland was going to try and trade up from the fourth pick and take me. I had a feeling where I was going to go. But when Charlotte took Kidd-Gilchrist, I knew for sure I was going to Washington. And I was good after that.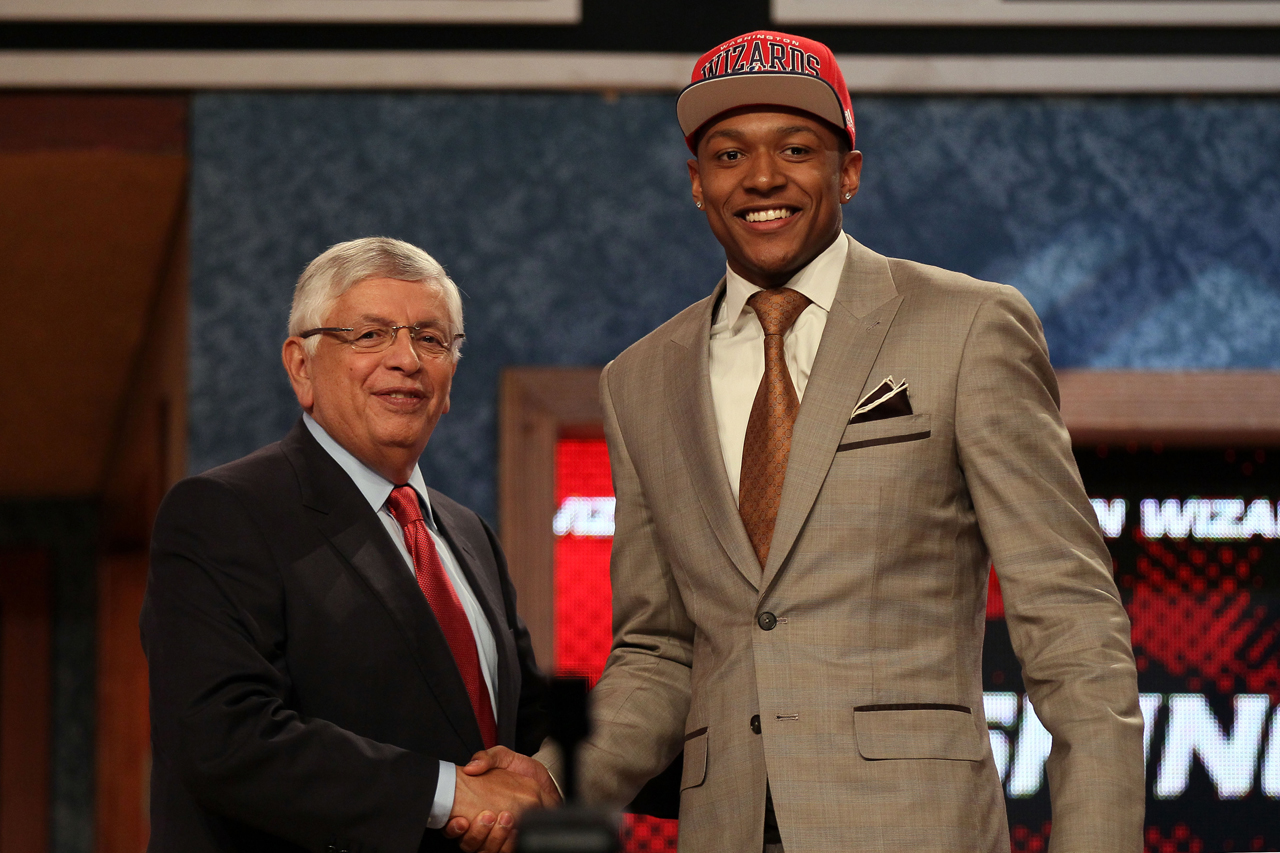 When my name was finally called, it was a mix of emotions. Initially, it was the biggest sigh of relief. You feel the burden lifted off your shoulders, like you can finally let your hair back and just relax. And then that moment it hits you—when you realize that dream has come true.
It's unbelievable.
It was beyond emotional, sharing it with my family. It was a dream of all of ours. My big brothers always wanted to play professionally. I was the first person in my family to accomplish that. Everyone was beyond happy. Tears were shed. Smiles were on people's faces. It was a great moment for the family and great experience. It was one of the best days of my life.
I'm blessed, fortunate and beyond happy that Ernie, Ted and the whole Wizards organization took a chance on me, and gave me an opportunity to be part of something special here in Washington. To be drafted here and then to sign another deal and still be here to this day, that's amazing. I'm appreciative of the chance they took on me, and it makes me want to work harder, be the best player I can possibly be and bring success to the franchise.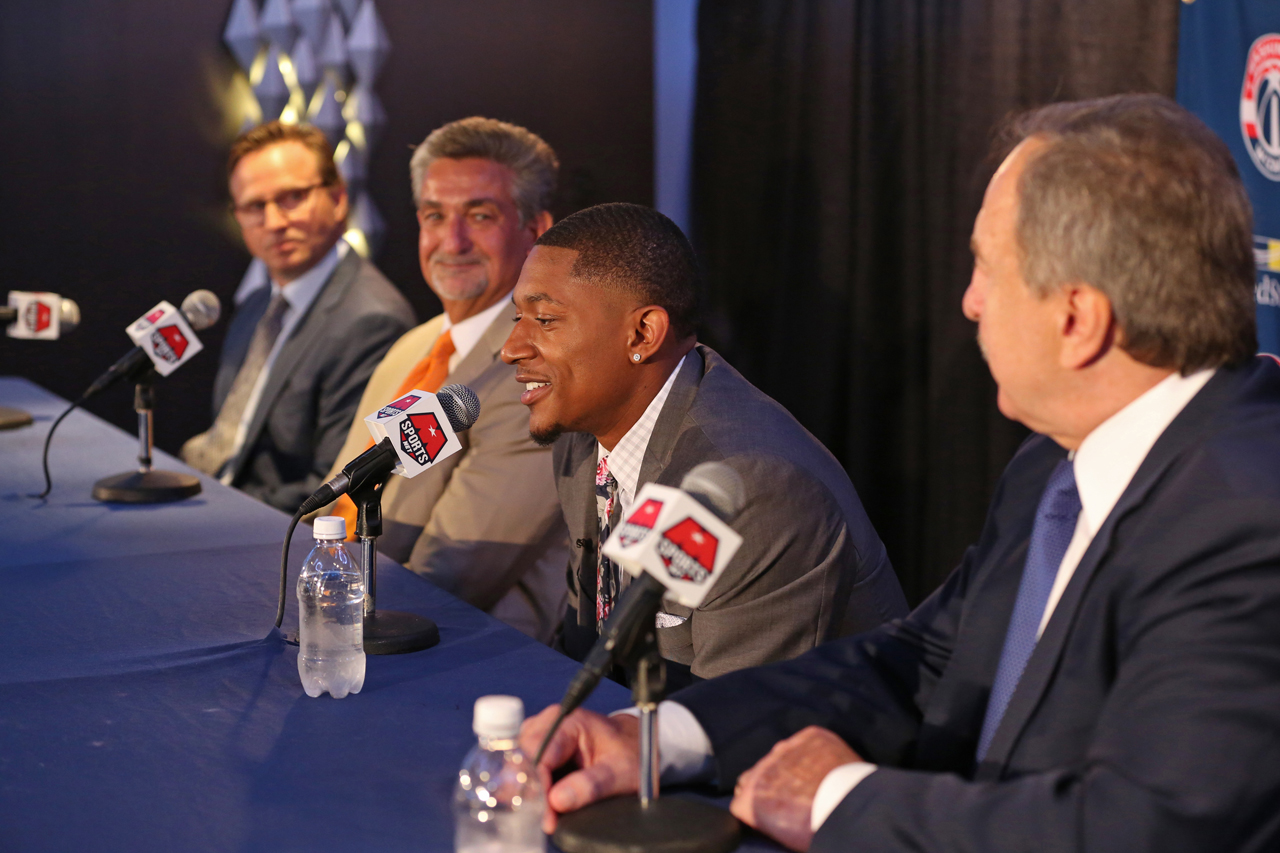 WORD TO THE WISE
For all the guys who are about to join the league in the Class of 2017, all I can say is have fun and enjoy the process. Remember that it's a business. Everyone has an idea of where they would like to go, but you never know until it happens. Understand that you're a rookie coming into a league of grown men. You have to mature fast. It's a lot to handle. But it's something we've always dreamed about. And we wouldn't be put in these situations if we couldn't handle it.
It's not going to be perfect. There are many ups and downs. But you have to stay goal-oriented, stay focused on the mission—and that's constantly getting better.
Learn from your vets.
Learn from your coaches.
Take in every bit of help you can. It's tough to deal with on your own. Make sure you have a great support system and make sure you're always locked in on getting better.
I wish you all good luck. God Bless.